Whether you're visiting Naxos as part of a backpacking trip through the Greek islands, a family holiday or a getaway with friends, Agios Prokopios has something for everyone and never disappoints.
We visited Agios Prokopios Naxos for 4 nights as part of our travels around Greece this summer. The island was one of the highlights of our trip and one of the few places we've chosen to return to next year.
This post may contain affiliate links, which means I may receive a commission, at no extra cost to you, if you make a purchase through a link. Please see my full disclosure for further information.
Agios Prokopios Naxos | Location
The island of Naxos is located in the Cyclades islands, southeast of Greece and the capital Athens and surrounded by the islands of Paros and Mykonos.
The resort of Agios Prokopios is on the western coast of Naxos, just a 14 minute drive away from the main town (Chora) and Naxos port. Agios Prokopios is part of a continuum of tourist resorts which includes Agia Anna and Plaka.
How to get to Naxos
By Ferry | The main way of reaching Naxos is by ferry. Connections to Naxos run from most of the Cyclades islands and Athens. Ferries are run by Bluestar, Hellenic seaways, small cyclades lines, golden star ferries and seajets. Click here to view the prices and availability of ferries for your dates.
By Plane | Naxos airport serves internal flights from Athens mainly from Agean airlines. Once in Athens, you can connect to flights all over the world.
How to get to Naxos from the UK
The most popular route to Naxos from the UK is to fly into Athens and board the 7:25AM Bluestar ferry from Pireaus the next day. Connecting flights from Athens to Naxos can also be booked with Agean air. Naxos can also be reached by flying into Mykonos or Santorini followed by a shorter ferry ride.
How to get to Agios Prokopios
The resort is easy to reach once you're on the island due to the close proximity to the port and airport.
How to get to Agios Prokopios from Naxos Port
By Car | Naxos port is a 14-minute drive away from Agios Prokopios along a flat road through amazing scenery. Numerous car rentals are available on the island. Alternatively, you can hire a car in Athens and bring it over on the ferry.
By Taxi | A taxi from Naxos Port to Agios Prokopios will set you back around 15 euro. Most hotels will book one for you if you ask ready for your arrival. There aren't many taxis on the island, and in high season there isn't always a taxi available.
By Bus | Walking in a straight line from the port, you'll reach a bus stop. The buses are very reliable and run by KTEL Naxos. Tickets need to be bought in the office behind the bus stop before boarding.
How to get to Agios Prokopios from Naxos Airport
Hire Car | Many hire car companies offer pickup at Naxos airport. View hire car prices and availability here on Travel Supermarket.
By Taxi | Many taxis gather at the airport, although in high season they may all get booked out. Be prepared to pay 10-15 euro depending on the amount of luggage you have. An alternative option is to guarantee yourself a transfer by booking a private transfer in advance. View prices and availability for your dates here with Get Transfer.
By Bus | The Naxos town – Agia Anna – Plaka bus route stops 500m away from the airport, although this route is not recommended and it's better to find an alternative mode of transport.
Things to do in Agios Prokopios, Naxos
Naxos Agios Prokopios Beach
The beach is one of the most popular beaches in Naxos and by far the best. The beach is blessed with clear turquoise waters, calm seas and beautiful white sand. There are amazing views from Agios Prokopios beach including a view of Paros island straight ahead, Agia Anna beach to the left and St George's beach to the right. From the right side of the beach, visitors can walk to the salt pan, once part of the industry in Naxos.
Agios Prokopios beach gets very busy in the summer. It's organized with plenty of sunbeds, and umbrella's owned by beachfront cafe's and bars and vary in price.
For a party vibe, head to Macao beach for pumping tunes throughout the day and cocktail service.
If you're looking for a more relaxed/family vibe, sit on the Agia Anna side of the beach near the There's plenty of room to set up a camp here between the rows of sunbeds. For a bite to eat, head to Kavourakia Caffe where you can try a traditional pitta gyro for just 2 euro!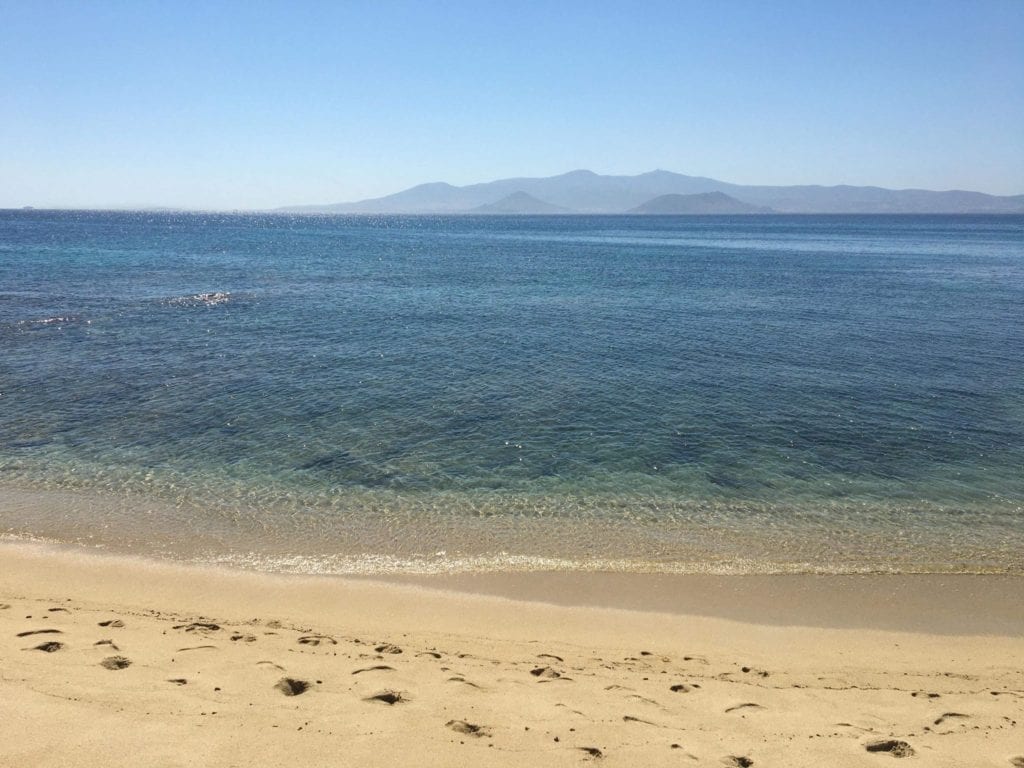 Don's Miss – Agios Prokopios Sunset
The sunset at Agios Prokopios is one not to be missed. Watch the sun go down over Naxos town and Paros island from a stunning blue flag beach. Head to Macao beach bar for sunset tunes or BYO and set up a sunset camp.
Where to stay in Agios Prokopios
Travelling as 2 adults and a 1-year-old, we chose the Ioanna apartments. The apartments ticked all our boxes, including having an enclosed balcony, cot provided, within walking distance of the beach, kids pool and budget price. We were VERY impressed, and the apartments have fantastic value for money.
Other Top accommodation in Agios Prokopios:
Hotel Francesca – This hotel features an excellent pool. Rooms fit 2-4 guests and range between basic double rooms and large studios with balconies overlooking the Naxos countryside. The hotel is ideal for all travellers from couples to large families. Cots are available. View the latest prices here.
Deep Blue – Set right on the beach with sea views, Deep blue is often one of the best value for money places to stay in Agios Prokopios. The studios feature stunning balconies and make an excellent place to stay for families with cots available on request. View the latest prices and reviews here.
Liana Beach Hotel & Spa – Situated on the beachfront of Agios Prokopios beach, the hotel features 2 outdoor pools and a spa as well as a fantastic breakfast. Rooms can accommodate 2-5 adults and range from a double room overlooking the pools to a deluxe suite with a private spa bath. View the latest prices and reviews here.
Agios Prokopios with kids
I found Agios Prokopios to be perfect for my 1-year-old. The main factor of this was the beach. We had previously had problems with my daughter trying to eat stones on other Greek islands, but the sand on this beach had slightly larger grains and no stones. The sand also isn't the type which sticks to you, so there's a minimal mess when you get back to your accommodation.
The entrance to the beach is flat and perfect for pulling a pushchair along, and there are large areas of beach not taken up by payable sunbeds. We easily had space to set up a tent and chairs.
The only downside was the drop in water depth getting into the sea, which may cause problems for older kids.
More on Greece with kids:
Day trip ideas in Naxos from Agios Prokopios
Walk the streets of Naxos Chora
No trip to Naxos is complete without a trip to the capital of Naxos – Chora. Here are some of the best things to do in the town:
Stroll around the port area: Aside from seeing huge ferries dock, the port area provides stunning views of the town sloping slowly uphill as well as fantastic views of Portara – the icon of Naxos set on the hill to the side of the port. The waters are so clear, you should be able to see fish swimming around and numerous fishing boats and tour boats.
Visit the landmark of Portara: Visible by ferry as you approach Naxos, Portara is the remains of a temple (Apollo) that was never finished.
Kastro Castle: The castle of Naxos town set high up on the hill is a reminder of the past. Built-in the 13th century. Stroll around the outside of the castle, or visit the platform where you can see a panoramic view of Naxos town.
The old town of Naxos: Winding streets run from the flat ground at the bottom of Naxos town all the way up to Kastro castle. Get lost in the traditional Cycladic town life and visit the many shops on the way. This is a great chance to see the Cycladic white paving.
How to get to Naxos Chora from Agios Prokopios
Regular bus services are run by KTEL up to every 15 minutes from Agios Prokopios bus stop (every hour in low season). By car, the town is a 14-minute drive and a taxi will cost approximately 15 euros from the taxi rank next to Agios Prokopios bus stop. Tickets should be bought before you board the bus.
Visit the Picturesque Mountain Village of Halki
If you want to visit a traditional Greek village in Naxos, Halki should be your first choice. The former capital of Naxos is set 16km inland from Naxos town. Once in Halki, you can stroll down the winding streets, stock up on local souvenirs or visit a traditional taverna. In the centre of town, you can see he Vallindra Kitron distillery where you can have a free tour of the site where the Kitron liqueur is made.
How to get to Halki, Naxos
Bus services run from the KTEL Naxos headquarters just behind the port, more frequently in the summer season although always check the bus timetable. You will need to catch another bus from Agios Prokopios to the port and change for Halki. The easiest way to visit Halki is via an island bus tour, but it's also possible to drive through the mountainous terrain of central Naxos 16km iland to reach the village.
Visit the nearby beach of Plaka
As with Agios Prokopios beach, Plaka is also one of the most popular beaches on the island and relatively nearby Agios Prokopios. The beach consists of a vast expanse of sand with crystal clear water. It's great for families too although bear in mind it is a nudist beach, especially towards the south side.
How to get to Plaka beach from Agios Prokopios
KTEL buses running from Naxos town stop in Agios Prokopios on the way to Plaka up to every 15 minutes in high season. The bus can take up to 27 minutes. Taxis from the rank opposite the bus stop will get you there much quicker.
Agia Anna beach
The neighbouring resort of Agia Anna is within easy walking distance of Agios Prokopios. The beach is well worth a visit during your trip.
Drive the Mountain Roads to the Small Seaside Village of Apollonos
Apollonos beach is somewhat isolated from the other beaches of Naxos. The village has a beautiful white sand beach protected by a harbour. The beach is surrounded by lovely waterfront cafes, tavernas and souvenir shops.
How to get to Apollonos beach from Agios Prokopios
Buses from Naxos Chora to Appolonos are few and far between, even during the high season. From Agios Prokopios, you would also need to catch a bus to Naxos Chora first. The best way to reach Appolonos from Agios Prokopios is by hire car due to its isolated location. You can also visit Appolonos as part of a bus tour of Naxos, where there's a 2 hour stop for lunch, exploring and sunbathing.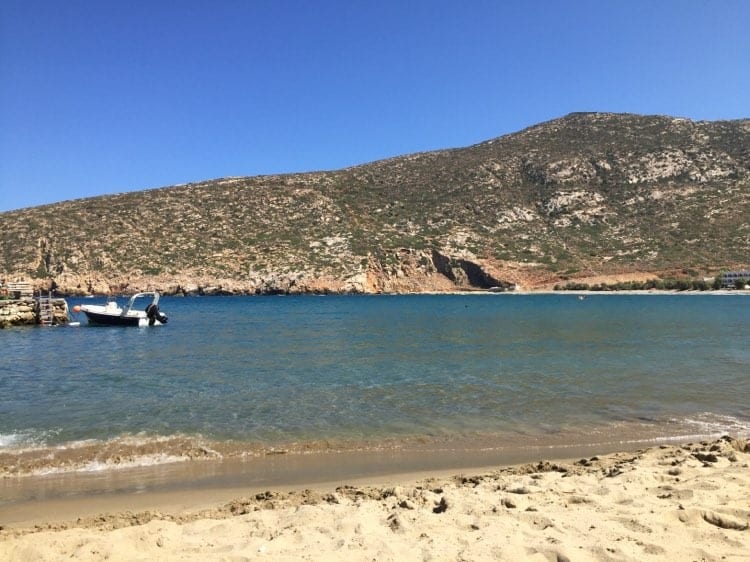 Related Post | The Best Beaches in Greece for Families
Visit the Prehistoric Acropolis of Naxos
The prehistoric acropolis is located on the north-west coast of Naxos, nearby the village of Panormos. The remains of the acropolis date all the way back to 25000 BC.
The site involves an 8-minute walk up from the main road/car park. Entry is around 4 euro and includes entry to a small museum which shows the acropolis in its former self.
How to get to Naxos Prehistoric Acropolis
The easiest way to reach the prehistoric acropolis is by private car. However, you will have to navigate the inland mountainous regions of Naxos to get there on thin mountain roads. If you fancy seeing the island in a day, including the prehistoric acropolis, consider going on a bus tour around the island where there is a 30 minute stop at the site
Related Post | A day trip to Ios, Greece | One Day Itinerary
Visit a traditional pottery workshop in Damalas
Manola's pottery workshop allows visitors to have a close up look at exactly how a potter shapes the clay all the way through the process. The workshop also showcases Manola's latest work which is also available to purchase.
Top tip: Just up the road from the workshop, you can also view a traditional olive press, once used by the village to press the local olives into olive oil.
How to get to Dalamas pottery workshop
Seeing the workshop as part of a bus tour is the best way to reach the village. There are buses but they're infrequent. You can also visit by private car.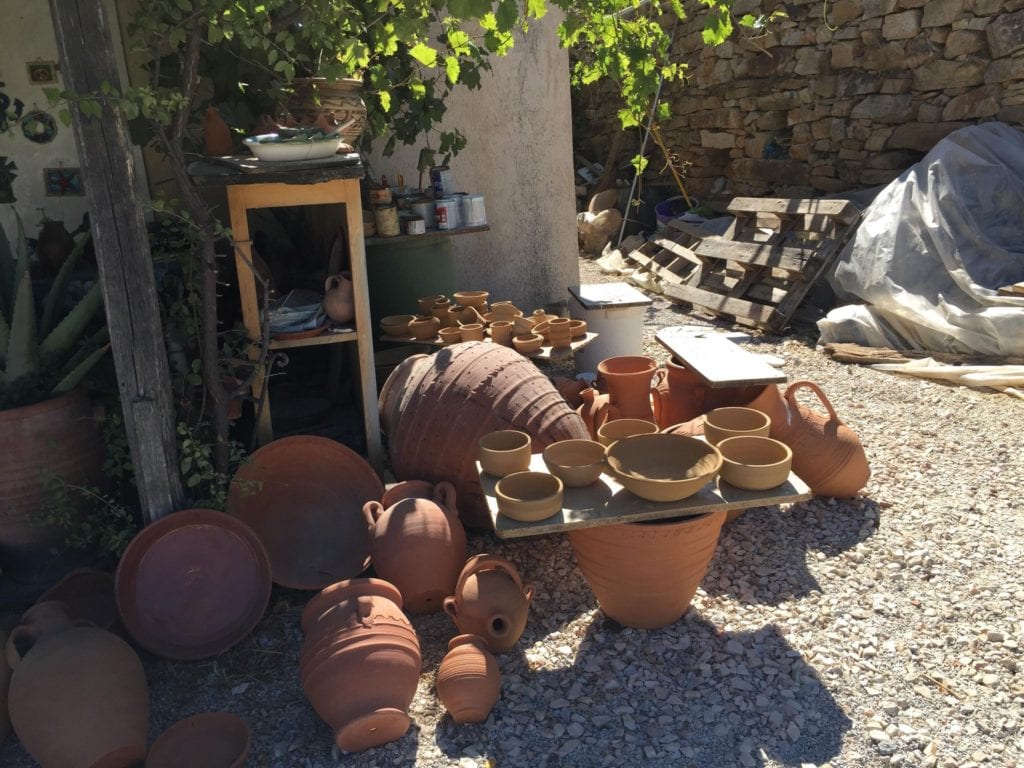 More things to do nearby Agios Prokopios, Naxos
Which island shall I visit after Naxos
Being in such a perfect location for island hopping, the question remains very much open, although I would recommend staying in the cyclades region. Here are some fantastic islands to visit next:
Ios | Just 25 minutes by ferry from Naxos, Naxos and Ios are completely different. We chose to visit Ios on our backpacking trip to Greece in 2020 before heading to Santorini.
Santorini | As one of the most famous islands in the world, Santorini is a must-visit on any island hopping trip. Visit the picture-perfect Oia village, or get lost in the winding streets of Fira. There's plenty of volcanic landscapes and black sand beaches to explore too. Fast ferries make the journey in just 1 hour, 20 minutes. What are you waiting for…
Sifnos | In just 1 hour, 40 minutes you could travel to Sifnos. With a picturesque port, plenty of pretty villages and a wealth of fantastic hikes to try, Sifnos should definitely be on your bucket list. Take a look at this guide by Routinely Nomadic for more inspiration to visit Sifnos.
FAQ'S
More on Greece