Amorgos is not a typical island for a family getaway in Greece, but if you're island-hopping around the Cyclades, Amorgos is a must-visit destination with plenty to do for families (if you know where to look). Here is a complete guide to visiting Amorgos with kids, including how to travel to the island, the best things to do with kids and the best places to stay in Amorgos with kids.
This post may contain affiliate links, which means I may receive a commission, at no extra cost to you, if you make a purchase through a link. Please see my full disclosure for further information.
Amorgos Map
Amorgos with Kids
If you stay in the right location, Amorgos is one of the best islands in Greece for kids. When you visit Amorgos, you'll feel like you've gone back in time. Relax on the beach of Aegiali or walk the streets of the capital, Chora.
How to Get to Amorgos, Greece
There are two ports on the island of Amorgos, one in Katapola and one in Aegiali. Katapola is the biggest port and sees more yachts and more frequent ferry services. Aegiali also has a good number of ferry connections.
Amorgos is more remote than many of the Cyclades islands, but with a bit of planning, you can easily find a high-speed ferry service from a nearby island or Athens.
Naxos is one of the most accessible islands to travel to from Amorgos from (1.5-4 hours) as well as most islands, the small Cyclades. The Small Cyclades ferry Line ferry ends in Amorgos each day, and a BlueStar and SeaJets ferry also make the crossing regularly. View ferry times and availability for your dates.
If you want to fly to a nearby island, the nearest airport is Santorini Airport. You could also fly into Mykonos, Heraklion (Crete), or Athens. Naxos and Paros also have small airports which serve flights from Athens. View flights for your dates here.
Discover the Airports in Greece here
14 best Things to do in Amorgos
There are lots of things to do in Amorgos with kids. Here are our top picks:
#1 Levrossos Beach Amorgos
Levrossos Beach is the perfect day trip from Aegiali – just a 20 minutes walk away. Here, you'll find crystal clear water and soft white sand.
There's also a water taxi that regularly runs from Aegiali port. Trees shade the back of the beach, and there's a taverna serving traditional Greek food throughout the day.
#2 Visit the Mountain Village of Chora
You can't visit Amorgos without paying a visit to the hillside capital of Chora. Set on one of the highest points on the island, Chora has stunning views across the island.
Explore the winding Cycladic streets and find the main square, where there's plenty of traditional tavernas and a beautiful church.
Chora Amorgos is the perfect place to see traditional Greek village life. There's even a play park with one of the most beautiful views in Greece.
#3 Spend Time at Aegeli Beach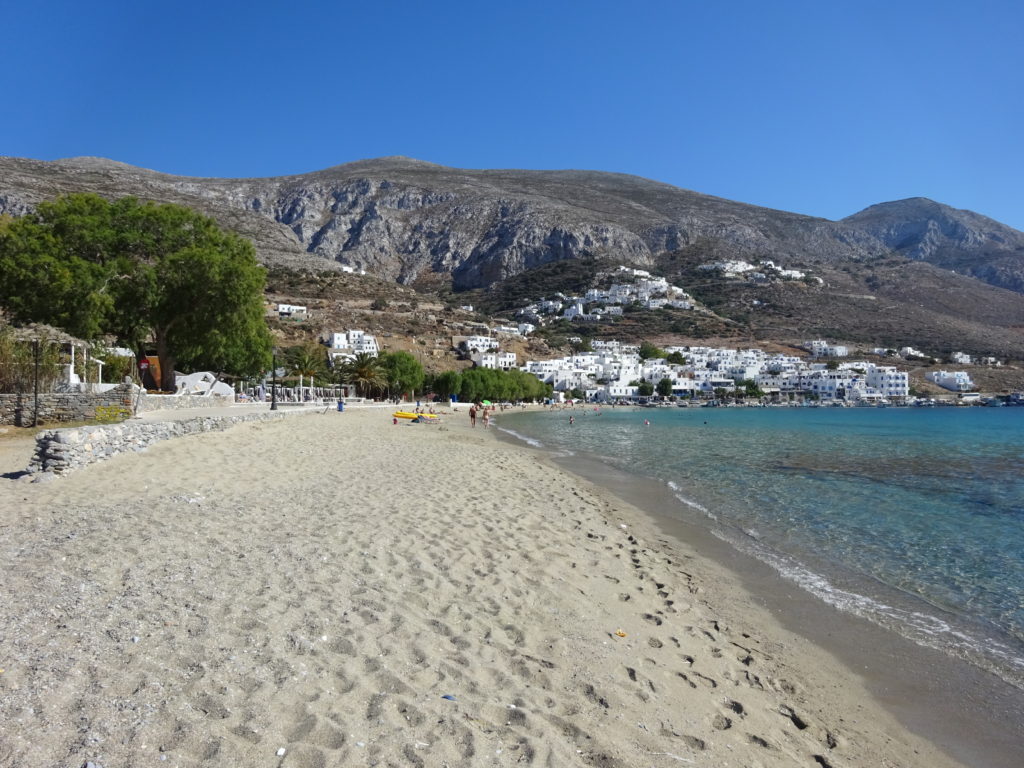 Aegiali Beach is one of THE best things to do in Amorgos with kids and one of the best Amorgos beaches. The large stretch of sand has crystal clear water and a fantastic family-friendly atmosphere.
#4 Explore Aegeli Town
Behind Aegiali beach, you'll find cheap supermarkets, gift shops and takeaways to suit all the family. This is the perfect place to dine out or buy ample souvenirs!
#5 Walk from One Side of Katapola to the Other
The bay of Katapola is vast; it's actually made up of 3 Greek villages that have emerged into one over time. You can walk right across the bay from the ferry port in around 30 minutes.
Make sure you visit the stunning Katapola Church and the village behind it, where you'll find traditional Cycladic streets. Along the seafront, you'll find great shops, including a traditional bakery, a shop selling local spirits and plenty of tavernas and cafes.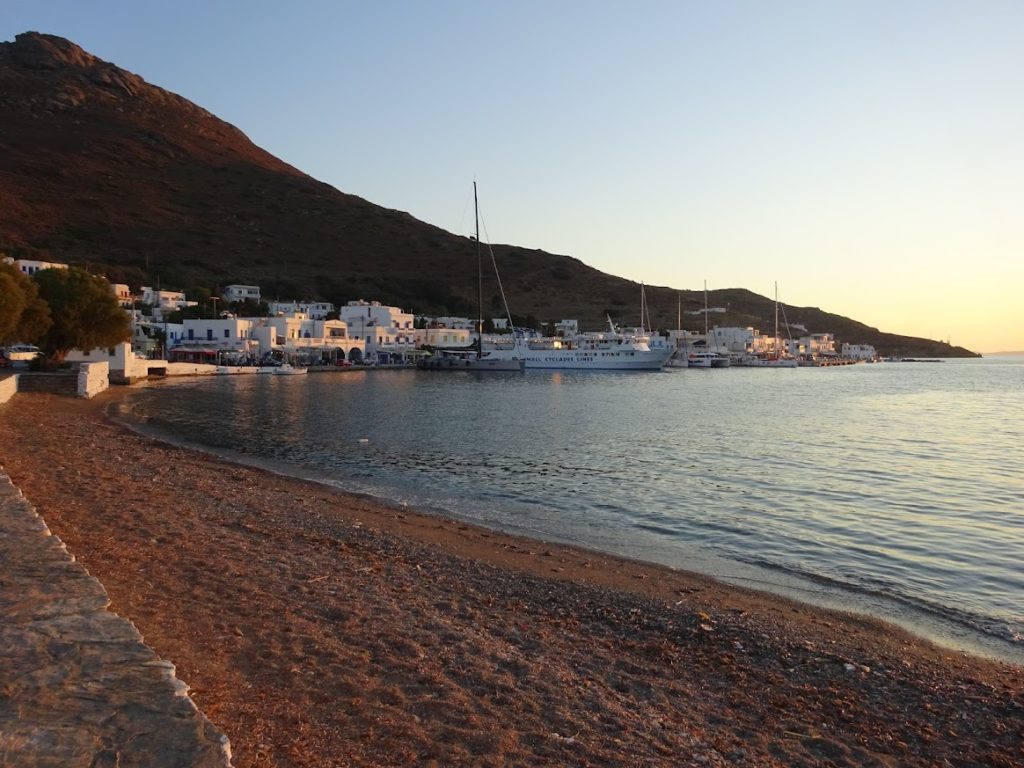 As you walk through Katapola, there are plenty of learning experiences for the kids. We managed to see sheep, a donkey, and hundreds of ducks living on the beach on our walk. There's also a large kids park next to the bus station with stunning sea views.
The remotest village has a vibe of a fishing village with delicious seafood restaurants and traditional fishing boats. From here, there are fantastic views all around the bay.
#6 Go on a Short Boat Ride to Maltezi Beach
A short ride in a traditional fishing boat from Katapola Port will take you to Maltezi beach. The beach in Katapola is not really suitable to sit on, but this beach is only a few minutes away by boat. The crew play traditional Greek music as you sail around Katapola Bay.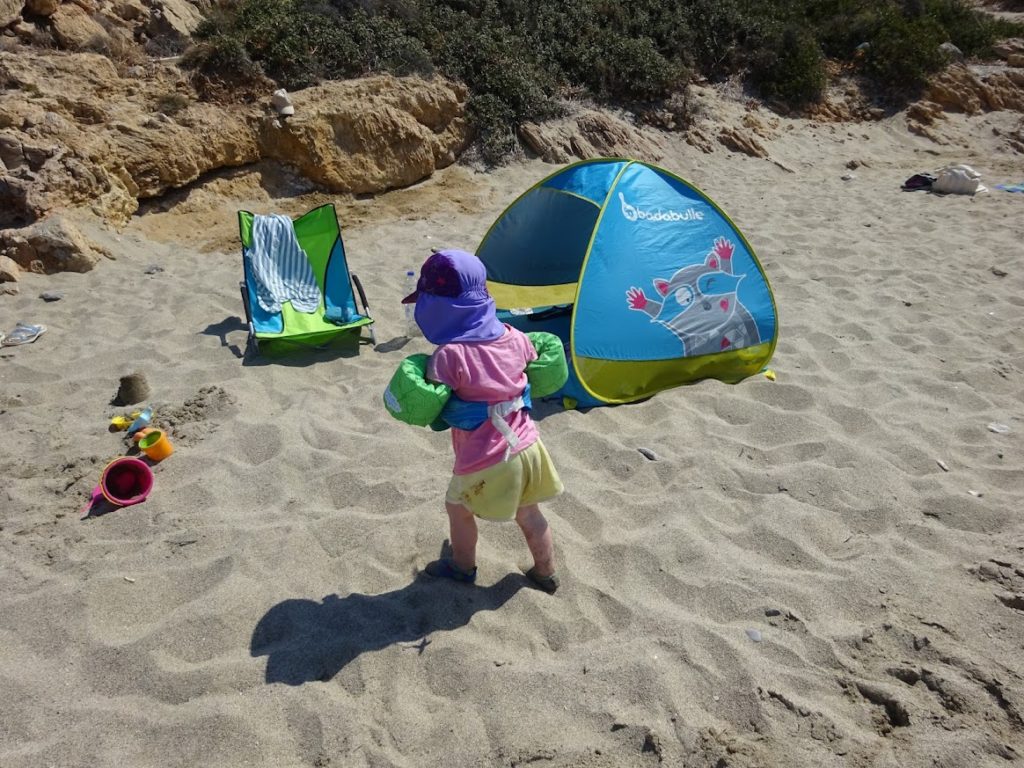 There's a beach bar selling fantastic drinks, cocktails, and snacks on the beach. There are also a small number of sunbeds to hire. It's also possible to walk to the beach from the furthest village in Katapola, but the walk is only suitable for older kids and teens and not on a sweltering day!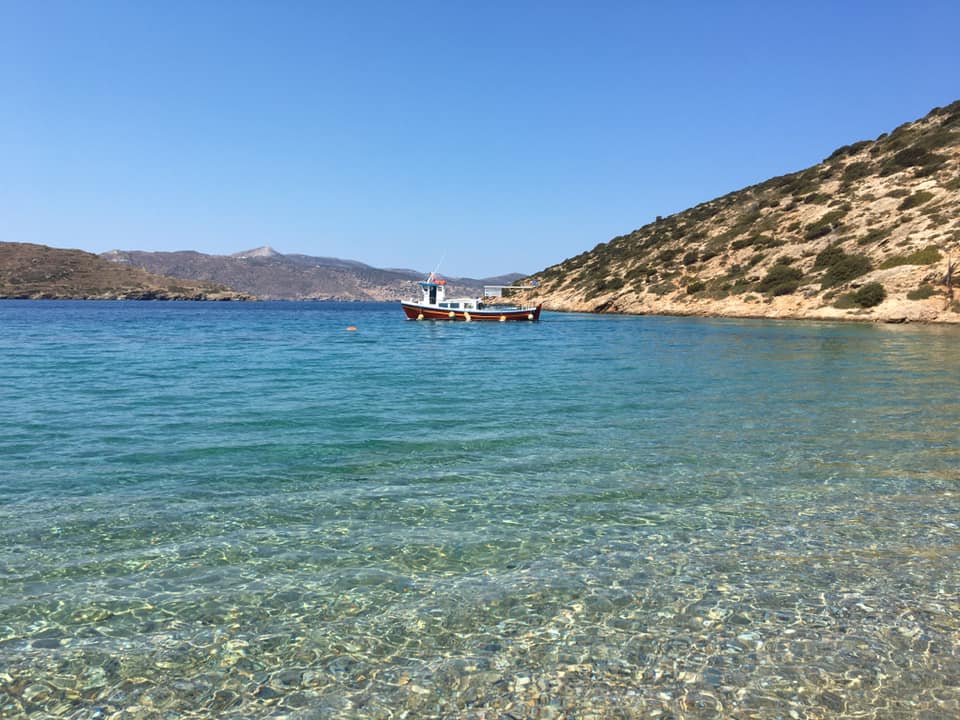 #7 Visit the Parks of Amorgos
During our visit to Amorgos, we found some lovely parks:
There is a park in Katapola by the bus station. Go earlier in the morning because the slides can heat up, and there isn't much shade.
One of the most unique parks in Amorgos is the park at the back of Chora, high up in the hills. It has some of the best views you could ever see from a park.
There's a park behind the beach of Aegiali.
#8 Visit Katapola Bakery
Katapola Bakery still has a traditional village vibe. Early in the morning, locals come to buy their morning bread. You can try traditional Greek snacks or get your morning coffee. Make sure you check the opening times.
#9 Swim in Katapola
West of Katapola Port (turn left when looking at the port), you'll find a miniature pebbled beach and a platform that is perfect to get straight into the water (beach shoes are recommended). I would say this is more suitable for older kids and teens although the local children love to swim off the platform. This is the perfect place to have a dip if you're not going on a beach day.
#10 Visit the Botanical Gardens of Katapola for Breakfast
The botanical gardens of Katapola are a hidden gem! Turn down an alleyway near Katapola Port and climb the steps. On your right, you'll come across the entrance to the gardens. With kids, it's perfect to go for a fantastic breakfast, freshly made with local ingredients. The garden grows hundreds of herbs and adds them to the food and drinks. Make sure you try the homemade soft drinks with local mint. By night, the gardens turn into a cocktail bar.
#11 Visit Tziki Cafe in Hora
At the entrance to Hora, just across the road from the bus stop, you'll find Tziki cafe. We stopped for breakfast after the bus ride and it was delicious!
#12 Experience the Drive from Katapola to Aegieli
The journey from Katapola and Aegiali is one of the most scenic journies in Greece. Drive up the winding road from Katapola until you reach Chora village (view in image).
The road from Chora will take you all the way to Aegeili. You'll see stunning views out to sea, remote beaches and deserted islands. Make sure you bring your camera (and a car sickness pill!).
#13 Lagada Amorgos Village
Lagada is one of the prettiest villages in Greece and one of the best things to do in Amorgos. Set on a mountain, you'll find traditional Cycladic streets, beautiful bougainvillaea, traditional tavernas and stunning views.
#14 Plakes Beach, Amorgos
In the centre of the Amorgos coast, between Katapola and Aegiali, you'll find Plakes, one of the most stunning beaches in Greece.
Best Areas to Stay in Amorgos
Here are the best areas to stay in Amorgos and the best Amorgos hotels:
Aegiali
Aegiali is the best family resort for a beach holiday. You'll have everything you need here including tourist shops, a fantastic beach and even a port.
Best Places to Stay in Aegiali
Aegialis Hotel and Spa – The Aegialis Hotel and Spa is one of the most luxurious places to stay in Amorgos. Set nearby Aegieli and Levrosos Beach, the Hotel features an Olympic size swimming pool and many amazing facilities including a spa! Enjoy cooking lessons and themed Greek nights. View prices and availability for your dates here.
Lakki Village – Right on the beachside of Aegiali, Lakki Village has everything you need for a family trip to Amorgos. Enjoy the outdoor pool, enjoy the on-site children's playground and eat breakfast, lunch and dinner in the on-site restaurant. View prices and availability for your dates here.
Katapola
Katapola is where we stayed and it's the perfect base to explore the island. There's plenty to do in Katapola too.
Best Places to Stay in Katapola
Alexandros Rooms, Katapola – This is where we stayed. The rooms are just steps away from Katapola Port and the water taxi to Maltezi Beach. We had an amazing church view where we could hear the church bells and singing in the morning.
Diosmarini Studios and Apartments – Whether you need a double room or a quadruple, the Diosmarini Studios can accommodate you. Set just 5 minute's walk away from Katapola port and with stunning views, these studios are one of the best places to stay in Katapola.
Island Hopping from Amorgos
If you're planning on visiting Amorgos as part of an island-hopping trip and you're not sure where to go after, read this section! We arrived in Amorgos from Naxos although we wished we'd stopped at Koufinisi first after seeing the island from the ferry. From Amorgos, we travelled onto Santorini and a few days later, travelled to Milos.
Amorgos to Santorini
Duration: 1.5-6 hours
Distance: 93km
Santorini is one of the most popular islands to visit after Amorgos. The island is a stark contrast to the isolated island of Amorgos. However, if you're visiting the Cyclades, Santorini is a must-visit island you'll have the chance to see the stunning volcanic landscape picturesque white Cycladic houses with stunning blue roofs and cobbled streets.
Santorini also has some fantastic beaches explore the black sand beach of Perivolos or spend the day at Kamari beach.
How do you get from Amorgos to Santorini?
The distance between Amorgos and Santorini is 48 miles, and the journey time can be anything from 1.5-4 hours depending on whether you choose a highspeed ferry and if the ferry stops at any other islands en-route.
Several ferries a week from a more grass to Santorini leaving from either Katapola or Aegieli Port. Try to book the high-speed SeaJets ferry if you're travelling with kids.
The main ferry routes are run by Seajets (1.5 hours) or the Small Cyclades Line (3+ hours). Beware of seasickness on the small Cyclades line. SeaJets is a much better ferry for kids. Ferries from Amorgos to Santorini run once every 1-3 days, depending on the season. Make sure you stay in the same place as the ferry or from Katapola if you're staying in Hora – it's hard to get from Aegieli to Katapola with young kids.
Amorgos to Naxos
Distance: 97.6km
Duration: 1-2 hours
Naxos is one of the easiest islands to get to from Amorgos. See jets run a high-speed route to Naxos via Koufonisi. Explore the vibrant Naxos Town and climb up to the stunning Kastro castle for amazing views across the island. Naxos town is also home to Saint George Beach – a large stretch of sand perfect for families.
Just out of Naxos Town, you'll find the coastal village of Agios Prokopios, which has one of the best beaches in Greece. From Agios Prokopios, you can walk to the neighbouring beaches of Agia Anna and Plaka for a perfect Family Day out.
Head inland, and you'll find sprawling mountains, the famous prehistoric Acropolis of Naxos traditional villages.
How do you get from Amorgos to Naxos?
The only way to get from Amorgos to Naxos is by ferry. Ferries are run by 3 companies; Seajets, BlueStar and the Small Cyclades lines.
SeaJets is the fastest route (1 hour, 15 minutes) and BlueStar is also a good option, especially if you're travelling from Aegieli.
Ferries to Naxos from Amorgos run from both Katapola and Aegieli Port.
Read about the best places to stay in Naxos here >>>
Amorgos to Paros
Distance: 133km
Ferry Duration: 3.5 hours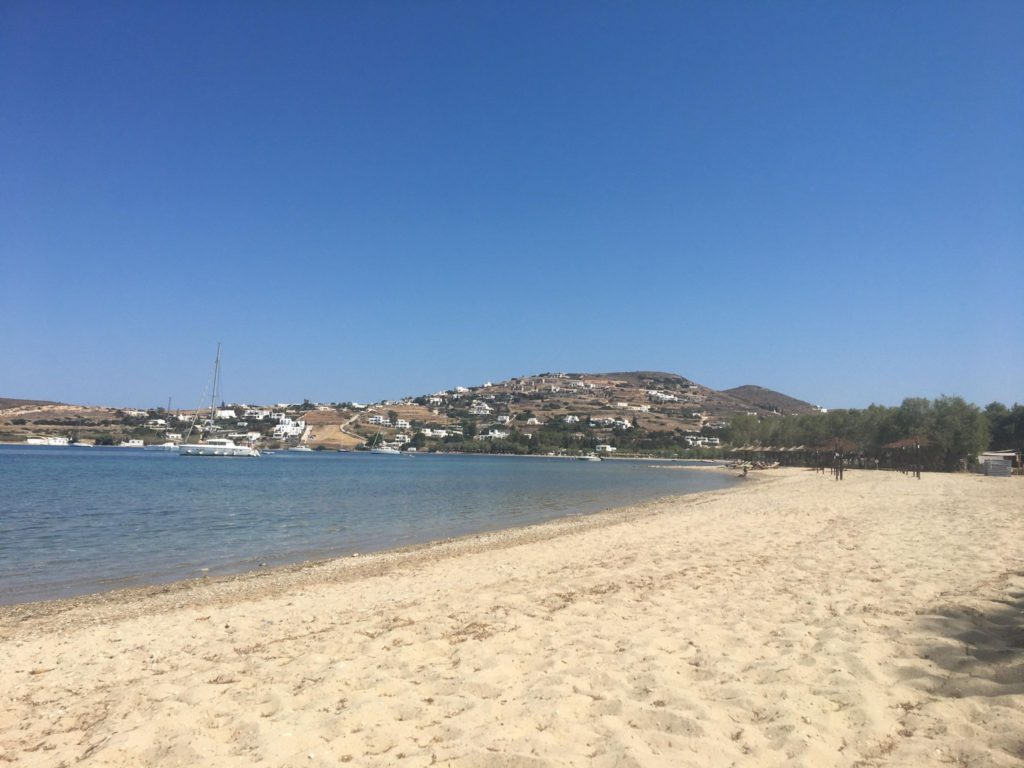 Paros is another easy island to reach from Amorgos. Explore the capital Parikia and spend your days on the stunning beaches. Discover the winding streets of Parikia Old Town and visit traditional Greek bakeries. Go on a walk up to the Paros windmills for fantastic views across Parikia.
Just a short drive away from Parikia, You'll find the coastal village of Naoussa, one of the most famous villages in Greece.
Head inland and you'll find the traditional village of Lefkes, where time has stopped out the other side of the island, there are more fantastic beaches. Head to Golden Beach for the ultimate family day out.
How to Get from Amorgos to Paros
The ferry journey from Amorgos to Paros is served by BlueStar, SeaJets and Hellenic Seaways:
BlueStar – 4 hours, 15 minutes – Up to 3 times/week
SeaJets – 2 hours, 5 minutes – One per day
Hellenic Seaways – 2 hours, 35 minutes – One per day
Ferries run from both Aegeili and Katapola port in Amorgos and it's hard to get between the two ports. Make sure you book a ferry from the port near you!
Read our Athens to Paros Guide here
Koufonisi and the Small Cyclades
Ku Fanisi is the perfect island. To visit on an island-hopping trip with Amorgos. The small island is part of the small cyclades group and has isolated beaches, crystal clear waters and a fantastic family-friendly atmosphere.
Mykonos to Amorgos
Distance: 141km
Duration: 2 hours, 10 minutes
If you're going on an island-hopping adventure in the Cyclades, Mykonos is an island you can't miss! Explore the stunning Mykonos Town with its vibrant atmosphere, famous windmills and fantastic eateries. Climb to the top of town and see the famous Mykonos Windmills.
Mykonos has some of the best beaches in the Cyclades. Head to Elia Beach for soft white sand ad amazingly clear water or explore Kavourakia Beach, one of the best beaches in Mykonos for families.
How to Get to Mykonos from Amorgos
The ferry from Mykonos to Amorgos is run by SeaJets during the summer months from Katapola Port. The journey takes 2 hours, 10 minutes.
How to you get from Athens to Amorgos?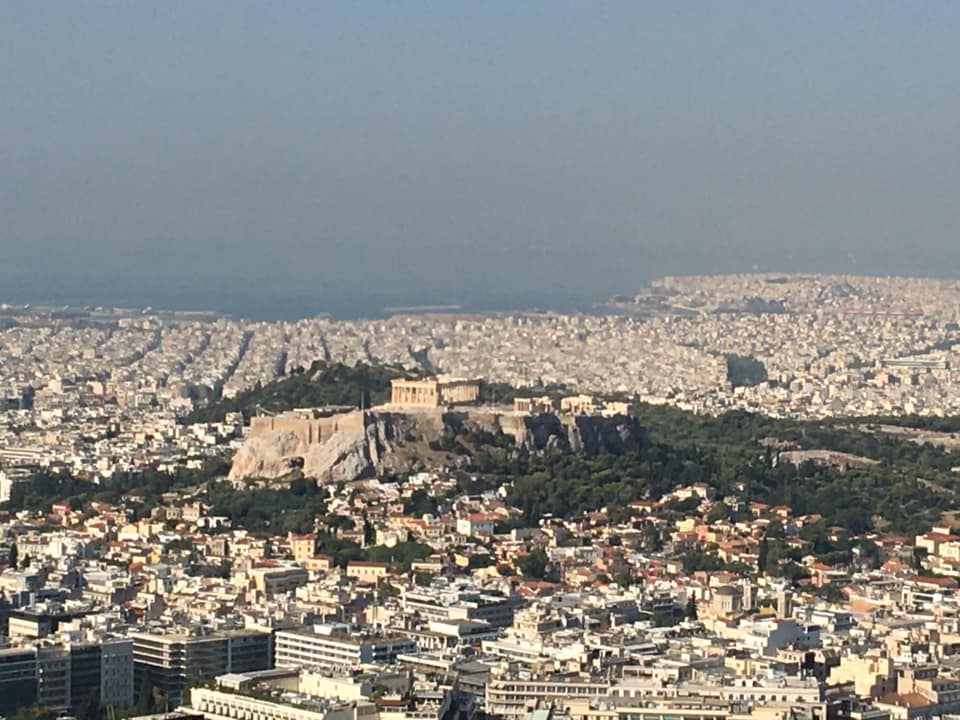 Athens is 308km from Amorgos, and the ferry duration can be anything from 5 to 9.5 hours depending on which islands the ferry stops at on the way and whether you choose a high-speed ferry.
The main ferry routes from Athens to Amorgos are run by BlueStar (5 hours, 35 minutes) and SeaJets (6 hours, 30 minutes). These ferries run from Piraeus Port – the main port in Athens. Piraeus Port can be reached on the metro from Athens Airport in around 1 hour, or you can book a private transfer which will get you there much faster.
If you're travelling with kids, I recommend BlueStar. Most BlueStar ferries have cabins on board, making the journey much easier for families. It may also be easier to stop at another island for 1-2 nights before Amorgos to break up the journey. Good options are Naxos, Paros and Mykonos.
Plan Your Athens Trip

Mount Lycabettus with Kids
For more Greek Island Hopping adventures, read our 10-day Greece Island Hopping Itinerary
More on Greece