All-inclusive – two magic words for any tourist. It means that food is waiting for you without restrictions and restaurants, barbecues, and bars open throughout the day. Of course, drinks and alcoholic beverages are included.
With food, a carefree family holiday awaits you in Croatia. With resorts located on the most beautiful Croatian beaches, right by the sea, children's animation, children's pools, [playground, sports programs, and much more, all inclusive Croatia holidays are perfect for families!
Be nearby beautiful national parks and sparkling clear blue seas. Here are the very best all-inclusive Croatia resorts for families to help you plan the perfect family holiday to Croatia.
Croatia as a Family Holiday Destination
Croatia has become one of the top 10 European family holiday destinations recently. Choose one or more suggestions and spend carefree holidays with your family! Read all about the best European all-inclusive resorts for families along the Adriatic coast with beautiful sandy and pebble beaches and entertainment for children for those planning a family holiday.
Can You Go All Inclusive in Croatia?
Of course, you can! Croatia offers the best all-inclusive resorts for families with a wide range of prices and quality. Be sure to pay attention to the difference between all-inclusive light and all-inclusive service.
The difference is that the all-inclusive light service includes a full board and drinks with meals. In contrast, with the all-inclusive service throughout the day, you also have drinks at the bar.
Best All-Inclusive Hotels in Croatia for Families
Below, you can study a detailed list of all-inclusive hotels and resorts in Croatia. You'll find your typical all-inclusive resorts in Croatia, 5-star hotels in Croatia that are all-inclusive, and various low-key properties for cheap all-inclusive holidays in Croatia.
This is an excellent starting point for planning your all-inclusive holidays in Croatia.
Hotel Bellevue Dubrovnik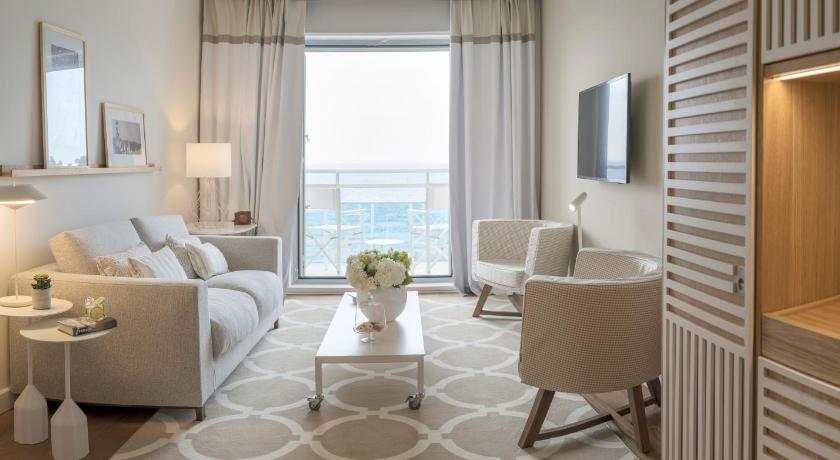 Hotel Bellevue is a wholly renovated boutique hotel with excellent service and offers a beautiful panoramic view of the bay because it is located on top of a rock that rises 30 meters above the bay of Miramare. The hotel is about a 10-minute walk from Dubrovnik old town.
Due to the strategic location on the rock, you are close enough to the city bustle and all the attractions that Dubrovnik offers. Still, you are also isolated in a kind of oasis of tranquillity.
The hotel has 77 rooms and 14 suites with full or partial sea views and has a restaurant and several bars. Rooms are air-conditioned with free Wi-Fi access. For animal lovers, another good news is that this hotel is pet friendly and allows pets to stay. The relaxation area offers wellness and spa facilities, indoor and outdoor swimming pools, a sauna, and fitness.
Bluesun Holiday Village, Brac Island
Located in the lovely town of Supetar on the island of Brac. Bluesun offers its guests transportation from any airport to Supetar to get to the island safely. Get to know this beautiful island while staying in a hotel that offers the best value for money.
The hotel offers air-conditioned rooms and free Wi-Fi, parking, and adventure-seeking people can enrol in a scuba diving course. The hotel also has a children's club – a safe play area for children. Table tennis can help you have fun and spend time actively. The pavilions offer comfortable standard rooms located just 50 meters from the beach.
Bluesun Holiday Village Velaris has 60 rooms facing the sea and 15 rooms overlooking the garden. The place is ideal for true relaxation and fun. Enjoy the gardens filled with the scent of pine, rosemary, and lavender, the sound of the sea, and the beautiful pebble and sandy beaches. Velaris is only 1 km away from the centre of Supetar and, therefore, the ferry port.
Radisson Blu Resort and Spa, Split
Let your trip begin in the best possible way: one of the most INCLUSIVE HOLIDAY RESORTS, which features free Wi-Fi in all rooms. Conveniently located in the Znjan district of Split, the Radisson Blue Resort places you close to attractions of Split's old town and exciting restaurants. The hotel also offers a beautiful view of the beach Znjan in Split.
This wellness oasis has many facilities and services such as a Turkish sauna, Finnish sauna, unique relaxation area, cold and hot pools, hot tubs, private spa, beauty treatment rooms, and fitness facilities. Of particular interest, the hotel also provides cots on request.
Amfora Hvar Grand Beach Resort On Hvar Island
For a complete island experience, head to this, one of the most inclusive hotels on the Hvar island. Located in a quiet bay in Hvar town with its spectacular cascading pool and a range of facilities, it is ideal for couples, family-inclusive holidays and business meetings, congresses, conferences, and exclusive events.
As an Amfora Hvar guest, you'll receive a 10% discount on food and beverages at over a dozen restaurants and cafés in the city centre and a 10% discount on SPA treatments at Sensori Spa, the island's main SPA centre.
It is perfect for family holidays because it has specially designed family rooms and offers plenty of attractions ideal for children of all ages. It features a specially designed children's pool and a kids' club, allowing safe outdoor play for the youngest guests. In an extra bed with two people, one child under 12 is free of charge.
As many as three restaurants will take care of the food. After sunbathing, there is swimming to bar cafe and lobby bar for relaxation. A bonus for these inclusive holiday resorts is that your pets can also come and have inclusive holidays.
Rixos Premium Dubrovnik
Have Inclusive holidays in the Rixos Premium Dubrovnik, which has 310 guest rooms that combine panoramic views of the Adriatic Sea with pampering facilities that indulge and inspire. It is conveniently located only 15 minutes away on foot from Dubrovnik Old Town.
For a complete experience, stay in allergy-free rooms, air-conditioned and equipped with a TV and coffee maker.
For relaxing moments, enrol in a scuba diving course on one of the nearby beaches or relax in the bar again while your little ones are in the safe hands of educated babysitters. Get your Dubrovnik holidays started with this fantastic hotel.
Hotel Adriatic, Biograd
All-Inclusive Hotel Adria Biograd is located in a beautiful pine forest, 350 meters from one of the most beautiful beaches on the Adriatic, the main beach of Biograd Soline, and 800 meters from the centre of Biograd.
With its all-inclusive service and animation for adults and mini club for children, the hotel has positioned itself as the best all-inclusive resort for families on the Dalmatian coast. Visit Biograd and have an unforgettable family holiday.
Family Hotel Lišanj
Board Type Available: Full board
Hotel Lisanj has a playful design, unique all-day animation for memorable family holidays, fantastic entertainment and inspirational facilities, wellness, and spa making Family Hotel Lišanj the best choice for an active family holiday.
The hotel offers rich animation, children's, wellness, and many other facilities.
Most rooms are air-conditioned with free Wi-Fi. There are an indoor swimming pool and three outdoor pools with attractions for children. On request, you can also get a children's crib.
Family Hotel Pagus
Board Type Available: Full board
Family Hotel Pagus is a 4-star hotel ideally located on Pag island. It is located across from the main city beach, additional decoration of the hotel.
With only three floors, made of white stone, surrounded by oleander and lavender, it fits perfectly into the surroundings, leaving the traditional Mediterranean style.
Most rooms are modernly furnished and air-conditioned, with a balcony, mini-bar, bathroom, and other facilities for all possible comfort. There is a beautiful view of the sea and the beach in front of the hotel and a free child service for children up to 7 years.
Hotel Park Makarska
The technical décor of rooms, the selection of materials and modern hues, and the walls painted with works by students of the Academy of Fine Arts are all given special attention at Hotel Park, Makarska.
This hotel is an excellent choice for a holiday because of its proximity to the beach and the city centre of Split. The hotel has an outdoor and indoor swimming pool, two al a cart restaurants, and 3 bars. And what is best, it offers a "free child place" service for children under 12 years of age.
Falkensteiner Hotel Park Punat
Get away from the hustle and bustle of everyday life, and instead indulge in the sweet leisure of island life – so you can fully enjoy the specialities offered by the Falkensteiner Hotel Park Punat.
In addition to comfortable and modern rooms, this hotel offers various other facilities such as Italian-Croatian cuisine with regional influences and specialities, a spacious outdoor pool area with separate children's pool and water slide, and childcare services with activity programs and creative workshops.
And for adults, relax Thalasso and spa treatments in the middle of nature. Sports Concierge for customized island experiences and active moments with the possibility of a diverse offer of sports and activities at the destination throughout the year.
MORENA All-Inclusive Resort
Morena All-Inclusive Resort is located in the small coastal town of Podaca on the Dalmatian coast and is the only family resort on the Makarska Riviera. Opened in 2018, it impresses with its modern look, many facilities, and undoubtedly perfect location along the Adriatic Sea.
In this all-inclusive, you can enjoy all-day buffet meals: lunch, afternoon snack, dinner, and breakfast, and unlimited consumption of local alcoholic and non-alcoholic beverages (7-24).
The use of 3 outdoor freshwater pools: infinity, fun & children's, use of hotel fitness, children's club for younger children with animator, Teen club with PlayStation game consoles, animation program for children and adults, deck chairs, umbrellas and towels at the pools and on the beach, free parking and WIFI throughout the resort, early check-in from 11 am, late check-out until 3 pm (subject to availability).
All-Inclusive Resort morena is an ideal place to relax with the youngest.
How to Find Food Inclusive and Flight Inclusive Holidays in Croatia
There are many all-inclusive resorts, hotels, and resorts in Croatia. Ten hotels from this post are located along the entire coast – from Istria to Dubrovnik:
1. Choose the location where you want to spend your summer. Read about the best islands in Croatia for families here.
2. Determine your price range.
3. Find resorts that offer better children's facilities. Some hotels provide the childfree option with free accommodation for children under 12 on an extra bed. At the same time, some offer discounts for children up to a specific age limit and even free cots.
4. Use the services of package holiday companies where you can explore places, prices, and dates and get information about the destination you are interested in.
In the following lines, read which are the three leading package holiday companies:
• On the beach
• Jet two holidays
Love holidays is the fastest growing online travel agency in the UK. The agency has brought a kind of revolution to the way holidays are offered. They offer flexible methods of payment and repayment of holidays so that their mission would be successful, and that is – to make holidays more affordable for everyone. You'll be sure to find summer holiday deals here.
On the beach offers three flexible payment options, and there are no admin fees. When you place an order on this website, the system will check availability and book your holiday directly with the airlines and hotel suppliers. Everything is organized for you, saving you time and money. Find your perfect Croatia holiday here >>
Jet2 Holidays is one of the world's leading travel companies. They offer a complete service, from the accommodation, organizing flights, transportation, car rental, and travel insurance. Find your perfect holiday here >>>
What is the main holiday resort in Croatia?

Holidays are the best medicine for the body and soul. In addition to broadening horizons through new experiences and knowledge, a visit to an undiscovered attractive destination serves to escape from stress, recharge your batteries, get to know yourself, socialize, and get closer to loved ones and families.

Everyone has their favourite. Thus in this situation, the most outstanding resort in Croatia is the one that provides all of the above as well as a variety of additional attractions in the area.

The best resorts are in Istria, Split, and Dubrovnik because they offer all-inclusive comfort and a wealth of cultural and historical richness.
Are the beaches free in Croatia?
There are no private beaches in Croatia because the maritime property must not be privatized. Six meters from the sea line to the mainland is a maritime good or public good. This is not even a common good because there is no property.

All Croatian beaches are free and public areas. Beaches are available to all people who want to use them according to local laws.
If they are under concession, it is stated at the entrance to the beach. Most of these beaches are in the vicinity of Zadar, and three are in Istria. For example, beaches do not have a concession in the Split and Dubrovnik area.

What part of Croatia is best for families?
Many factors impact which option is ideal for families. Still, you can't miss it if you choose anywhere on the Adriatic coast between Istria and Dubrovnik.

There are the most beautiful beaches in the world, the climate is mild, and it is close to major cities, hospitals, and supply centres in case of need.

Due to its location, the Dalmatian coast is ideal for many half-day or full-day tours.

So, here you are an hour to two away from the islands – visit islands in Croatia in the vicinity of Split, visit Split waterfalls or go crazy in numerous water parks in Croatia.
More on Croatia
Best waterfalls in Split, Croatia
Best national parks near Split, Croatia
Best islands in Croatia for families