Many of the best Kos island things to do are excellent for families – parents and children alike! This article describes things to do in Kos, one of the Greek islands most popular with tourists and the third largest in the Dodecanese chain. Whether you're island hopping or simply there for the Kos Island attractions, this post is for you and your family!
The average temperature in Kos is relatively warm even in the winter, with average lows in January still at 9 celsius and highs at 14.3 celsius. At peak summer, in August, it gets very hot – lows of 24 degrees Celsius and highs of 31 degrees Celsius!
Tourism is the most popular industry in Kos, so you can be sure that you'll be looked after well. Kardamena is especially known for young holidaymakers thanks to its bars and nightclubs, while other areas are quieter for older people and families.
These sections below cover some of the different areas of Kos and a small selection of the best things to do with your family during your visit. From one end of the island to the other is about a 45-minute drive, so you'll be sure to see a lot in your time if you budget it well!
Here are our 19 favourite things to do in Kos.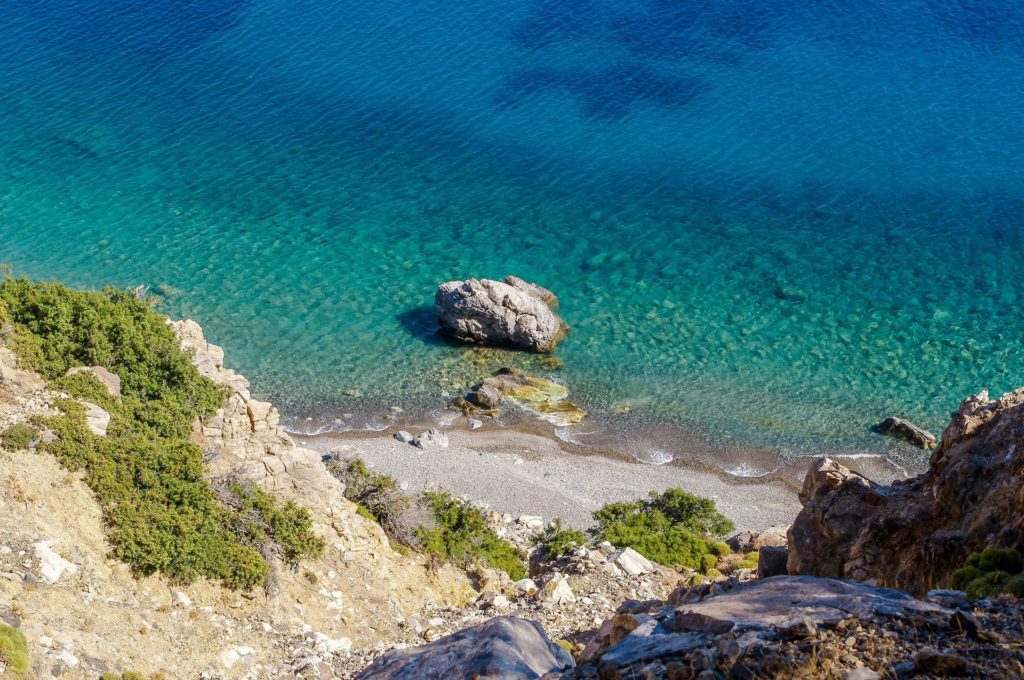 This post may contain affiliate links, which means I may receive a commission, at no extra cost to you, if you make a purchase through a link. Please see my full disclosure for further information.
More on Kos:
Places to Stay in Kos for Families
Things to do in Kos Town
Kos Town is the main port of Kos and its capital city. On trips to Kos for families, the things to do in Kos Town are definitely the best place to start! There are many things to see in Kos Town and so many things to do in Kos Town that it can be hard to narrow it down! However, we've picked four of the best things to do in Kos Town for you and your family.
Platia Eleftherias (Liberty Square)
This great square is always busy, chock-full of things to do, buy and see. When sightseeing in Kos, you won't want to miss the Italian-style buildings surrounding this beautiful Greek square – the archaeological museum, the municipal market, and the club once called the Fascism Palace. Shows and events often go on at the square, too! It's considered the heart of the city.
Beach day
The beaches in Kos are legendary, and the port city has many of them to choose from! The small village of Lambi is just a short walk away and has arguably the best beach in Kos and the best of Lambi things to do.
Lambi beach is one of the sandy beaches on Kos and is surrounded by places to eat, sunbeds, and the stunning sea. It's definitely a family favourite and one of the most popular of Kos, Greece, beaches, and not one to be missed. Another of the other best beaches in Kos is Aqua Blue beach.
The Kos Three Island Cruise
This fantastic 3 island tour Kos – Kalymnos – Plati – Pserimos takes you on a tour of the islands around Kos in the Dodecanese chain. There's a barbecue on board, a chance to see some dolphins, and a trip through islands so diverse and stunning that it might feel like you're walking on another planet! It's one of the best day trips from Kos!
There is also a regular ferry from Kos to Kalymnos for a shorter trip.
Kos Town Castle (Neratzia)
When visiting Kos with kids, you can't forget to see the old castle! It's renowned amongst the top things to do in Kos and is considered first among Kos attractions per visitor.
Best Things to do in Kardamena, Kos
Kardamena is a 30-minute drive from Kos Town and the main port. It's filled with fun Kos things to see and do. Luckily, car hire in Kos is pretty easy, with several rental places across the island! If you're looking for more fun places to go in Kos, these three might help!
Aquatica Water Park
Looking to swim somewhere different from the beaches? One of the most fun things to do in Kos for kids is to visit the water park! It's filled with water slides, a spin bowl, a play pool for smaller children, and more.
Read More: Best Waterparks in Croatia for Kids
Folklore and Maritime Museum
For something a bit different, one of the best things to do on Kos island is to visit this fascinating little Kardamena museum.
The owners and volunteers are always excited to personally guide you through the local Greek history and stories that the museum holds the stories for, and the kids will love it!
Jeep Safari Day
This seven-hour day trip from Kardamena includes a fantastic Greek lunch and takes you on a safari right to the top of Mount Dikaios to see the fantastic sights of the island!
While it's great for families, it's better for those with kids over eight years old, as the mountain paths do go high. It's a fantastic way to get off the beaten track!
Best Things to do in Psalidi, Kos
Psalidi is a short 8-minute drive from Kos town, right at the island's tip. These Psalidi things to do are some of the best ways to take advantage of your time on the island – not to mention the sea around it!
These four high-octane activities will be e fun for the adrenaline-seeking families on this fantastic island!
Anemos Windsurfing Club (or any other like it!)
When it comes to kitesurfing and other water sports, Kos is a fantastic destination due to its location and weather!
The club offers kite and windsurfing, sailing, parasailing, jet skis, paddle boats, sailing excursions, and more. There's something for everyone in the family!
Kos Mountain Bike Activities
What way could be better to get to all the places to see in Kos and get some exercise simultaneously than taking a bicycle tour of the amazing, beautiful island?
The tour starts with hotel pickup and includes bikes, helmets, a water bottle, and boat tickets for some island trips. This is an activity for families with teens, as this particular service is only available to those 16 and up.
Fantasy Mini Golf
This course is designed for families next to the beautiful Kos Greece beaches, and families generally rate it five stars!
It's a privately owned small business, and the owner often comes out for a chat, offers free water, and jokes with the kids. You can even see all the way to Turkey!
Go Karts Psalidi
Kids and adults alike love to race around and fulfil their need for speed, the wind against them in the Greek summer air. Let the kids race each other or even see which of the parents can come out on top – go-karting will be a novel way to have hours of fun!
Why not go racing around the track against a mountain backdrop?
Best Tigaki Things to do in Kos
Tigaki is a small, laid back resort known for its beaches, its lagoon – and its flamingos! It's fifteen minutes from Kos Town by car, in the northern part of the island. Though it's small, there's still plenty to do – and these are a couple of our favourites.
Alikes Salt Lake
Can you believe that this humongous saltwater lake was used to produce salt for commercial use until 1989? It's a great place to either cycle or walks, surrounded by several old buildings, and on the far side, there's a beach area.
Many birds live near the lake – and if you're lucky, you'll see the bathing flamingos fetching a snack.
Barracuda Beach
There are plenty of beaches to choose from in and around Tigaki and nearby areas, but Barracuda beach is pretty unique! As well as a beautiful public stretch of beach, there's a whole resort to stay in and enjoy.
Like most beaches on Kos, the sea is excellent for a swim, and there are always delicious restaurants and little cafés nearby for food or a snack.
Best Things to do in Marmari, Kos
Marmari is very close to Tigaki, only a seven-minute drive in the opposite direction from Kos Town. It's an excellent area for those looking to explore the natural beauty and the simpler life in Kos, and the two activities listed below are some fantastic ways to do just that!
Erika's Horse Farm
The farm is family-friendly and offers tours on horseback for both adults and children right along the beach – that's right, the horses sometimes step in the water. In fact, there's a program where you can go swimming with the horses!
Kids find it exciting to ride along the shore at sunset like a prince or princess in a movie, and Erika and her team love to encourage their guests to interact with the animals. There's also a small farm with a few other animals to see, private riding experiences and archery lessons.
Fun2Fun Sailing Centre
Located on the outskirts of Marmari, this centre has lots of fun family things to do. They offer catamarans, windsurfing, kitesurfing, and courses, all of them for adults and children. It's a family-run business, so you know you're getting that personal touch from Dominique and Nadine's owners!
Best Things to do in Kefalos, Kos
It takes about 45 minutes to drive from one side of the island (the port) to the other (Kefalos). Kefalos is on the other side of the island from Kos Town and is the westernmost town. Its rocky location on a peninsula gives it a striking feel and makes it stand out even amongst the amazing towns of Kos.
Though there are lots to choose from, these three are some of the best things to do with your family in Kefalos!
Agios Stefanos, Kos
Among Kos, Greece, beaches, this one is a standout and maybe the best beach on the island in our personal opinion. Agios Stefanos combines Kos culture and sandy beach days into one, with a pair of 5th-century churches on the sand!
It's considered the most photogenic beach on Kos. There's even an islet nearby, Kastri, with a blue-domed church on top. The best time to visit is between April and October, and there are several resorts and accommodation options nearby.
You can either hire a boat or swim to visit it!
Traditional House of Kefalos
This small but stunning heritage museum is a great place to go if you want to soak in some Kos and Kefalos culture. The tour takes around two to three hours, and the whole goal of the place is to be a realistic visit to the village of the village's ancestors.
It's a family-owned museum with family heirlooms, rare documents, agricultural tools, etc. The Maragos family will offer lunch or dinner and coffee as part of your tour!
Cavo Paradiso
In an isolated bay, this hidden gem of a beach and cave is near Kefalos. The sand is soft and golden, the sea is turquoise, and the whole area is quiet and private. There are some sun chairs and umbrellas, but these are limited and first-come, first-serve. It takes about half an hour from Kefalos by car, but it's absolutely worth the trip!
Part of the beach, further along, is filled with a forest where people camp, and further ahead is a pebbly stony area. Even further, if the water is calm, you can access the Hilandri Caves.
An in-depth guide to all these areas, places to stay, atmosphere, and more can be found here. Kos is really one of Greece's most beautiful islands, and if you're planning an unforgettable family trip, it isn't one to be missed at all. So get out there, have some fun – and happy holidays!
Zia, Kos
If you want to discover the heart of the island of Kos with a traditional vibe, Zia is the perfect place to stay. Although Zia has become increasingly touristy over the last decade, you'll still have a unique experience.
If your family loves walking, you'll be right next to Kos National Park, where you can go on hikes in the mountainous interior and discover the non-touristy side of Kos. If you choose to stay in Zia, it's best to have a car to drive to nearby beaches and attractions while having the traditional experience of living in a village.
Plan Your Trip to Kos with Kids
>> (opens in a new tab)" rel="noreferrer noopener sponsored" class="ek-link">Book Your Private Transfer >>>
>> (opens in a new tab)" rel="noreferrer noopener sponsored" class="ek-link">Book Tours and Activities >>>
More on Kos
More on Greece