After a nationwide lockdown and countless trips planned and cancelled, I'd lost all hope of going away this summer.
However, we managed a 3-day staycation in Devon, where we visited Exeter, Exmouth and Plymouth in July.
We had a family holiday to Crete booked at the beginning of September, and we were dreading the day the trip would be cancelled. At the beginning of August, mum and I worked from home, and Eden was off nursery.
We had a growing concern over the popularity of our hometown, St Ives, as one of the UK's top staycation destinations. The streets were getting hard to walk along, let alone navigate a pushchair through. Few masks were being worn, and even a simple trip to town was now becoming a worry.
One night, we had the idea of flying to Greece three weeks early. We were familiar with the country from previous holidays and past backpacking trips. I planned our journey as a 3 generational family through Greece in just 2 weeks.
This post may contain affiliate links, which means I may receive a commission, at no extra cost to you, if you make a purchase through a link. Please see my full disclosure for further information.
Athens
We'd booked a flight from our nearest airport to Athens, where we visited the Athens Riviera, exploring the beaches along the coast before moving towards central Athens. For this leg of the trip, we stayed in a central apartment block using Airbnb. During our stay in Athens, Greece's growing concern about rising virus cases. We set out for the Cyclades islands the following day.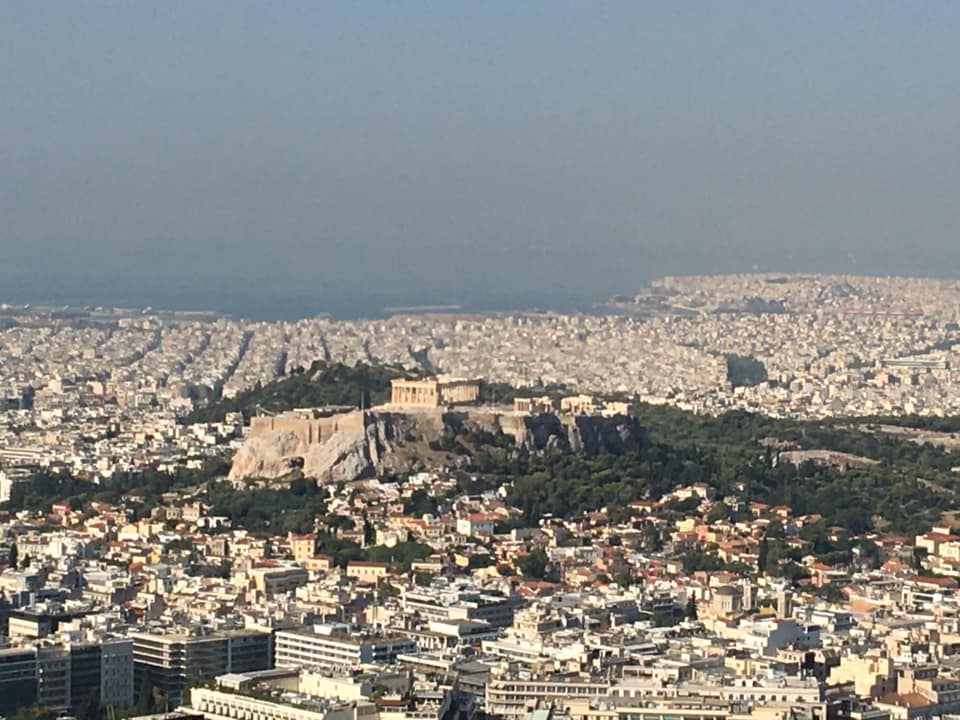 More on Athens:
Off to the islands | Naxos
We boarded the early morning Blue Star Delos ferry from Pireus. Here, we booked a cabin which made it much more comfortable. Eden could play in a safe environment, and we had a porthole to see the views from the comfort of the room, including the neighbouring island of Paros, which we'll hopefully be visiting next year. Travelling with a 12-month-old would have been much harder without the cabin.
We thoroughly enjoyed our time in Naxos, where we mainly stayed around the resort town of Agios Prokopios, which we found to be great for kids. The water was calm, and the beach only really filled up in the afternoons. The resort has everything a family needs, including family tavernas, souvenir shops, a cheap supermarket, a small bakery and plenty of takeaways. You can view our in-depth guide to the best places to stay in Naxos for families here.
We stayed at Ioanna apartments, which was a perfect place for us to stay, with a pool and kids pool, cooking facilities, and a safe balcony.
Agios Prokopios | A Complete Resort Guide
Ios
Into the swing of island hopping now, we headed on a short 45-minute ferry to Ios, where we stayed on Yialos beach at the Mare Monte hotel, within walking distance of the main town (Ios Chora). The shallow waters and calm sea made it an excellent place to stay with a baby.
Mum and I walked up to the town separately each evening as it's very unsuitable for pushchairs.
We took the bus to Myoplatas beach to see more of the island one day. We found an excellent beach bar (Karma beach) that was very child friendly – a family-run place with a relaxed vibe.
Ios is famous for its party atmosphere, but we found it quaint and quiet, with the town getting slightly rowdier in the late evening – the island still makes a perfect getaway with young kids.
More on Ios:
Santorini
No visit to the Cyclades islands is complete without a visit to Santorini. This volcanic island is the jewel in the crown of the islands.
Arriving on the ferry from Ios, we'd chosen a perfect time to visit. So far, there have been no confirmed cases on the island, and the main tourist hubs of Fira and Oia were less busy than usual.
We stayed in the Anessis apartments close to the bus station, where we went on trips throughout the island to Oia, Fira and Kamari Beach.
Although many see Santorini as not very child friendly, we found it easy to navigate. We enjoyed visiting the beach and spending time in the hotel pool, and short bus trips to see other parts of the island.
The bus system worked much better than we imagined! The only downside was the cobbles in the main towns of Fira and Oia, which made it very hard to navigate a pushchair. Bear this in mind but also that most of the island IS pushchair friendly.
View our 10 Day Greece Itinerary here
More on Santorini:
Crete
At this point, we were amazed we'd made it as far as travelling to our final destination. When we arrived at the port of Santorini, we found our ferry to Rethymno had been cancelled due to a technical error.
I set about trying to resolve the situation and managed to book a ferry to Heraklion later that day. Luckily, the staff at Anessis apartments let us come back and use the room and the pool again, but we were now set to arrive at the other end of Crete.
We decided to change our hotel booking to Hersonnisos for 3 nights before arriving in Gouves – our final destination. We stayed in the Heraklion province, although upon seeing Rethymno and Chania, I wish we'd stayed over on the west coast.
The family holiday | Crete
We made it to Gouves, meeting Eden's cousins for a family holiday. It was nice to have some downtime, going between the beach and the pool at Andreas Apartments, set on one of the main shopping streets and within easy access of the beach.
During the last 5 days of the trip, the Uk government issued a travel advisory warning of essential travel only to a selection of islands in Greece, including Crete.
We'd now have to quarantine on our return. Despite this, we loved our time in Gouves – there's plenty to do when holidaying with babies in this part of Crete. I can't help but feel sorry for the hotel and restaurant owners over the situation. Most hotels were forced to close, and some may never reopen.
More on Crete:
I'll be posting in a lot more detail about our trip to Greece in the coming months. Follow us on Facebook and Instagram for updates.
More on Greece
Return to Greece Travel Guide >>>