Greece is well-known around the world for its stunning landscapes, crystal clear waters, and holiday atmosphere. Well-known islands such as Mykonos, Zakynthos, and Santorini are visited by thousands each year. There are many Greek islands where you can experience a tranquil island escape, where there will be fewer people but still plenty to be explored! Here are the best quiet islands in Greece to visit this summer, that are also perfect to visit with kids. Find inspiration for the perfect Greek island holidays below.
This post may contain affiliate links, which means I may receive a commission, at no extra cost to you, if you make a purchase through a link. Please see my full disclosure for further information.
Why You Should Consider Visiting a Quiet Greek Island
Visiting one of Greece's quieter islands is a must-do experience. Get off the beaten track on one of Greece's more remote islands or explore an island less discovered by tourists. Discover amazing family-friendly Greek beaches.
If you're trying to find a quiet Greek island during peak season, including a quiet Greek island in August or a quiet Greek island in July, these recommendations still stand;
Quiet Greek Islands in the Cyclades
Here are the best greek islands in the Cyclades for a quiet Greek island holiday:
1. Naxos
Although Naxos is one of the more well-known islands in the Cyclades group, its one of the best Greek islands for family holidays. There are many villages and resorts where you can get off the tourist trail and truly immerse yourself in the Greek experience.
Head away from the Main Town (Chora) and the popular resorts of Agios Prokopios and Agia Anna to the remote seaside village of Apollonia, where you can dine in traditional family-run tavernas and relax on the small picturesque beach. The village of Plaka is also tranquil. Walk along the 4km sandy beach and enjoy views of neighbouring Paros island. View our best places to stay in Naxos with kids here.
If you're travelling as a multigenerational family, Naxos is also the best quiet Greek island for older couples.
2. Paros
Paros Island is one of the Cyclades' gems and is known as a more authentic Santorini. It is one of the quiet Greek Islands but rests assured there is still lots to do on Paros Island.
Paros is easily accessible by flight or ferry. There are even direct flights from and to Dublin, Ireland, or London, UK. View the Greek islands with airports here.
On Paros Island, you can easily rent a car or use the bus system which can be convenient and budget-friendly when travelling as a family. 
A recommended time on the island would be 5 to 7 days as there is lots to see. There are beautiful beaches all around the island.
Logaros beach is great for kids as it is a bit enclosed so you can watch them easily. Golden beach is another great beach. When getting to Golden beach, walk along the beach to the right to find the quieter side. There, you'll find turquoise water that is perfect for scuba diving and perfect thin sand for building sandcastles. 
Paros is also the best quiet Greek island for couples.
Where to Stay in Paros
There is a good variety of accommodation on the island, from campgrounds to high-end hotels. Staying in Parikia or Naoussa is recommended. Parikia and Naoussa are the main villages with traditional white-washed houses and lots of narrow streets.
In Parikia, Anna's Parikia Studios is a great accommodation to stay at as it is only a couple minutes walking from the promenade. The promenade in Parikia will take you along numerous restaurants, with a view on the beautiful sunset and windmills. 
Recommended by Mary, BR By Mary
Quietest Dodecanese Islands
If you're looking for a quiet Greek island escape, here are the best places to visit in the Dosocanese:
3. Kasos
The small mountainous island of Kasos lies at the southern tip of the Dodecanese Islands and is bypassed by most tourists.  There are direct flights from Athens and some of the islands, but most visitors take the ferry from Piraeus (21 hours), nearby Rhodes, Karpathos, or Crete.
There is plenty to enjoy on Kasos. There are four villages to explore, plus Fry, the main town and port. You can hire a car or moped in Fry, and there are buses linking all the villages. The town's name means 'eyebrow' and describes the shape of the town. Its picturesque port is Bouka, with its square filled with coffee shops.
 There are lovely beaches and boat trips, churches, chapels, a traditional flour mill, and traditional Kasiot houses to visit. The six churches of Kasos are well known – six white-washed chapels standing in a row, built to ward off bad fairies. Ellinokamara Cave near Agia Marina is where islanders hid during pirate invasions.
 Theoxenia in Panagia Village is the ideal place to stay with traditionally styled rooms with well-equipped kitchens and living areas plus a welcoming basket of local produce.
By Chrisoula, Travel Passionate
Quietest Islands in the Saronic Gulf
Here are our top picks on the Saronic Gulf. These are some of themost quiet holiday destination in Europe:
4. Spestes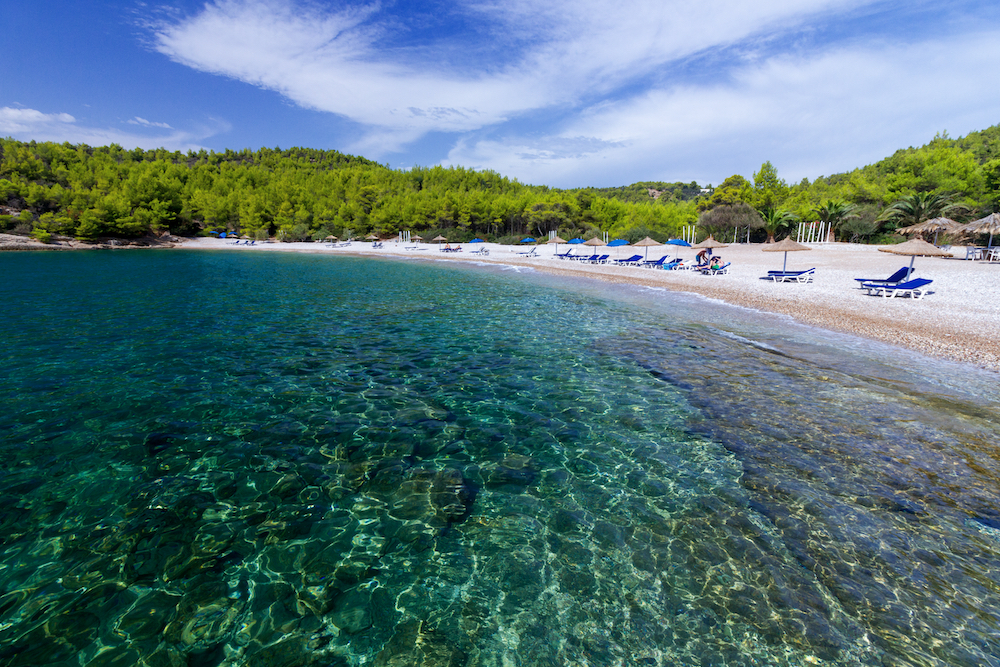 One of the best (and quietest!) Greek islands to visit is Spetses – near the Saronic Gulf and not too far on a ferry from Athens.
The island is calm and relaxing but has enough to keep one occupied, especially if travelling with kids and your family. Spested is also one of the most small quiet Greek islands.
Getting to Spetses is easy via the FlyingCat and Hellenic Seaways FlyingDolphin boats from Athens. Once there, you will notice restaurants and cafes situated along quiet beaches. Some of the main attractions in Spetses are the Spetses Lighthouse, the Bouboulina Museum, Kaiki Beach, Ayia Anargyri Beach, and Xilokeriza Beach.
You will find plenty of delicious restaurants on the island like Clock Eatery and Bouboulina, located directly across from the fish market.
When you're on Spetses, it is popular to rent bikes, motorbikes, or ATVs for the day and you can do so in various spots around the island. These will allow you private access to many areas of the island otherwise not reachable without transportation.
There are also many amazing places to stay, such as Villa Marina, where your family will feel at home and only be a short distance from Ayios Mamas Beach.
By Megan, Meganstarr.com
Quietest Islands in the Sporades
Here are our top picks in the Sporades:
5. Skyros
World-class food, rich culture, and affordable costs, there is a lot for families to love about Greece. While the famous islands in the south get the most visitors for their fun, sun, and party vibe, the Sporade island of Skyros is an ideal fit for families looking for a quiet time with kids.
Like almost all Greek islands, families will find the beauty of the turquoise blue Aegean Sea, but in a less touristy and more family-friendly setting. 
Only a short 45-minute flight from Thessaloniki or a four-hour bus and ferry from Athens, Skyros is a gold mine of hikes, beaches, vistas, and calming sunsets for nature-loving families looking to relax. The scenic island has its fair share of clear waters for wading with the young ones or snorkelling for the slightly older kids. But for a bit of a twist, kids love an attraction unique to Skyros- A visit to a miniature pony farm.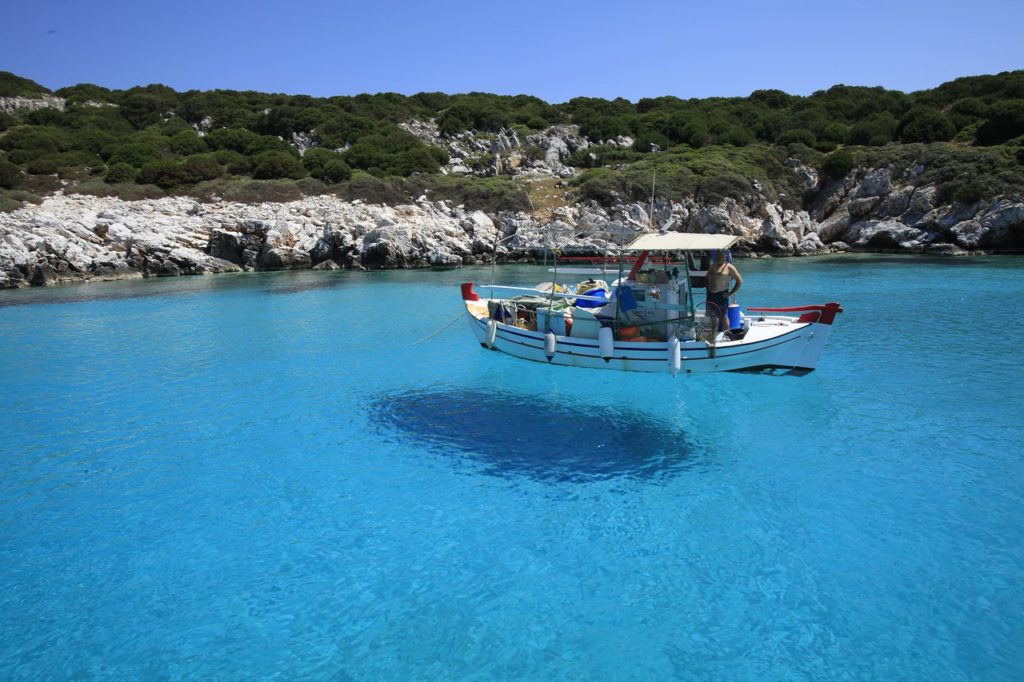 It is pretty universal that kids love ponies. Skyros has a tiny 3-foot (92 cm) treat for kids. The Skyros horse is a breed of miniature horse native to the island. One of the rarest breeds of horses in the world, Skyros horses have been domesticated and used since the age of mythology. Descendants of the horses were initially brought to the island by fifth-century Athens; scholars theorized these to be the horses used by Alexander the Great.  
At last count, there are roughly 200 Skyros horses left in the world, and families with kids can visit, pet, play, and even ride with them on several of the horse farms open to the public on the island. For an even more unique experience, some farms offer free accommodation for volunteers (both young and old) looking to help care for the horses.
By Marco, Nomadic Fire
Quietest Greek Islands with an Airport
Greek islands with an airport seem to be busier and somewhat less quiet. There are two types of airports on Greek islands, regional airports which have flights only to Athens (and sometimes other major cities and islands in Greece seasonally) and national airports which fly all over Europe. These islands normally have resorts, and they are very busy. Here are the best quiet greek islands with an airport so you can travel to them easily and still have an amazing time:
Kefalonia: Kefalonia has a national airport with flight routes around Europe. Stay away from the main resorts, and you'll find tranquil villages, beautiful beaches and a tranquil atmosphere. View our best things to do in Kefalonia here or our top places to stay here.
Karpathos: Set between the busier islands of Rhodes and Crete, Karpathos is a hidden gem and great for a quiet holiday.
You can view a full list of airports in Greece here
Quiet Greek Islands with Direct Flights
If you're looking for a quiet island in Greece, Kefalonia is your best bet for a quiet Greek island with direct flights from the UK. Other quiet Greek islands have direct flights from Athens. If you fly to an island such as Mykonos or Santorini, you're just a short ferry journey away from much quieter islands such as Amorgos, Folegandros and Donoussa.
Plan Your Island Escape in Greece
More on Greece