Ios is located in the Cyclades island group, south of Athens, Greece and nearby the islands of Santorini, Sikinos, and the small Cyclades. Ios is relatively remote and has no airport. The island has a reputation as a 'party island' but it's also perfect for a family holiday if you know the best places to stay in Ios.
This post will take you through where to stay in Ios Greece, including some of the best hotels in Ios and the best apartments in Ios to help you find the perfect place to meet your families needs.
This post may contain affiliate links, which means I may receive a commission, at no extra cost to you, if you make a purchase through a link. Please see my full disclosure for further information.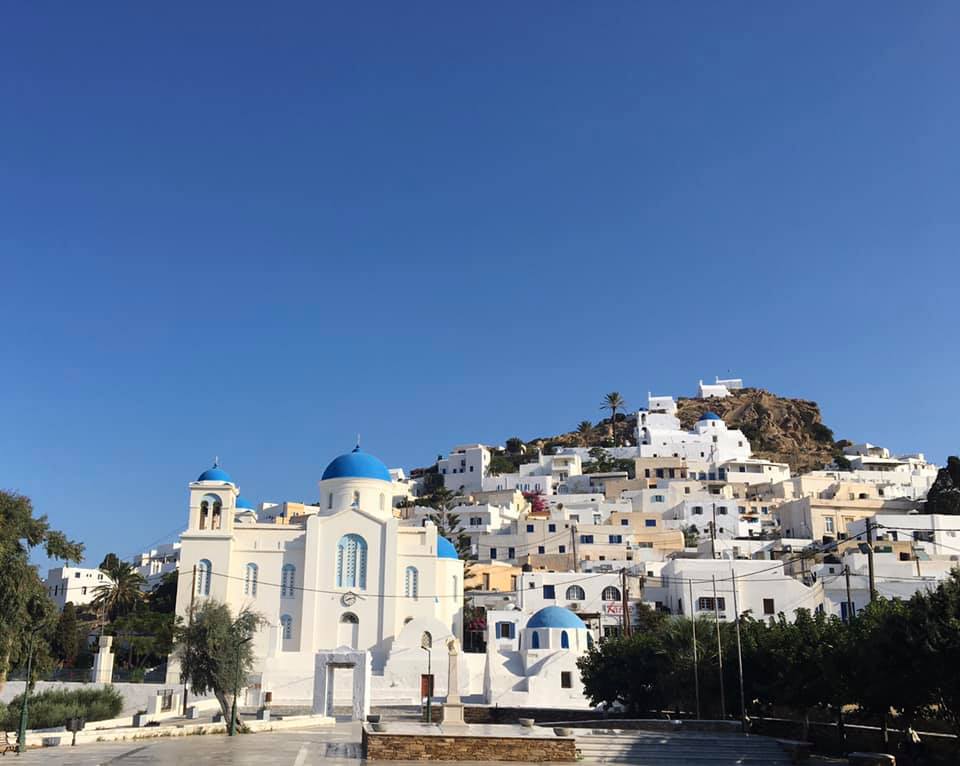 How to get to Ios
There is no airport in Ios. You'll either have to fly to Athens and catch a ferry to Ios or fly to a nearby island and catch a shorter ferry to Ios.
Athens to Ios Ferry
During high season, there are around 19 ferries a week from Athens to Ios with 4 different ferry companies that suit all budgets.
The more expensive ferries (Seajets) are super-fast, the medium-priced ferries such as Blue Star have amazing facilities, and the slower ferries are outstanding value for money.
Quickest ferry to Ios | Seajets – 4 hours, 55 minutes
Medium Speed Ferries to Ios | Golden Star and Blue Star Ferries – 6 hours, 40 minutes
Slow Ferries to Ios | Zante Ferries – 9 hours, 5 minutes
Fly and Ferry to Ios
Islands near Ios with an airport:
Mykonos | 2-hour ferry away
Heraklion, Crete | 2.5-hour ferry away
Santorini | 45-minute ferry away
The quickest way to reach Ios is to book a flight to Santorini and catch a short 45-minute ferry from Santorini to Ios. Flights to Santorini can be expensive so make sure you book in advance.
You're more likely to find a cheaper flight to Heraklion (the capital of Crete) where you can catch a 2.5-hour ferry to Heraklion.
View cheap flights to Athens, Mykonos and Santorini for your dates here.
The most popular way to reach Ios is by flying to Athens and catching a longer ferry.
The best way to visit Ios is to combine the island with a Greek island-hopping trip. This 10-day Greece itinerary covers Athens, Naxos, Ios and Santorini based on our travels through Greece in summer 2020.
Getting around Ios
Hiring a car in Ios | There is a range of hire car companies in Ios. Cars are usually picked upon arrival at the port. I recommend Travel Supermarket to compare the best prices. Click here to view the latest prices and availability for your dates.
Busses in Ios | There's one main bus service in Ios which runs every 30 minutes (in high season) from Ios port in Yialos to Chora (the main town) and Myopotos (the main resort).
Walking in Ios | It takes around 20 minutes to walk uphill from the port to Chora up an old donkey trail.
Where to stay in Ios | An Overview
The island of Ios is only very small (109km²) and most of the island is very remote. Some of the beaches on the island are only accessible by boat. The main tourist areas in Ios have proper roads and good transport links.
There are three main areas to stay in Ios. Yialos is the area around Ios Port and the marina, Chora is the capital of the island, slightly inland but with lots to do and see and useful transport links to the beaches.
Myopotos is the main tourist resort in Ios with plenty of accommodation to suit all budgets and a large white sand beach.
There's a range of accommodation in Ios for families from cheap and cheerful self-catering accommodation to five-star luxury villas. The island has become popular with people sailing around the Greek islands too. Luxury yachts can be seen when walking around the Yialos area.
A note about nightlife in Ios
Ios has gained a reputation as a nightlife hotspot since the 1980s when hippies discovered the stunning beaches on the island. The main area for nightlife is Chora.
If you explore the winding streets, of Chora you'll find several of the buildings are 'secret' underground clubs which come alive at night. During the late evening, the pretty streets get very busy with partygoers.
During the day, the main hub for partygoers is Myopotos. The far-out beach club is the only day venue in Ios and is where lots of partygoers choose to stay. Far Out beach club is at the far end of Myopotos beach (the beach is huge) and doesn't create a disturbance for beachgoers.
I visited Ios with my 12-month-old and found the island very tranquil and relaxing. The island was one of the quietest islands I've been to and is the perfect place for a family break if you take on board the recommendations of where to stay in this post.
Map of Ios | Best Areas To Stay
Staying in Yialos
If you're visiting Ios with kids, Yialos is my top recommendation as a place to base yourself. The area has a relaxed vibe with plenty of stunning short walks in the area and one of the best beaches on the island.
Yialos beach is very flat with thin white sand. The water is exceptionally calm minus a few small waves caused by the occasional ferry docking. Due to being the port of Ios, the bay of Yialos is very sheltered. The water is also very shallow and doesn't really get that deep, so it's great for kids to splash about.
If you choose to stay in Yialos, you can walk to Chora up lots of steps from the port on an old donkey trail. There's also a regular bus service from Yialos that runs to Chora half-hourly in high season and then onto Myopotos.
Most accommodation in Yialos is located along the beachfront. There's plenty of lovely tavernas, a supermarket and a few shops. The only downside of our visit was the lack of takeaway food as we didn't have cooking facilities.
In Yialos, you can walk along the marina and view all the luxury yachts. There's also a fantastic walk to a beautiful church on the far side of Yialos for stunning views over to Sikinos Island.
Note: Most hotels in Yialos will come under Chora on booking websites.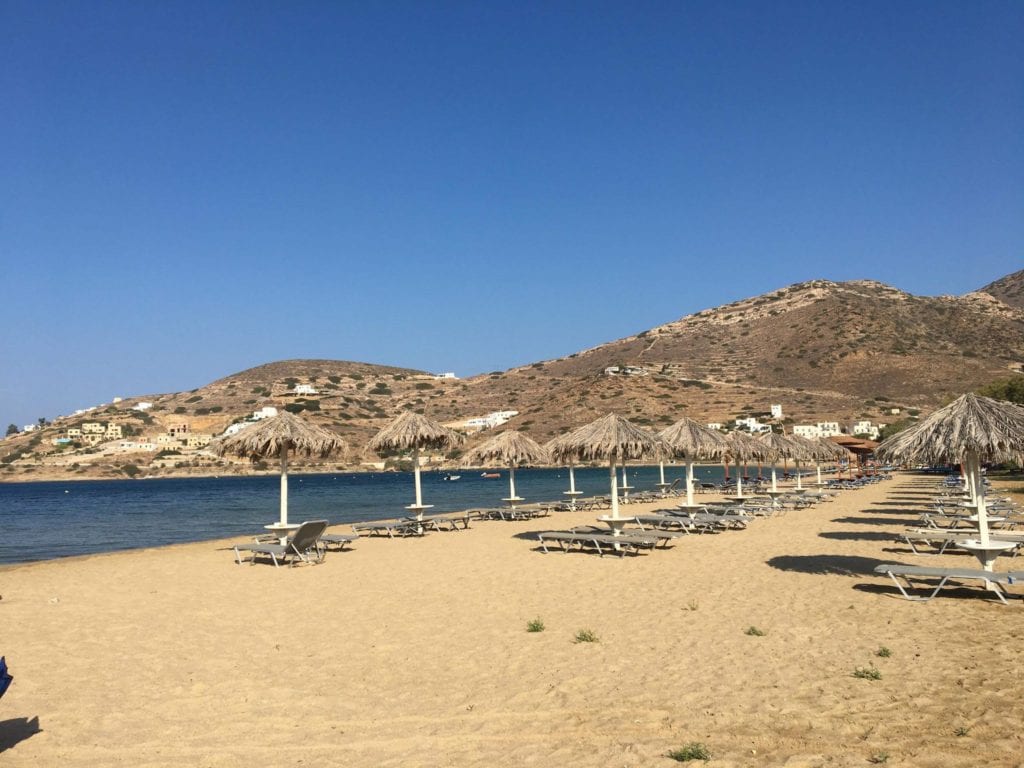 Best Places to stay in Yialos
Mare Monte (self-catering + an option to upgrade to cooking facilities) $
The Mare Monte hotel is one of the best value hotels in Ios. You'll also get access to a lovely pool and be just steps away from Yialos beach (it can't get any better!). Please note that the pool is quite deep and there are only ladders to get in and out (see image). However, my 12-month old still enjoyed it!
When you arrive off the ferry, the hotel is just minutes away. We were kindly picked up by the owner on her tricycle who helped us with our luggage.
There's a poolside bar where you can purchase snacks and drinks throughout the day, and there's an option to pay a little extra for breakfast.
Rooms sleep 2-6 adults + kids depending on the room type chosen. Rooms range from a double room to a two-bedroom apartment. There are no cooing facilities unless you choose a studio.
Cots ARE provided on request although make sure you double-check before your arrival. View the latest prices and availability for your dates here.
Pension Irini Vicky is VERY good value for money. The property was just behind where we stayed and the only difference was the lack of pool and the one-minute extra walk tot he beach. However, guests benefit from a large outdoor area and access to a public garden. You'll be just minutes away from Ios port and the beach. Rooms sleep 1-5 adults + kids. Cots can NOT be provided but kids are very welcome. View the latest prices and availability or your dates here.
The Acteon Hotel provides comfortable accommodation right next to Ios Port and marina and a short walk from Yialos beach. Most rooms have views of the port and Yialos beach. You'll also benefit from being right next to the bus stop for transport to Chora and Myopotos. Rooms sleep 1-3 adults + kids. Cots CAN be provided on request. View the latest prices and availability or your dates here.
These apartments are located just 400 yards from Yialos beach. The interior is somewhat more modern than other accommodation choices in the area, and you'll benefit from a fully furnished kitchenette. Apartments also have a living room, dining area and garden. Rooms sleep 4-5 adults + kids. Cots can NOT be provided, but kids are very welcome. View the latest prices and availability or your dates here.
This luxury hotel is just meters from the port and has been rated extremely highly by families. Guests can choose between a room, suite or a villa with the option to upgrade to sea views. The suites feature private outdoor hydromassage tubs, and the junior suites have private pools. All guests have use of the hotel pool. Rooms sleep 2-4 adults + kids. The property also has a garden and bar. Cots CAN be provided. View the latest prices and availability or your dates here.
Staying in Ios Chora – The Capital
Ios Chora is one of the most beautiful towns in Greece set on one of the highest points on the island. There's one road running through Chora, lined with takeaways and supermarkets cheaper than elsewhere on the island. There's also a lovely bakery. Make sure you try the fantastic cheese straws and macaroons on offer!
The old town consists of a series of winding streets leading up to a church at the top with panoramic views of Ios island, the Yialos area and Sikinos island. While you're exploring the town, pop into the little independent shops or grab a bite to eat at one of the hidden cafes and tavernas.
Note: Chora is not suitable for pushchairs. If you're visiting Ios with a baby or toddler, consider bringing a baby carrier or staying elsewhere. On my visit to Ios, I walked into the town during the evening from Yialos.
Best places to stay in Chora
The Skala hotel apartment complex is a 2-minute walk to the centre of Ios Chora where you can wander the winding streets, admire the sea views and visit the shops and restaurants. Regular buses leave from the main square to Yialos and Myopotos. The hotel is also within walking distance to Yialos.
Apartments feature a fully equipped kitchenette and living room. Guests can enjoy the outdoor pool and jacuzzi. There's also a poolside bar and gym on-site. A free two-way transfer to and from the port is provided. Cots are NOT provided, but kids are very welcome. View the latest prices and availability or your dates here.
Staying in Myopotos – The Main Resort in Ios
Myopotos is the largest resort in Ios with most accommodation catering to tourists. The area all runs directly along the very long beach and a few rows behind. You'll also find some luxury properties on the surrounding cliffs.
Along the beachfront, you'll find a wide range of tavernas, cafes, bars and takeaways to suit all budgets. I recommend Karma beach bar – an Italian restaurant with a chilled vibe.
Myopotos beach is very well organized with plenty of sunbeds and umbrellas to hire. These are more expensive than other beaches in Ios. There's also luxury beds and Balinese beds available.
At the far end of the resort, you'll find the Far out beach club, the centre of the Ios party scene by day and where the younger crowd often choose to stay before heading out in Chora.
Best places to stay in Myopotos
Island House Mare (Self catering – Bed and breakfast) $
Just 100 yards from Myopotos beach, Island House Mare offers newly built studios and apartments with fantastic value for money overlooking the sea. Each room has a fully furnished kitchenette. Guests can enjoy the facilities of the nearby Island House Hotel (50 yards away) where there's an outdoor swimming pool, BBQ facilities and a lounge. Rooms sleep 2-4 adults + kids. View the latest prices and availability or your dates here.
This friendly apartment complex is just 100 yards from Myopotos beach. Each apartment features a balcony with sea or mountain views, and some include a kitchenette. Guests can choose between a double or twin room or an apartment. Rooms sleep 2-4 adults + kids. Cots are NOT available, but kids are very welcome. View the latest prices and availability or your dates here.
Ios Without A Car – Best Places to Stay
If you want to explore the whole island of Ios with kids, its best to hire a car. If you want to stay within the areas of Yialos, Chora and Myopotos then you'll be ok. Many of the key historical sites in Ios are inland and hard to get to without a car.
Many beaches have no buses running between them. There are organised trips where you'll be dropped off at a beach around 12:00 and picked up at 17:00 but that can sometimes be too long for younger kids and its nice to be able to head back whenever you want.
There are various options for hiring a car in Ios. The cheapest way is to pre-book online with Travel Supermarket and pick up your car on arrival at the port. You could also hire a car for your whole island hopping trip or on arrival in Athens. However, you'll have to pay a substantial fee for the car on the ferry. View the latest car hire prices and availability for your dates here.
Start your Ios Trip Planning
Where to stay in Greece
More on Ios
More on Greece