When visiting the Canary Islands with kids, there's nothing better than finding a stunning beach with all the facilities your family needs. There are seven Canary Islands and over 500 beaches spread across the islands. That's a lot of beaches to choose from!
From beaches in the more well-known islands of Fuerteventura and Lanzarote to hidden gems in La Graciosa and La Gomera, you'll find some fabulous beaches to visit in the Canary islands here. The Canary Islands have some of the best beaches in the Spanish Islands.
This post may contain affiliate links, which means I may receive a commission, at no extra cost to you, if you make a purchase through a link. We are a participant in the Amazon Services LLC Associates Program, an affiliate advertising program designed to provide a means for us to earn fees by linking to Amazon.com and affiliated sites. As an Amazon associate I earn from qualifying purchases. Please see my full disclosure for further information.
The Best Beaches in the Canaries MAP
#1 Playa de los Amadores Beach, Gran Canaria – One of the best beaches in Gran Canaria
Submitted by Natasha, Great Ocean Road Collective
Located on the second-largest island in the Canaries, Gran Canaria, you'll find the white sands of Amadores Beach. This man-made beach sits at the southwest of the island in a calm, turquoise bay sheltered by two dykes. The clear, tranquil water is perfect for swimming and has a shallow sandy area to walk in well-suited for children.
Snorkelling is another popular activity, particularly in the area near the breakwater. There are no ball sports or other water sports allowed at the beach, so you'll easily be able to relax, lay back and enjoy the sun. 
In 2004, Amadores Beach earned its Blue Flag status, a reflection of the top-notch services it offers. You'll find a car park, restaurants, and shops near-by, as well as lounge chairs, towels, and parasol rentals. The beach is also disabled-friendly, offering amphibious chairs, handrails, and buoys to its disabled guests.
There are many places to stay near Amadores beach, but if you're staying in nearby towns, the beach is easy to access. From Las Palmas, you can take a 30-minute taxi ride, or if you're staying in Puerto Rico, simply take the cliff-top trail that departs from the Puerto Escala marina, roughly a 20-minute walk. 
#2 Caleta de Famara, Lanzarote – Best for surfing
Caleta de Famara beach is located in the North of Lanzarote in the area of Teguise. The beach is the largest in Lanzarote and runs for a whopping 6km!
The beach is popular with watersports, especially different types of surfing including kite-surfing, windsurfing, bodyboarding and simply surfing. However, the beach is less safe for swimming. Caleta de Famara beach often has a red flag although sometimes the waters are safe and the lifeguards will display a green flag. A yellow flag means to swim with caution.
Another popular pasttime on Caleta de Famara beach is a long walk. The beach is large enough for a wilderness walk and great for a run with kids in all seasons.
So if you're looking for a lovely beach for a long walk or you want to try out some surfing sports, this is one of the best beaches in the Canary Islands for you.
Read More: Best Places to Stay in Lanzarote for Families
#3 Papagayo Beach, Lanzarote – One of the most famous beaches in the Canary Islands
Playas de Papagayo beach is the perfect day trip in Lanzarote with kids. This beautiful beach is not near any of the major resorts. Papagayo is located in a natural park consisting of five pristine beaches.
There is a small resturaunt on the beach but its probably best to bring a big bag with plenty of food and drinks to keep the kids full all day long.
Papagayo beach can easily be visited by car or by an organised boat trip.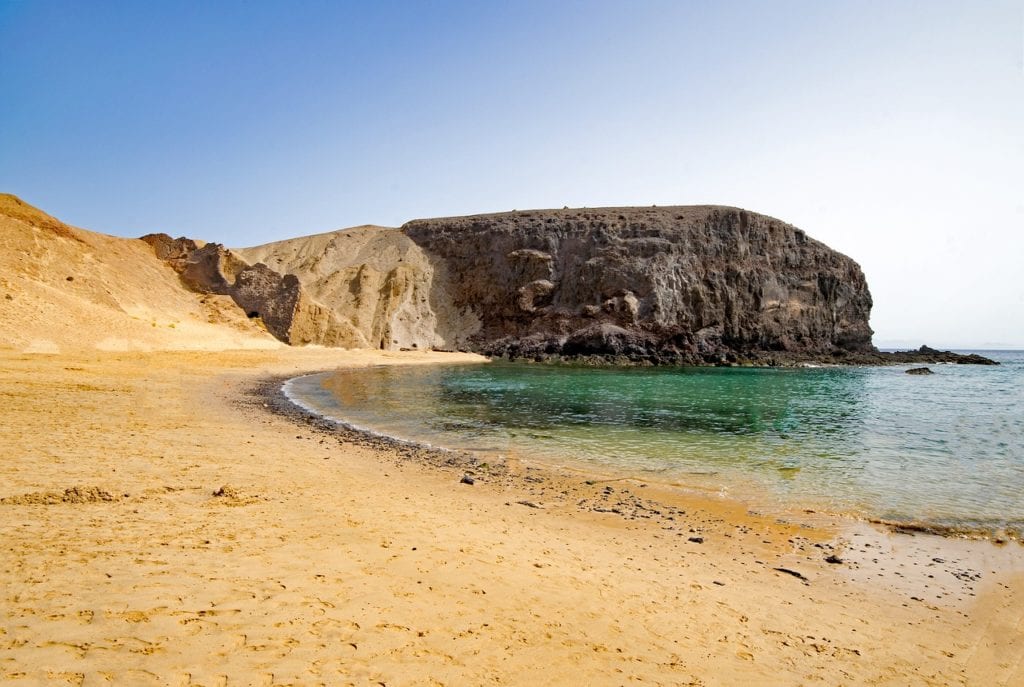 #4 Morro Jable Beach, Fuerteventura – Best white sand beach in the Canary Islands
Best for: Watersports, accessibility, size, swimming
The southern coast of Fuerteventura has some of the best beaches in the Canary Islands. Morro Jable beach is located on the south of the island on the picturesque Jandia peninsula.
There's plenty of water activities on offer. from snorkelling and diving to boat hire and jetskiing, there's something for all the family to try out.
The beach is very pushchair friendly, there's a large promenade running alongside the beach with a wooden track running from the promenade down to nearby the sea.
Warning: Morro Jable beach is popular with nudists.
5. #5 Cofete Beach, Fuerteventura – Best wilderness beach in the Canary Islands
Best for: Scenery, wilderness
Cofete beach is often named as the best beach in Fuerteventura, if not the best beach in the Canary Islands. Cofete beach is relatively unspoilt compared to others in the Canary Islands with mass tourism.
Although the beach isn't brilliant for a family day in the sun (the water is full of currents), Cofete is a brilliant place to let of some steam on a wilderness walk, surrounded by picturesque views. Despite the difficulties reaching the beach, a visit is something you won't regret.
Warning: The water is not safe for swimming. The currents are very strong.
Read More: Best Places to stay in Fuerteventura for Families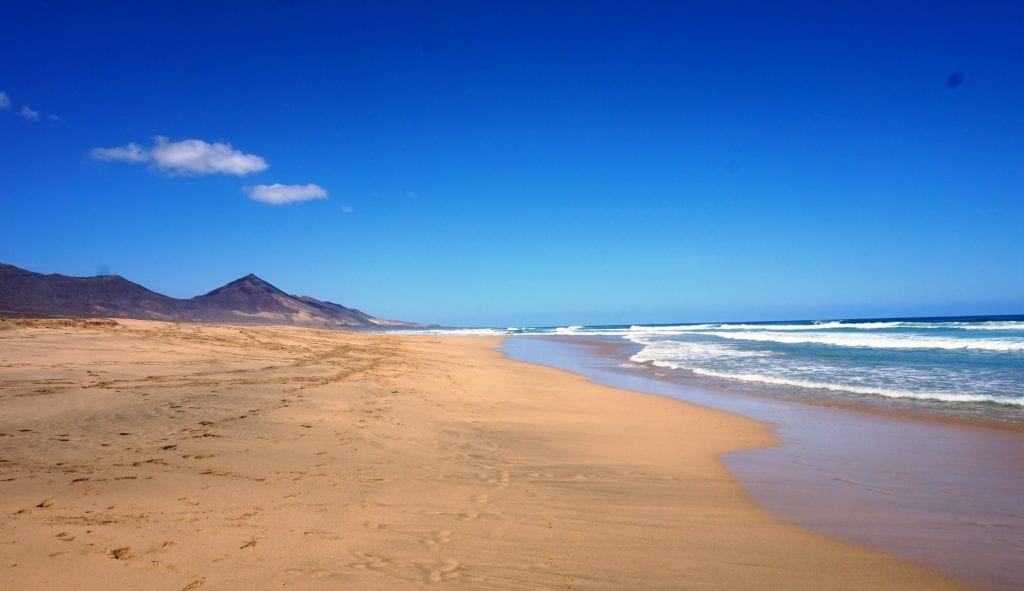 #6 Corralejo, Fuerteventura
Best for: Watersports, size, views
Beaches in Corralejo are part of 'Corralejo national park' where there are many beaches over a 7km stretch. The wind makes the heat bearable and also makes the beach a great place for watersports, including windsurfing and kitesurfing. All year round you can enjoy some fantastic wilderness walks.
The resort town of Corralejo has expanded significantly in the last decade. The area used to be a fishing port until it was discovered by tourists. 
#7 Las Conchas, La Graciosa
Best for: Remoteness, scenery
North of Lanzarote you can hop on a ferry to La Graciosa, one of the most remote and least crowded island in the Canary Islands. The main beach of La Graciosa is Las Conchas.
Although the Canary Islands are famed for black sand beaches and volcanic landscape, it is possible to feel like you're in the Caribbean here. The beach has pristine crystal clear waters, white soft sand and breathtaking views.
#8 Playa Las Teresitas, Tenerife – One of the best beaches in Tenerife
Best for: Ease of access, crystal clear water
This golden sand beach is by far the best beach in Tenerife. Located near the popular resort town of Santa Cruz, there's not a huge treck to get there. The crystal clear, calm waters make a great swimming spot for kids.
The beach itself has an abundance of palm trees making the beach a perfect holiday spot.
Behind the beach, you'll find plenty of beach bars and restaurants for hungry tummies to suit all budgets.
#9 Playa San Sebastian Beach, La Gomera
Best for: Volcanic landscape, ease of access, activities
Playa San Sebastian beach is located in the capital of La Gomera – San Sebastian. The beach consists of 600m of pure volcanic sand backed with cafes, shops and restaurants. Playa San Sebastian is one of the best beaches in La Gomera and ease of access to the island's capital makes the beach a perfect beach day in La Gomera.
The beach is protected by a jetty making the area perfect for safe swimming. There's also a children's play area on the beach. The beach, combined with the abundance of things to do, will keep the kids entertained all day.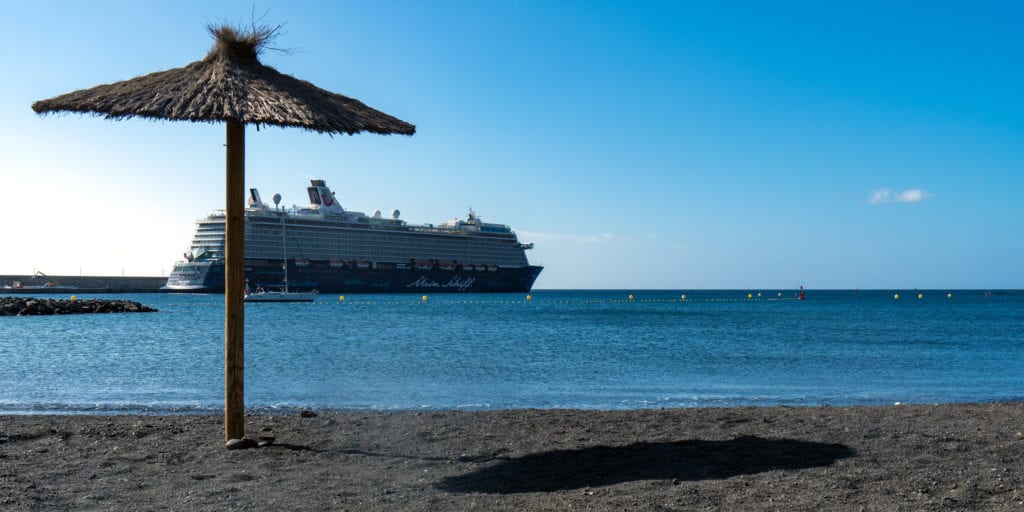 Books you may like:
Booking a package trip to the Canary Islands
Jet2holidays is the UK's second-largest tour operator, offering great value package holidays from 9 UK bases to over 500 resorts across 70 sun destinations.
You'll enjoy a huge choice of 2-5 star accommodation, with holiday ranges including Family Favourites and All-Inclusive holidays.
Your package holiday also includes return flights, a huge 22kg baggage per person and return transfers, plus ATOL Protection, all wrapped up for just £60pp deposit. View the latest offers here.
On the Beach provides customers with a huge selection of flights and up to 30,000 hotels from which customers can choose and build their perfect beach holiday.
They offer flights and a range of different board base to choose from. On the Beach also offer great savings and last minute deals from airports all over the UK. View the latest offers here.
Letsgo2 provides a fantastic range of great value luxury holidays in Tenerife and elsewhere in Europe. The company takes the time to understand your needs before recommending the perfect baby and toddler break for you and your family. View the latest offers here.
A wide range of great value for beach holidays and city breaks in the Canary Islands, combining easyJet flights with 3, 4 and 5-star hotels and other extra services such as car rental and transfers. View the latest offers here.
Tours Of the Canary Islands
More on the Canary Islands
Other Posts About Family Travel