Are you looking for the perfect travel changing mat for your next trip? Look no further. We've compared 10 of the best travel changing mats on the market.
A baby portable changing mat can be a great bonus to your packing list. I've stayed in loads of hotels while my daughter was still in nappies, and not once has there been a baby changing mat available. There are other options available (e.g. Changing baby on hotel towels), but what you really need is a portable travel changing mat, whether you're changing baby in the hotel or on the go.
This post will take you through the best baby travel changing mat to help you find the best baby changing mat for your little one.
This post may contain affiliate links, which means I may receive a commission, at no extra cost to you if you make a purchase through a link. We are a participant in the Amazon Services LLC Associates Program, an affiliate advertising program designed to provide a means for us to earn fees by linking to Amazon.com and affiliated sites. As an Amazon Associate, I earn from qualifying purchases. Please see my full disclosure for further information.
Travel Baby Change Mat Comparison Chart
| Name | Image | Size | Weight | Price |
| --- | --- | --- | --- | --- |
| Comfy Cubs Baby Portable Changing Pad | | 63.5 x 29.21 x 1.27cm | 150g | View Price >>> |
| LEADSTAR Portable Nappy Changing Mat | | 34.6 x 20.2 x 3.8cm | 200g | View Price >>> |
| Lekebaby Foldable Travel Changing Mat | | 41.6 x 24.3 x 3.5cm | 100g | View Price >>> |
| Bambino Mio Sail Away change Mat | | 4 x 15 x 21cm | 160g | View Price >>> |
| Idepet Portable Nappy Changing Mat | | 34.29 x 21.8 x 2.7cm | 150g | View Price >>> |
| MORROLS Foldable Changing Mat | | 31.6 x 21.49 x 3.99cm | 100g | View Price >>> |
| Lekebaby Portable Nappy Changing Mat | | 34 x 22 x 2cm | 340g | View Price >>> |
| BelleStyle Nappy Changing Mat | | 32.8 x 22 x 3.6cm | 200g | View Price >>> |
| Alfheim Portable Nappy Changing Mat | | 37 x 22 x 1.52cm | 200g | View Price >>> |
| OOPSIEDAY Foldable Baby Changing Mat | | 32 x 22.75 x 4.5cm | 460g | View Price >>> |
What is a Portable Travel Changing Mat?
A travel changing mat has the same uses as a regular baby changing mat or changing table, but it's more compact and easy to carry around. Most mats fold up to a compact size to easily fit in a baby bag or under a pram.
There are so many options when choosing the best travel changing mat. These range from a foldable waterproof sheet to lie baby on to padded foldable mats, which you can organise with all your baby changing essentials.
10 Best Travel Changing Mats – Reviews and Comparison Guide
There is plenty of great travel changing mats for both babies and toddlers on the market today. Your perfect baby changing mat depends on the key feature's you're looking for, whether that's the smallest foldable mat to stuff into your hand luggage or the mat with maximum head support. Here are some of the very best baby and toddler changing mats available to buy.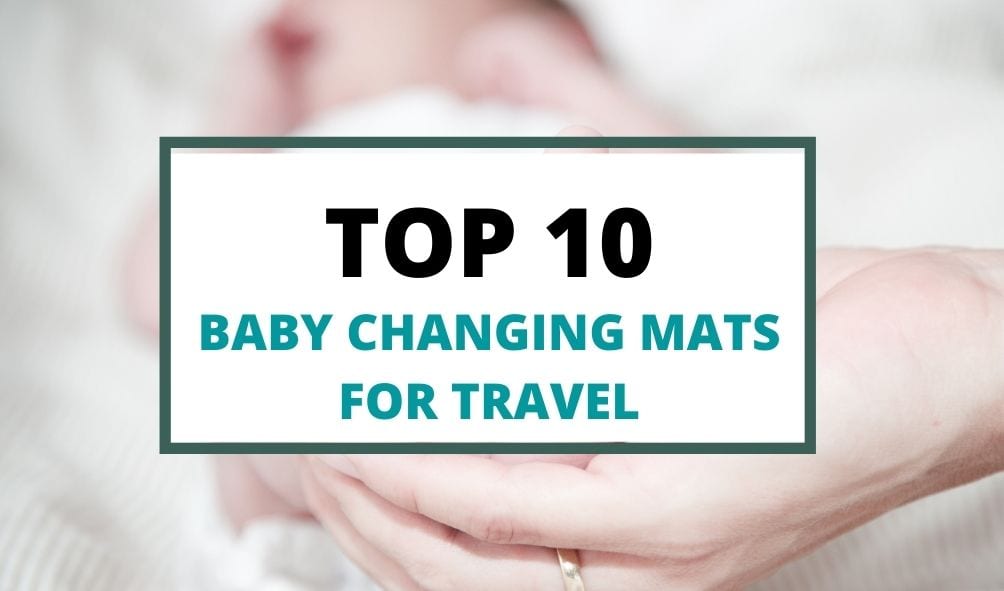 #1 Comfy Cubs Baby Portable Changing Pad – Best Travel Changing Mat
The Comfycubs Portable baby changing mat is thin, lightweight, and very compact when folded. You'll be able to fit this mat in, even if you only have a small luggage allowance or a tiny amount of space in your day bag. You can fold it into a bag that makes it discreet and easy to carry.
The mat has a very fashionable design that comes in two neutral colours to fit any gender. The changing pad is of cottony-soft materials that provide ultimate comfort for your little one.
This changing mat is easy to clean, high-quality, durable, and waterproof. The design of the mat is aimed at younger babies from newborns.
If you want a convenient and high-quality changing travel pad, this is perfect for you.
#2 LEADSTAR Portable Nappy Changing Mat – Home Travel Outside – Best Compact Change Mat
The Leadstar changing pad kit has complete inner layers with the added feature of a headrest which is great for smaller babies. It has a magic sticker for easy and convenient opening and closing.
The inside layer is made of nylon, while the exterior is from a thermoplastic elastomer that is durable and easy to clean. The LEADSTAR portable changing mat has three pockets, one on the outside with a zip and two on the inside, where you can put 6-8 nappies, wipes, nappy bags, baby cream, sanitiser, tissues, and other baby essentials.
#3 Lekebaby Foldable Travel Changing Mat
The Lekebaby foldable changing mat is padded, lightweight, and super easy to use. The mat is also easy to carry and stores away easily in a changing bag. The design of this travel mat is fit to make life much easier for you. It comes in a bigger size that you can use for a toddler. The mat is all you need for your changing bag. Forget the many different pouches and nappies. It wipes clean and is fast to dry.
Get this portable mat if you want to have a tested quality product without spending too much money.
#4 Bambino Mio Sail Away Change Mat
The Bambino changing travel mat is a large-sized travel mat that's super soft with a cute pattern. The mat has super absorbent interior paddings. It is easy to use with a hook and loop fastening while being thin and compact to fit inside your bag when travelling.
The changing pad combines 85% polyester and 15% nylon, and it's also machine washable.
The Bambino mat is compact but big in size; it can fit babies up to 2 years old. If you want a highly durable mat that you can use from birth to 2 years old, consider buying Bambino Mio travel mat.
#5 Idepet Portable Nappy Changing Mat – Best Portable Changing Station for Small Babies
The Idepet portable changing mat is a practical baby kit that can hold all the things a baby needs. There is a sponge layer in the pad to give comfort and keeps the baby safe from injuries. The inner layer is made of quality cloth, and the surface is made of TPE.
It is a full range waterproof performance that makes it more durable and practical than the others. This mat is useful for shopping trips because it is made easy to attach to a pushchair. The nappy mat is wide enough to cover the whole body of the baby. It's designed to protect the head from contacting the
public surface.
#6 MORROLS Foldable Changing Mat – Best Waterproof Travel Changing Mat
The MORROLS foldable changing pad has a soft and waterproof cover, a sponge layer to keep the baby warm and a bottom made of cotton and polyester that is also waterproof and safe for the skin.
This mat comes with two pockets, one inside to store nappies and other toiletries, while the other is outside with a pocket where you can keep other baby essentials.
This is the perfect travel mat for any outing for a trip to the park to a travel adventure.
#7 Lekebaby Portable Nappy Changing Mat – Best Grey Travel Changing Mat
This portable changing mat offers a hygienic way of changing nappies when travelling or anywhere outside. The entire surface of the Lekebaby mat is padded for the baby to lie down. It comes with a headrest inside for the baby while changing.
The mat comes with two holders, which you can connect to a pushchair or hold easily. It is easy to carry and does not take up much space.
The lining is made of silver-coated waterproof fabric, while the outer layer is made of all-around water-resistant polyester.
This travel mat has three inner pockets and one zipped pocket on the outside. This provides convenience to bring enough supplies to keep you going for the day.
#8 BelleStyle Nappy Changing Mat – Best Travel Chaning Pad
The BelleStyle nappy changing mat is convenient. It allows more room in the changing bag. The kit has a soft sponge layer for the baby to lie down for ultimate comfort. The mat lining is made of waterproof cloth, and the outer layer is made of TPE. The bottom cloth is wipeable and waterproof.
The mat has three pockets with an external zip and two internal pockets for keeping mobile phones, creams, keys, diapers, tissues, toys, and other baby products. It has a magic sticker as a seal to make it easier to use and convenient for one-handed operation.
Related Post: 'Take a Look at the best Light and Practical Duffel Bag Options'
#9 Alfheim Portable Nappy Changing Mat
Alfheim portable changing mat is a spot-on product that will hold everything that you need for your baby. It is soft and very light, with excellent supporting layers underneath and a head cushion for your baby's comfort.
This mat can hold 3-4 nappies and a packet of wipes in a zipped pocket. The inside is nylon. It can be easily wiped and cleaned. It is compact and can easily fit under the pushchair or in a bag. It also has many other compartments to put other baby essentials in. The size of the mat is perfect for both babies and toddlers.
#10 OOPSIEDAY Foldable Baby Changing Mat + Changing Bag
The OOPSIEDAY mat is a fantastic product that is very portable. It has loads of space to carry nappies, wipes and other baby essentials. It's also effortless to clean because of the wipe-friendly material on the inside.
The mat has a baby isolation wrap that is fantastic and looks stylish on the outside, as well as being soft, durable, and very wide to give you all the space you need. It also has extra head padding to keep the baby's head comfortable. 
What you should I Look for in a Travel Changing Mat?
Compact: When you're researching the best travel changing mat, you should be looking at the changing mat size. The comparison table above shows you our top picks of compact changing mats.
Comfort: An added bonus of an excellent changing mat is the ultimate comfort for your baby. Some travel mat options have built-in head support or general mat padding. Remember that you may not have the comfiest surface to change baby on when you're out and about, so a padded changing mat would guarantee this. It's extra important to get a travel changing mat with a good head cushion if you have a newborn, especially if they've been through a tough delivery.
Storage Capacity: Some travel changing mats come with the complete organisation from side pockets to hidden zips to full foldable changing bags. Being able to carry other baby essentials with your mat will mean you have everything you need when the time comes.
Waterproof: The more waterproof the mat is, the easier it will be to clean. If there are any accidents on the mat, you want to be able to clean it quickly and get on your way again.
Price: Price is paramount when you're deciding on the best mat for your little one. Cheap travel changing mats are usually fundamental but still have everything you'll need to change baby on the go. Mats with higher prices usually have top-quality detail and extra features such as storage capacity. Cheap mats are generally more compact too.
Do You need a Travel Changing Mat?
Most accommodation doesn't have anything suitable to change a baby on. I remember countless times resting my daughter on hotel towels to change her. There's always plenty of times I've had to change her in the pushchair.
A travel baby changing pad will save you from having to use public changing mats, and you'll have somewhere safe to change baby in your accommodation too.
If you're going on a road trip or an extended stay somewhere, you could get away with bringing a regular baby changing mat. However, travel mats are much more compact, and you'll be grateful not to have to lug a large foam mat around.
Final Thoughts
Some form of changing mat is essential when you're going anywhere with a baby or toddler. You will definitely get a lot of use out of a portable changing mat, and you never know when you might need to use it…
Enjoy this post? Take a look at our Travel Gear section for more in-depth guides on the best kids travel gear to buy for your next trip, or go straight to other posts in this series below:
Best Travel Binoculars for Kids
Recent Posts