Are you looking for the perfect travel kettle for your next trip? Look no further. We've compared 10 of the best travel kettles on the market.
A travel kettle can be a great bonus to your packing list. It's not always guaranteed that you'll get a travel kettle in your accommodation. You may also prefer to bring your own kettle for hygiene reasons. A travel kettle is also essential in a caravan or motorhome and very space-effective.
This post may contain affiliate links, which means I may receive a commission at no extra cost to you if you make a purchase through a link. We are a participant in the Amazon Services LLC Associates Program, an affiliate advertising program designed to provide a means for us to earn fees by linking to Amazon.com and affiliated sites. As an Amazon Associate, I earn from qualifying purchases. Please see my full disclosure for further information.
Travel Kettle Comparison Chart
[table id=12 /]
What is a Travel Kettle?
A travellers kettle is no different from a standard kettle in terms of functionality. However, it differs in size, shape, and portability. You'll notice how travel kettles are much smaller and can sometimes be folded down to fit in your suitcase.
In addition, some mini travel kettles are operated using the cigarette lighter in your vehicle. Nothing beats having a personal water boiler in your car, huh!?
You will find a more in-depth list of the best kettle reviews further down.
Why you Need a Travel Kettle
A travel kettle is a perfect addition to your travel packing list. Whether you're an avid tea or coffee drinker, you need to heat baby milk on the road, or simply looking for a compact travel kettle, accommodation isn't always guaranteed to have a good quality working kettle. Some places have no kettles at all.
It's always useful to have a travel kettle handy when these situations arise. Travelling is often cheaper when you have an easy method to heat up food. With a travel kettle, you'll be able to stock up on pot noodles and save money along the way.
Types of Travel Kettles
Car Kettles
Car travel kettles are a genius invention to enable people to boil a kettle via the cigarette plug in their car. Although these kettles can take much longer to boil, you'll be able to enjoy a hot drink on the go – perfect for a road trip.
Dual Voyage Kettles
Dual voyage kettles can accept both plugs with 110-120V and 220-240V. If your kettle is dual voltage, you'll only need a travel adapter, and you'll be able to use the kettle in most destinations around the world. If you have a single voltage device, you'll need a voltage converter to use the kettle in most places overseas.
How to choose the best Travel kettle
Weight
When you look at your chosen travel kettle's weight, make sure the kettle isn't too heavy for your luggage. If you already have a heavy load, consider getting a more compact, lighter, and portable kettle, such as the Swan Travel Kettle.
If you're looking for a kettle for your motorhome or university room that's good quality, look at the Lakeland Travel kettle.
Size
Consider how much room you have to spare in your luggage before deciding on your travel kettle size. If you already have a large load or you're backpacking, consider a small travel kettle.
If you have an unlimited baggage allowance, consider a larger kettle with a bigger capacity.
Capacity
You should look for a kettle that suits the number of drinks you'll be making in one go. Most travel kettles are 500ml which is enough to make two drinks in one shot.
You may consider a larger capacity if you're travelling as a larger group, such as the Loyton Travel kettle at 1L/4 cups. As a solo traveller, look at the Swan Travel kettle with a 400ml capacity. One cup water heaters also have a faster boiling time, which is essential when travelling.
Boiling speed
You don't want to be waiting too long for your kettle to boil. Most kettles with a fast boiling speed (1000 watts) are usually more expensive. You should make sure that you strike a good balance between price and boiling speed.
Travel Kettle Reviews and Comparison Guide
There are plenty of fantastic kettles on the market today. Your perfect kettle depends on the key features you're looking for, whether that's the smallest kettle to stuff into your hand luggage or the kettle with the fastest boiling speed. Here are some of the very best travel kettles available to buy:
#1 Russell Hobbs Travel Kettle 23630 – Best Lightweight Pick
This modern kettle is made of extra lightweight plastic and is small to fit into your suitcase without creating a heavy load. Known as one of the best kettle brands, the Russell Hobbs travel kettle comes with two cups and two spoons, so you'll never find yourself without when you need hot water on the go and to make the perfect cup of tea or coffee.
The 0.85L capacity is large enough for three hot drinks or two large drinks. As well as holidays, the Russel Hobbs Travel Kettle is perfect for caravans and compact kitchens, and you can rely on the high quality from a trusted brand.
#2 Kenwood Travel Kettle
As a trusted brand in the kettle industry, you can be assured that the Kenwood Travel kettle will be versatile. At 500ml, you can make two drinks in one go.
The 650-watt power will boil the kettle at a medium speed without long waiting times. This kettle is also perfect for a motorhome, small space or university bedroom.
#3 Swan SK27010N Compact Travel Kettle
The Swan Travel Kettle is one of the smallest compact travel kettles on the market. The kettle has a 500ml capacity – great for two small drinks, and you'll get two perfectly sized cups that can be stored inside the kettle within the price. If you don't mind the slightly smaller capacity and you want to save on luggage space, this is a great mini electric kettle for travellers.
#4 Kitchen Perfected Loyton Travel Kettle
The Loyton Travel Kettle has double the capacity (1L) of a normal-sized travel kettle. The kettle is slightly larger than the average travel kettle but much smaller than a normal home use 1L kettle.
You can make 4 drinks in one go for those with larger families. You may want to consider this kettle for your motorhome or caravan.
The Loyton kettle is also one of the best budget kettles on the market!
Note | If you're looking for a Camping Kettle, check out this excellent post by Campingish
#5 Quest 35690 Compact Travel Electric Kettle
This stylish travel kettle has a capacity of 500ml so that you can boil two cups in one go. The 600W power means you won't have long waiting times for your hot drink. The Quest kettle is dual voltage, so you can use it wherever in the world you're travelling.
#6 Wahl Travel Kettle
The Wahl Travel Kettle made by Quest is a simple and compact design. The capacity is perfect for those looking to make two small drinks in one go, and you'll get two perfectly sized cups that can be stored inside the kettle – an extra compact feature!
#7 Lakeland Travel Kettle – Best Quality
Although slightly heavier than most lightweight travel kettles, the Lakeland Travel Kettle is of amazing quality. The kettle is made of stainless steel and has a three-year guarantee. If you're looking for value for money, you won't have to stock up on accessories with this kettle as it comes with two spoons, two travel cups and a drawstring bag to carry it all in.
#8 Aozzy Car Kettle
Ever wanted to boil a kettle in your car? Now you can! The Aozzy car kettle is the perfect companion for your road trip. This is your ideal road trip companion for that morning brew or heating baby bottles on the go! Powered by the cigarette charger base, you can guarantee the safety of this kettle.
#9 Gobesty Foldable Kettle – Best Collapsible Travel Kettle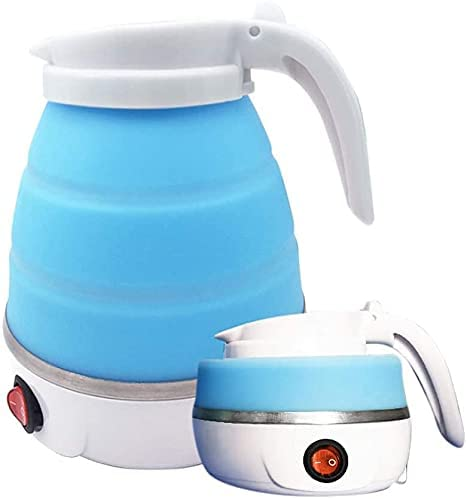 The folding feature of the Gobesty Foldable Kettle is a lifesaver when travelling. Storage space can be limited as it is when on the move, especially when travelling with small bags. Not only does it transform into the smallest travel kettle, but it's also lightweight.
In terms of water capacity, you get a generous 0.6l. This slightly puts it above most other travel kettles on this list.
The boiling time is 4 minutes, which is the same time as a standard kitchen kettle.
#10 Streetwize Travel Kettle – Best Camping Kettle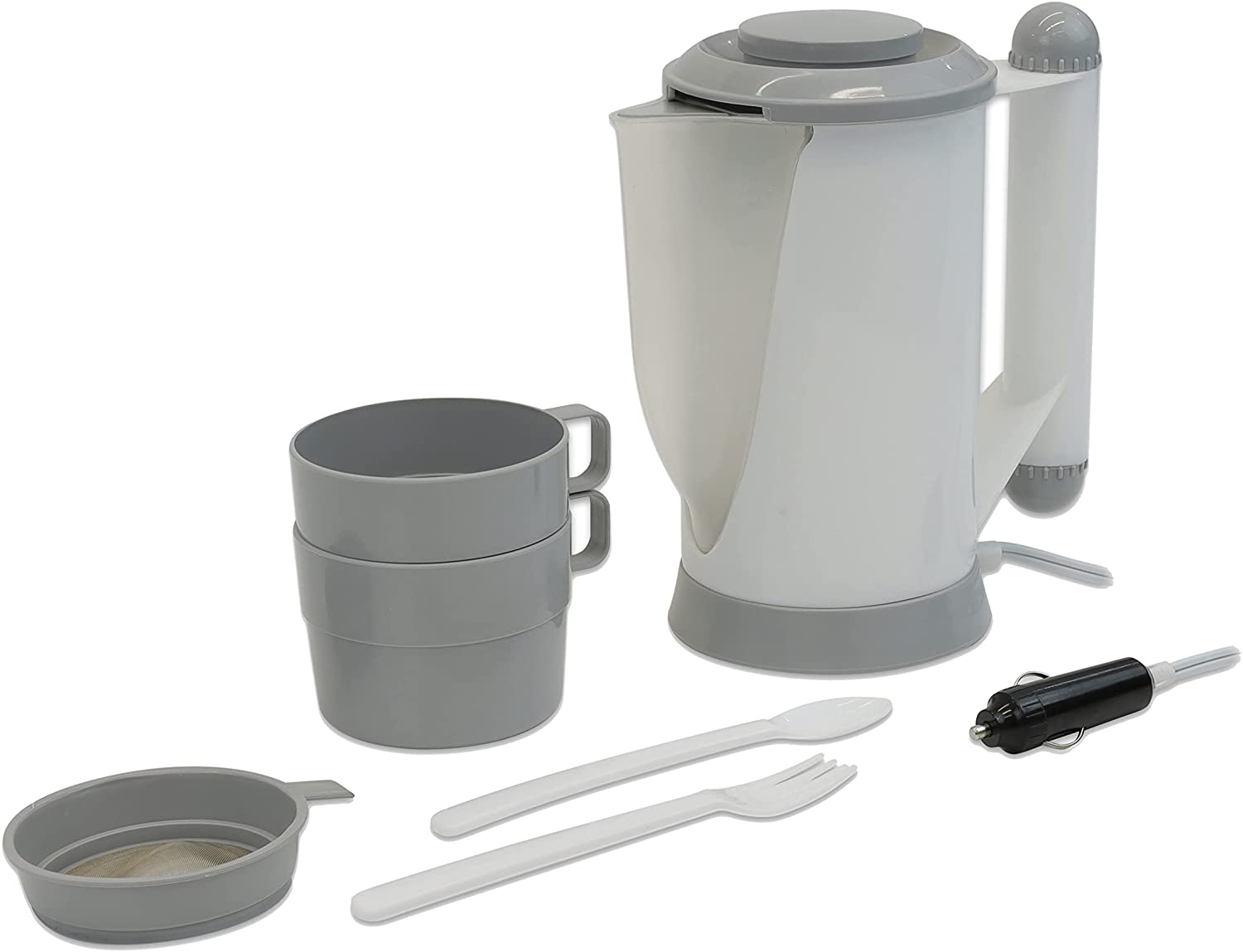 Do you have a cigarette lighter (12v outlet) in your car? Then the Streetwize Kettle is exactly what you need! Unlike some car kettles, this one has a generous 1.4m cable, making it easier to handle. It also means people in the backseat can pour their own tea and coffee!
This unique kettle comes with multiple accessories. These include 2 cups; a strainer, fork, spoon, and spacer. At just shy of 800ml, you can brew up to 4 coffees (or teas) with the cups provided.
#11 Denny International Kettle – Best 1 Litre Capacity Travel Kettle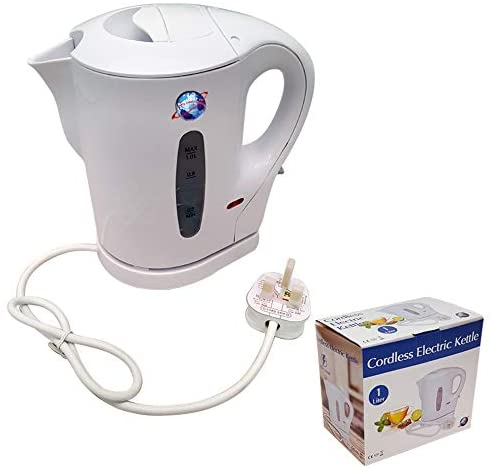 Do you need a travel kettle that holds one litre of water for the entire family? Then look no further! Not only that, but The Denny Internation Kettle has a boil dry protection feature built-in, so you can keep everybody safe while brewing your favourite coffee.
The low wattage design means you save energy without sacrificing the perfect brew! The brewing time is reasonably fast (4-7 minutes) depending on the amount of water being used. If you want to change the water level, you can use the transparent window to check inside.
#12 ON2NO Electric Kettle – Best Cordless Kettle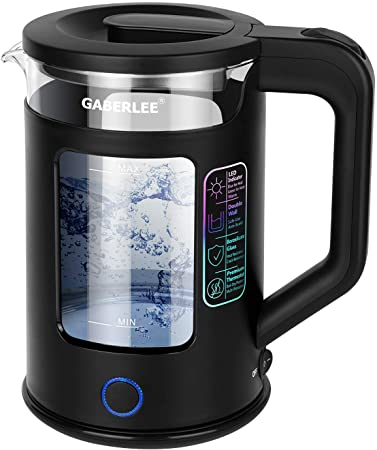 Did you know you can purchase your own cordless portable travel water heater? Say goodbye to annoying cords once and for all! This portable water boiler is perfect for the luxurious traveller. Not only does it look great, but it's also one of the best rapid boil kettles.
To be exact – it takes 5 minutes to boil 1.5L of water. And for 0.5L, it only takes 2 minutes!
And here's the best part…
The ON2NO Electric Kettle is made with 100% food-grade stainless steel to ensure you're not consuming any dangerous chemicals on your travels. You never can be too safe nowadays!
Enjoy this post? Take a look at our Travel Gear section for more in-depth guides on the best kids travel gear to buy for your next trip or go straight to other posts in this series below: