Are you looking for the perfect kid's travel pillow? Look no further. We've compared 10 of the best travel neck pillows on the market and some other best travel pillows for kids to help you find the perfect travel pillow for your next trip away with kids.
The perfect travel pillow can make a huge difference in the comfort of your kids while travelling. This can make your life a lot easier! I've always liked to bring a neck pillow with me, even going as far as taking one on backpacking trips clipped onto the back of my backpack. Now my daughter travels with me. I want her to be comfortable too.
This post may contain affiliate links, which means I may receive a commission, at no extra cost to you, if you make a purchase through a link. We are a participant in the Amazon Services LLC Associates Program, an affiliate advertising program designed to provide a means for us to earn fees by linking to Amazon.com and affiliated sites. As an Amazon Associate I earn from qualifying purchases. Please see my full disclosure for further information.
Travel Pillow Comparison Chart
[table id=10 /]
Best Kids Travel Pillows | Reviews
1. Trunki Kids Travel Neck Pillow & Chin Support – Best Toddler Travel Pillow
The Trunki Yondi pillow is rated one of the best kids' travel neck pillows. If you travel regularly and look for a U-shaped kid neck pillow that is comfortable in all situations, the Trunki Yondi Kid's Travel Neck Pillow is great. The pillow is very comfortable as it connects to the magnet hidden under the chin.
Materials used include microbeads and plush fabric with a double fabric line at the top that protects the microbeads in case of any breakage.
The Trunki Kid's Travel pillow comes with a Trunki grip that you can use even better after attaching it to your baby's blanket. You can easily carry this pillow on any trip as it is very lightweight and weighs only 18 pounds.
Recommended use is from 18 months plus and is available in six different colours. So far, it comes in two different sizes, small suits kids from 18 months to 3 while the medium is recommended for kids aged 3-5.
There are six different animal designs: Monkey, Panda, Lion, and Fox. The pillow can also be used in a car seat or stroller. There's also a removable velvet cover that is also machine washable.
Click here to view the latest prices for Trunki Travel Neck Pillow >>>
2. trtl Pillow
The Trtl Pillow is one of the best selling kids' travel pillows on the market, designed based on the suggestions of primary school children. The pillow includes a beautiful cover and flexible barbell supports inside foam cushioning. This is an excellent option for kids age 8 and over. There are multiple occasions the pillow will come into use, from sleeping on long journeys to relaxing and watching TV.
The Travel Pillow is made with waterproof fleece cloth, super soft and comfy for long trips. Various toggles inside allow you to easily adjust the pillow to your child's neck. There's also built-in neck support. 
This pillow is very easy to put on and take off because it weighs less than in 3 different internal fabric colours. There are net panels that enable sufficient airflow to keep the pillow modern and comfortable. You can easily carry this pillow with you as it weighs only 5 oz. It's also completely machine washable and easy to wash.
View the latest prices for the trtl pillow Here >>>
3. Critter Piller Kid's Travel Buddy and Comfort Pillow – Great for little kids
If you are looking for a quirky pillow in different animal shapes, this Critter Piller Kid's Travel Pillow is the best option. There's a range of animal designs to choose from, such as dogs, cats, alligators and pandas. The pillow provides a proper shield for your kid's neck and offers full comfort. Recommended use is for kids age 3 and over. 
The Critter Pillow comes with a micro-fibre filling that feels the same as a soft toy. Your child will love this pillow because kids love animal shapes like toys. The blurry fleece protects and makes them soft and comfortable. It's easy to clean because it is machine washable.
It is made with soft watertight microfibre filling made from recycled substances. This pillow is made very firmly, so it is not the best option for children under 3 Years.
View the latest prices for the Critter Piller Kids Travel Buddy >>>
4. BCozzy Chin Supporting Travel Pillow – Great for big kids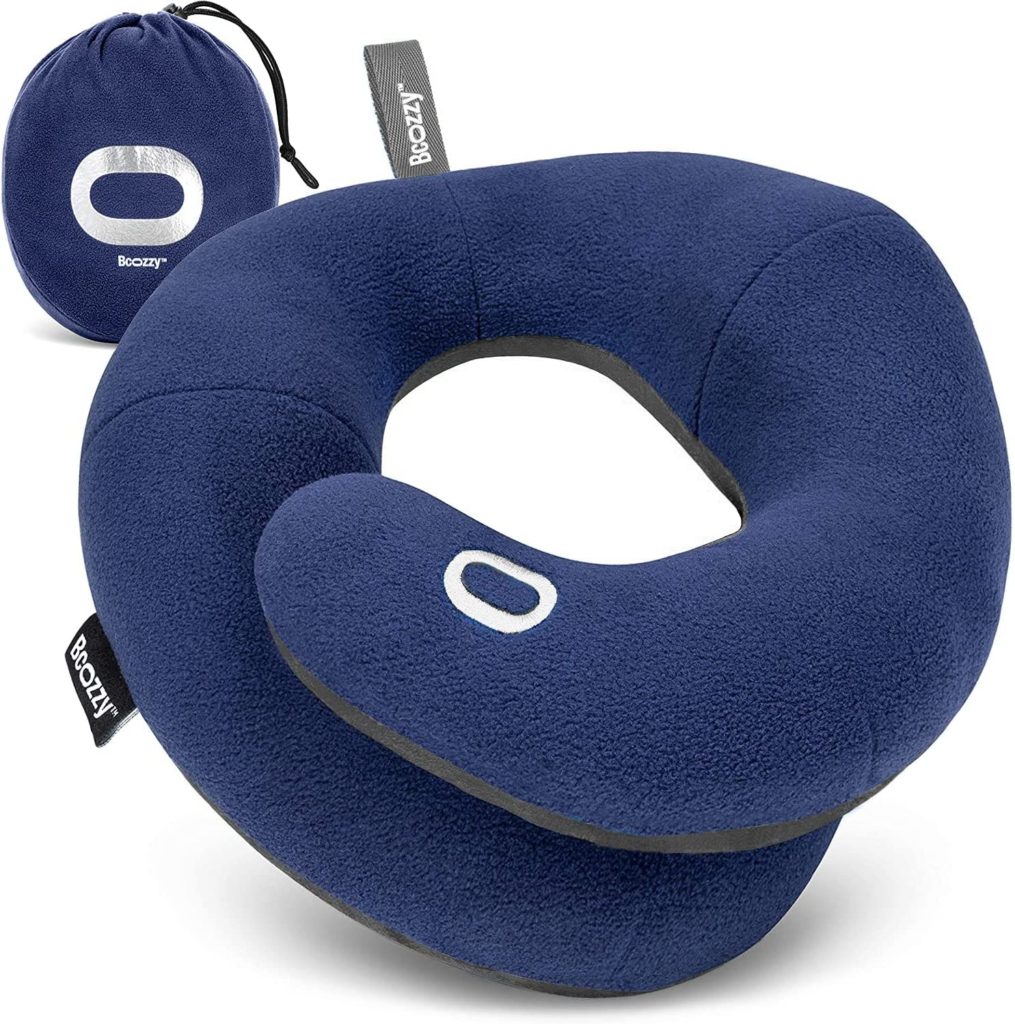 If you are looking for a pillow that supports both the neck and chin, the BCOZZY Kids Chin Supporting Travel Pillow is the best option. The Travel Pillow comes in a broad range of colours. This pillow is perfect for kids of 3-8 years.
The BCOZZY Kids Travel Pillow is entirely machine washable. Its soft fabric is very comfortable when your kid is sleeping in travel. It includes a snap strap to attach the pillow to the luggage.
The pillow comes with a different selection of designs that attract kids of most ages, such as bunny, flamingo, snake, camouflage, celebrities, hearts and many more. Overall, it is a perfect neck pillow to use on a plane or a road trip.
Click here to view the latest prices for the BCozzy Travel Pillow >>>
5. Twist Memory Foam Travel Pillow – Great for teens – Best Memory Foam Pillow
If you are looking for a travel pillow for your baby that provides excellent comfort while sleeping in travelling, the Dot&Dot Twist Memory Foam Travel Pillow is a great option. If you're travelling by plane, then this is a fantastic option – recommended for those age 8 and older.
The pillow comes with a snap closure which prevents it from falling away. It connects easily with a carry-on bag or even a backpack. The cover of the pillow is removable and machine washed.
The Dot&Dot pillow is made with memory foam, which is very comfortable and supports a child's neck while sleeping. You can also round it on the neck or around the car headrest. Overall, it is a good travel pillow for big kids and grown-ups.
Click here to view the latest prices for the Dot&Dot Travel Pillow >>>
6. Nido Nest Kids Neck Pillow for Travel – Great for little and big kids
If you are looking for a flexible pillow that easily adjusts in any shape, then this NIDO NEST Travel Pillow is the best option. It is filled with microbeads, making it quite soft and providing full support to the neck. The fabric surface is breathable and comfortable.
The NIDO NEST Travel Pillow comes with a snap closure useful for attaching it with a bag or luggage. The Nido Nest Pillow has a variety of modes for travel. It is best for kids ages 3 to 10. It is available in various animal designs, including a bumblebee, ladybird, frog, owl, and even pig. 
The cover is removable and washable. This travel sleeping pillow comes in unique designs and colours.
Click here to view the latest prices for the Nido Nest Travel Pillow >>>
7. Daydreamer Inflatable Neck Pillow – Great for Teens – Best Inflatable Pillow
If you are looking for a pillow that you can easily carry in your bag, this AirComfy Daydreamer Travel Pillow may be the best option. You can use this pillow by blowing it in a few minutes. It comes with an integrated pump that fills this neck pillow. The pillow design is very ergonomic and easy to wash.
The AirComfy travel pillow for kids includes a soft and cushioned outer cover. It's inflatable, so it works comfortably on the neck.
You can make this pillow as thick or thin as you want. You have to press the pump and thin it out by taking a little air out of it. This travel pillow is more comfortable and flexible as you can use it on the neck and easily carry it in your bag.
View the latest prices for the Aircomfy Dreamer Neck Pillow >>>
8. Brunoko Kids Travel Pillow
The Brunoko Kids Travel Pillow is one of the best kids travel pillows to use in the car or in a pushchair. The pillow provides support when the head falls or slumps during sleep to enable your child to have a better sleep. The head will be both upright and comfortable.
The pillow is completely machine washable, so you can have peace of mind that you won't have to spend hours trying to clean the pillow if your child gets it messy.
Materials used to make this pillow include polyester, that's 100% eco-friendly.
View the latest prices for the Brunoko Kids Travel Pillow >>>
9. SSAWcasa Seatbelt Car Pillow – Best Car Pillow for Kids
If you're looking for the best Car pillow for kids, this SSAWcasa Seatbelt Pillow is the best option. It isn't easy to set a pillow in the car. The SSAWCasa pillow can be rotated around the seat belt so that a child can lean on the pillow very quickly to create the perfect fit.
This pillow is filled with PP cotton and covered with microsuede fabric. The pillow features a washable cover so you can keep it clean. You can easily attach this pillow to your car seat belt, giving your child complete comfort and full protection while the car is moving.
The SSAWcasa pillow has dimensions 11.8 x 4.7 x 2.5 inches, easily fitting your child's neck and shoulders. The pillow has multiple uses as a seat belt pillow, mattress pillow, and even a simple pillow. The soft hook at the end of the pillow can attach to any bag for ease of travel. You can buy this pillow in different designs and colours such as grey, blue and Pink.
---