Out of the 6000 islands scattered around the Greek coastline, there are so many islands to choose from, especially if you're visiting Greece with kids. From the more well-known islands of Santorini, Mykonos and Crete to the hidden gems of Ios and Naxos, there's something for everyone.
Whether you're looking for the best Greek islands for families, the best Greek holidays for families or the best Greek island for kids, look no further. You'll find a family-friendly atmosphere and pristine beaches throughout the Greek islands. We've got you covered.
This post may contain affiliate links, which means I may receive a commission, at no extra cost to you, if you make a purchase through a link. We are a participant in the Amazon Services LLC Associates Program, an affiliate advertising program designed to provide a means for us to earn fees by linking to Amazon.co.uk and affiliated sites. As an Amazon Associate I earn from qualifying purchases. Please see my full disclosure for further information.
---
A Beginners Guide to Family Travel in Greece
Here's everything you need to know about visiting Greece with kids:
Is Greece Good for Families?
Yes! Greece is one of the best countries in Europe to visit with kids. Combine stunning city breaks with fantastic cuisine, picturesque villages, crystal clear water and white sandy beaches!
The Greek Island Groups
There are several groups of islands in Greece based on geographic locations.
The Cyclades are the most widely known group and include the likes of Mykonos and Santorini as well as the lesser-known islands of Ios, Amorgos and many others. Click here to view our 10-day island-hopping itinerary around the Cyclades islands and Athens.
The Dodecanese are next to the Turkish coast. The islands can be reached from Athens (15 hours) or Marmaris in Turkey.
The Saronic islands are located near Athens and can visit on a day trip. They also make a great island-hopping itinerary! 
North-Agean islands are also a short ferry ride from the mainland and include the likes of Samos and Lesvos and many others.
The Ionian islands include six islands on the East coast of Greece. If you wish to travel to the Ionian islands by ferry, you must depart from Killini on the East coast of Mainland Greece.
If you're hiring a car to visit the Greek islands, it's easy to drive from Athens to Killini. There's also a bus from Athens (30 Euro), or you can take public transport to Parta then take a taxi to Kyllini. Click here for our in-depth guide on travelling from Athens to Kefalonia.
To view the best beaches in Greece for families, click here.
---
Travelling Between the Greek islands
When travelling as a family in Greece, it's better to create an itinerary based on one island group (or two nearby groups). Ferry routes often operate around individual island groups rather than between. Most ferries start in Athens.
If you're planning a family holiday to just one island, it's best to choose one with an international airport rather than a regional airport, only with flights to Athens. Islands mentioned in this post with an international airport include:
Santorini
Mykonos
Corfu
Kefalonia
Zakynthos
Rhodes
Kos
Chania (Crete)
Heraklion (Crete)
Islands with regional airports (flights only to Athens) include:
You can also travel around the Greek islands by ferry. This way, you can discover more remote islands that are less touristy. To book ferries, I use Ferryhopper. You can book a whole island hopping trip in one go on the easy to use the app. Check prices and ferry times below:
Can't get to Greece just yet? Take a look at how to explore Greece from home.
---
The Best Ionian Islands for Families
This list will help you find the best Greek island for a family holiday:
#1 Kefalonia
Best for: Beaches, scenery, boat trips, turtle spotting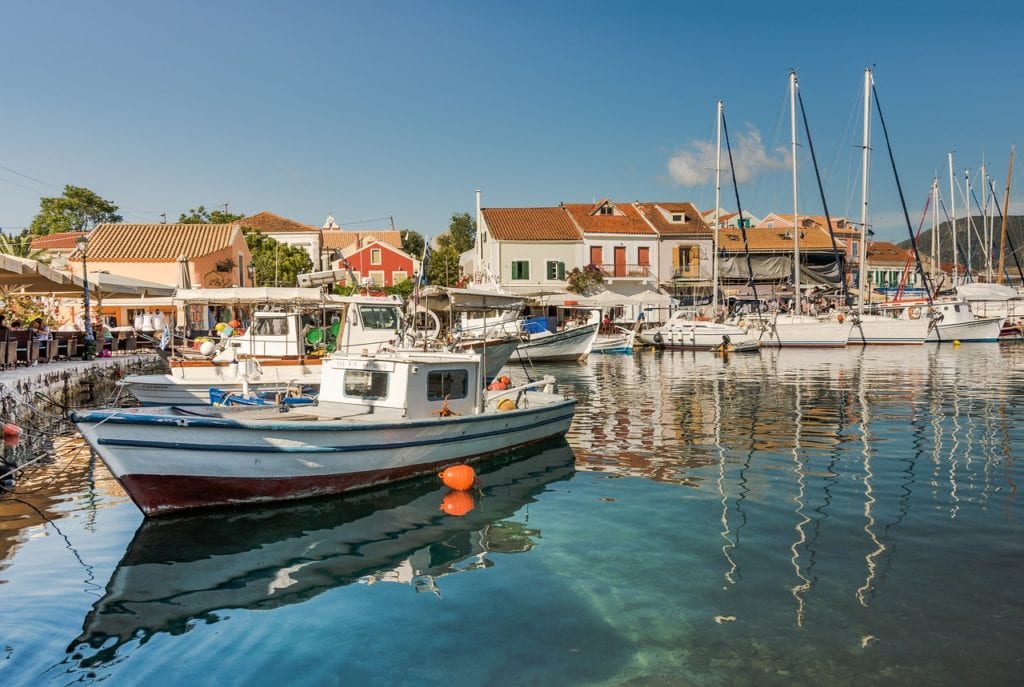 Fiscardo Fishing village, Kefalonia
As the largest of the Ionian islands and the 6th largest island of Greece, with a rich history, Kefalonia seems somewhat less developed than its neighbours of Zakynthos and Corfu, with plenty of places to explore.
If you're heading on a beach holiday, there are lots of places to choose from. The resort of Lassi is popular with package holiday tourists and families for its long beaches and clear seas. The resort has all the facilities you'll need, including excellent Greek food and sunbeds to hire. You'll also find warm shallow waters making Kefalonia the perfect Greek island for kids.
In the South of Kefalonia is Skala beach, a picturesque sandy beach popular with families and surrounded by the resort town of Skala. Take your pick of the watersports available on the beach to keep all the family happy, from jet-skis to banana boating. There are lots of sun loungers to hire too!
Things to do on the Amazing Island of Kefalonia with kids
Kefalonia is also a good island for some turtle spotting. There are a few beaches in Kefalonia where you can spot loggerhead turtles and their nesting sites.
The main site to spot nesting sites is below Ratzakli at Mounda bay between Skala and Katelios. If you want to spot adult Loggerhead turtles in their natural environment, try Koutavos Lagoon in Argostoli near De Rosset bridge. They often tail fishermen in search of food.
There are plenty of day trips in Kefalonia that the kids will love. Visit the awe-inspiring Melissani lake, see stalactites and stalagmites in Dragorati cave, visit the famous fishing village of Fiscardo or walk the streets of Kefalonia's capital Argostoli.
More info:
12 Fantastic things to do in Kefalonia
Exactly how to travel from Athens to Kefalonia with kids
Where to stay in Kefalonia for families
#2 Zakynthos
Best for: Turtle spotting, boat trips, family atmosphere, ease of access
Zakynthos Town
Zakynthos (also known as Zante) is one of my favourite islands for a family holiday in the sun and the first Greek island I ever visited.
There are several options for a beach holiday; Tsilivi is a large resort town on the East coast, popular with those who want a quiet break but with lots of activities on offer.
The resort has become the busiest and most popular resort in Zakynthos, especially with families. The town is home to a wide range of souvenir shops and traditional tavernas and cuisine from worldwide. Tsilivi is also home to Zante's best waterpark.
Laganas is popular with both families and young people. It's an excellent resort to stay in as you explore Zakynthos with plenty to see and do. Laganas beach is one of the best beaches in Zante and one of the longest too (9km).
Things to do in Zakynthos with kids
While you are in Laganas, you can visit Cameo Island. The wedding venue in Mamma Mia, Cameo is a small island attached to Zakynthos by a small bridge. Once on the island, you can relax on the beach with stunning views onto Laganas bay or sip a cold drink at the bar.
Visible from Laganas beach, Marathonisi (Aka. Turtle island) is an uninhabited island just off the coast of Zakynthos. Marathonisi is part of a national marine park that protects loggerhead turtles. 
Boat trips can be booked to view Marathonissi and maybe even some turtles close up. There's so much to be seen from the water. The blue caves are one of Zante's most popular attractions. The reflections turn the water a fantastic shade of blue when inside the caves! Other famous sights include Shipwreck beach and banana beach.
More Info:
#3 Corfu
Best for: History, atmosphere, beaches, ease of access
Corfu has a special place when it comes to the Greek islands. It is located on the Western side of Greece and offers excellent beaches facing the emerald waters of the Adriatic. Another huge positive for Corfu is the lack of wind that blows through the Cycladic islands like Mykonos and Santorini.
Corfu is a big island and has a lot of gorgeous beaches. The international airport is located close to the old town of Corfu. The town is everything you expect from a beautiful Greek summer heave; narrow cobbled streets with whitewashed houses laden with flowers, plenty of great food and a sense of relaxation that wafts through your being.
The island has many beaches both in the north and south, and all of them are easily accessible, especially by car. In the south, try the vast golden Sandy strip of Issos beach, and in the north, Agios Georgios is a great beach to enjoy with the entire family. The monastery of Palaiokastritsa is not too far either and offers a great chance to enjoy the views and a small hike for everyone.
Whether you are a young family or a couple, a chance to reconnect with your siblings and parents on holiday, Corfu offers excellent options for everyone, from partying to lounging on a sunbed. As a bonus, you can take a speed boat trip to Ksamil in Albania, because why the hell not!
By Ucman, Brown Boy Travels
#4 Lefkada
Best for: Beaches, scenery, off the beaten track
Lefkada is a beautiful, lesser-known Greek island worth exploring with your family. It has some of the most beautiful beaches in Europe, great food, plenty of day trip options.
Lefkada is an island connected to the mainland via a bridge. You can't fly into the island. The closest airport is in Aktion/Preveza, located on the mainland, 25 kilometres from Lefkada's main town.
We would recommend you rent a car for your trip. Despite being a small island, some of the best beaches in Lefkada are spread out. Plus, having a car will give your family a sense of freedom you couldn't achieve by taking taxis everywhere.
One of the best beaches on the island is Mylos Beach. This family-friendly beach is very picturesque. It has white sand, sheer cliffs, and turquoise waters. Spend the day sunbathing, swimming and playing beach games.
Another great beach is Porto Katsiki Beach. This beach has been voted amongst the most beautiful beaches in Europe time and time again. There are sunbeds for rent on the beach, and you can order food from the restaurant at the base of the stairs.
If you feel like a day trip, you can hire a boat tour to take you to the Skorpios & Meganisi Islands. You'll explore caves, uninhabited islands, and pretty swimming bays. It's the ultimate family outing.
By Oskana and Max from Drink Tea and Travel
Best Greek Islands for Kids: Best Saronic Islands for families
The Saronic islands group is one of the best areas in Greece for families:
#5 Aegina
Best for Scenery, seafood, pistachios, crystal clear waters
Located in the Saronic Gulf, Aegina is the closest island to the port of Piraeus. Its proximity to Athens makes it one of the favourite weekend getaways of Athenians. Aegina is famous for its pistachios. From a history and culture standpoint, Aegina stands out from all other Greek islands for the Temple of Aphea, the Agios Nektarios Monastery, and the former neoclassical mansions well-preserved to this day.
Aegina is a great destination for families due to its shallow, crystal clear waters, great food, and proximity to Moni Island's wonderful natural paradise, a tiny, uninhabited islet very close to Aegina's port town of Perdika.
The best thing to do on Aegina with kids is to take a water taxi from either Perdika or Aegina Town to Moni Island and spend the day lying on the beach, snorkelling and admiring the wild peacocks with their cute peachicks roaming around under the pine trees. You can climb to the top of the hill to take photos of the breathtaking Saronic Gulf scenery.
The best place to stay on Aegina is Aegina Town. The waterfront promenade is perfect for evening strolls. Have ouzo (or two) on one of the terrace bars, then enjoy a dinner with amazing sunset views. End your evening with a scoop of tasty ice cream.
Marathonas is the next best place to stay on Aegina, particularly if you travel with kids. Here you can book beach chairs and tables at once, as restaurants are set right on the sandy beach.
Even though Aegina isn't famous for the size of the amenities of its beaches, it is a good choice for families due to the convenience of the shallow and tranquil waters. The magnificent views, the proximity to other Saronic islands and Athens, the wide variety of pistachios and the fresh fish and seafood make Aegina an excellent idea for your next family vacation.
By Violeta, Offbeatgreece.com
Best Islands in the Cyclades for Families
Here are some of the best islands in the Cyclades to visit with kids:
#6 Naxos
Great for: Beaches, food, culture
Best Family areas: Agios Prokopios, Agia Anna, Naxos Chora and Plaka
Naxos is my number 1 recommendation for families visiting Greece. Naxos is the biggest island in the Cyclades and quieter than some of the others.
There's a huge variety of beaches to choose from of varying sizes, most of which have white sands and crystal clear waters. Families can choose from staying in a small secluded resort with basic amenities such as the fishing village of Appolonas or a more lively resort such as Agios Prokopios.
There's plenty of sightseeing to be done in Naxos too, from ancient ruins of the temple of – and the prehistoric acropolis to exploring the winding streets of the old town up to the old castle.
Naxos is the greenest island in the Cyclades and grows most of the food for the region. Make sure you try some local food at one of the many family tavernas – especially the signature Naxos potatoes.
For more information on visiting Naxos with kids, view our guide to the resort of Agios Prokopios here. Planning on visiting? View our complete guide on where to stay in Naxos for families.
How to Get to Naxos
There's a small airport which has many daily flights from Athens. Most people arrive by ferry from other Cyclades islands or Athens. We travelled in a cabin from Athens. Read how to get to Naxos from Athens here.
Where to Stay in Naxos
We enjoyed our stay at the Ioanna Apartments in Agios Prokopios, the best resort in Naxos for families. View our detailed guide on where to stay in Naxos for families for more information.
#7 Mykonos
Best for: beaches, windmills, typical greek streets, food
A great island in Greece for families is the island of Mykonos. The island is beautiful to see, and there are many lovely towns and white sandy beaches. Mykonos is part of the Cyclades island group, and you can find the islands Paros and Naxos near it.
One of the best towns on the island for a family trip is Mykonos Town, where most daily life happens. You find typical Greek streets, cute houses, magnificent churches, and lovely windmills here.
You can go to the Agricultural Museum, which is excellent for children as there is so much to do. You can see old farm tools there, and you can go inside a windmill. Also, Little Venice is a beautiful part of the town. Furthermore, if you are in the city, you might stumble upon the Pelican that lives there and is very friendly.
Besides Mykonos Town, there are many great beaches. One of the best of these is Ornos Beach, and this is also an excellent beach for families. There are many other pristine beaches to choose from. Cavo Psarou is on the south coast and perfect for families. Another one of the best family beaches is Platis Gialos, as it has many facilities, stores, and places to stay within walking distance. Also, the food on the island is excellent as there are many lovely restaurants! You can easily go here by public transport, there are many stores nearby, and you'll find here many hotels.
By Dymphe, Dymabroad
view Our Mykonos to Syros Transport Guide
#8 Ios
Great For: Photography, Calm seas, beaches, nightlife
Best Family Areas: Yialos Beach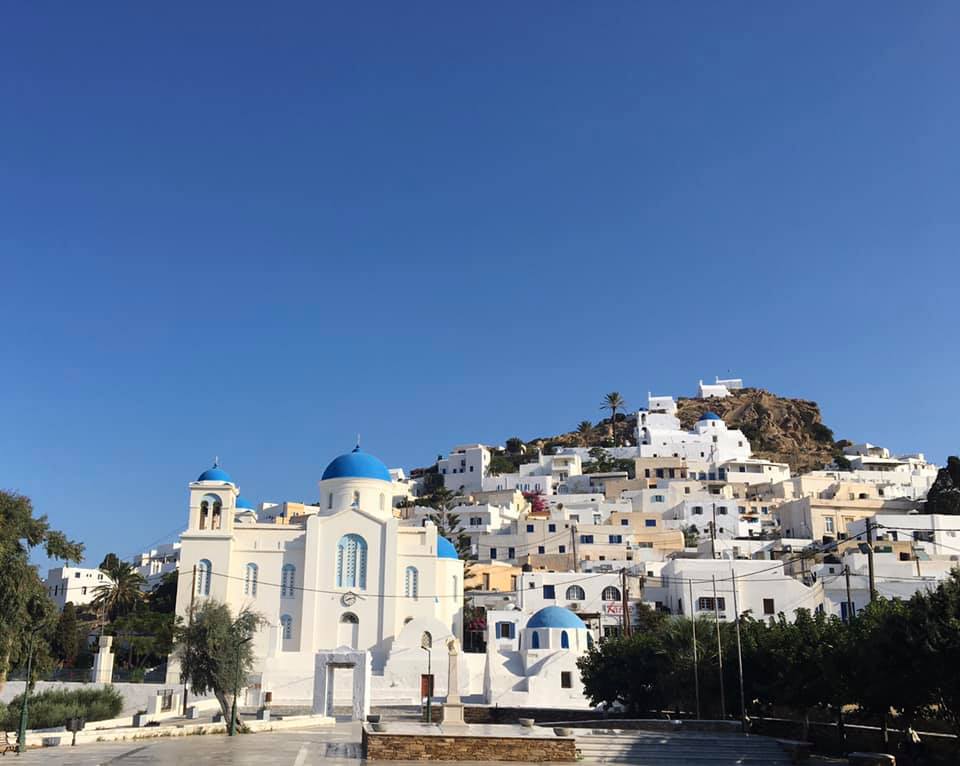 Although Ios has a reputation for being a party island, look deeper, and you'll find family-friendly beaches and a child-friendly atmosphere, crystal clear waters and very calm seas.
Yialos beach is the perfect place to base yourself. The beach is within walking distance of the port in a small resort with plenty of family tavernas. Stroll along the waterfront looking at the fabulous views towards Sikinos island or walk to the nearby church – painted in the traditional blue and white Cycladic style.
Yialos beach is also in the perfect location for day trips. From the port, you can go on day trips to Santorini, Folegandros, and Sikinos. There's also a regular bus service to Myopotos beach and Ios Chora.
How to Get to Ios
Many ferries pass through Ios en route through the Cyclades islands from Athens.
Where to Stay in Ios
We stayed nearby the port on Yialos Beach at the Mare Monte Hotel. The beach's calm waters make it excellent for families. Click here to view our in-depth guide on the best places to stay in Ios for families.
More on Ios – A day trip to Ios, Greece
#9 Milos
Best for: Boat trips, unique landscapes, beaches, archaeology
Best areas for families: Polonia, Adamantas
The Greek island of Milos is a family paradise with 70+ beaches, traditional villages, historic sites, and caves and cliff jumps galore. While Milos is by no means an undiscovered island, it is much quieter than neighbouring Crete and Santorini while still offering plenty to see and do.
Families can take catamaran tours around the island to explore off-the-beaten-track beaches, go scuba diving, paddleboarding or horseback riding or discover the breathtaking, moon-like landscape of Sarakiniko Beach.
Unlike most other Aegean beaches, Sarakiniko was formed by smoothing out the volcanic rock, leaving almost mythical rock formations contrasting with the azure blue waters. This is THE place on the island for photography, cliff jumping, and sunset, meaning there'll be something for all the family to enjoy.
Families might also want to take a sailing trip out to the old pirate hiding spot Kleftiko (aka Bandits' Lair) or visit the Amphitheatre of Milos, an ancient archaeological site overlooking the sea.
Other spectacular beaches to enjoy while visiting Milos is the geothermal Paleochori Beach and the classically beautiful Agia Kyriaki.
When choosing where to stay in Milos, you'll probably want to consider the town of Polonia in the northeast of the island. This town offers a great mix of whitewashed tradition and modern amenities with well-equipped apartments, family-friendly restaurants, a playground and even a sandy beach within walking distance beach that boasts shallow waters and tavernas. Alternatively, you could choose the port town of Adamantas where the delicious O! Hamos restaurant is located.
By Chrysoula, Travel Passionate
Find out how to get to Milos here >>>
#10 Paros
Best for: Beaches, traditional villages, architecture, nightlife
Photo by Nefeli Kavvada
If you want to get away from the hustle and bustle of busier Greek Cyclade Islands like Santorini and Mykonos, head to the secluded island of Paros. The island attracts a mix of people, including families, young couples, and retirees. You'll find everything from classic Cycladic architecture, charming rural villages and stunning beaches.  
Beaches in Paros
Families with young children will love Paros' 35 beaches. Check out Kolymbithres Beach – the small pristine beach lays between large boulders to either side, creating a shallow bay of clear water. There are also plenty of water sports to take part in. You can rent a kayak or paddleboard or take sailing lessons with a local company.
You'll find excellent Greek food everywhere you go, but some of our favourites were the zucchini fritters, squid, and tzatziki. Be sure to visit Golden beach, one of the most amazing beaches in Greece – perfect for family vacations! Families with young children will also enjoy Monastiri Beach and Santa Maria Beach, which have nice shallow water for splashing around.
Where to Stay in Paros
Several villages can stay on the island, including Parikia, Naoussa, Piso, Drios, Lefkes, and Marpissa. Parikia and Naoussa are the busiest and have the most nightlife and bars, so if you prefer a quieter scene, check our Drios, Lefkes, and Marpissa.
To see most of the island, we recommend renting a car. Because the island is relatively small, it only takes 30-40 minutes to drive from one end to the other. 
Click here to view our detailed guide on how to travel from Athens to Paros
By Natasha from the Great Ocean Road Collective
#11 Santorini
Best for: Landscape, views, photography, shopping, sunsets
Best Family Areas: Fira, Kamari, Perivelos
Santorini is one of the most popular islands in Greece and a year-round holiday destination, and volcanic island. Choose from a relaxing beach holiday on the black sand beaches of Perivelos and Kamari or an exploring holiday from the island's capital, Fira. It's also a fantastic place to bring the kids.
You'll get the chance to visit fantastic volcanic landscapes world-famous vineyards and view one of the world's best sunsets – it's no wonder people keep coming back to Santorini – the best greek island for views.
How to Get to Santorini
Santorini airport has seasonal flights all over Europe and plenty of flights to Athens, where you can fly to most places in the world. Many ferries pass through Santorini from Crete and Athens on the route through the Cyclades. Seasonal routes run to islands outside the Cyclades group.
Where to Stay in Santorini
We enjoyed our stay in Fira at Anessis. The outdoor pool is a lifesaver on a hot day! The apartments are within walking distance of Fira, where buses can be caught all over the island.
#12 Crete for Families
Best for: Culture, history, attractions, food, family atmosphere
Crete is the largest island in Greece, with an incredible family-friendly vibe. We stayed in the resort of Gouves. There's plenty to choose from in the resort, including several beaches, plenty of tavernas and souvenir shops and even an aquarium.
From Gouves, you can go on day trips to nearby places such as Hersonnisos (a larger resort – great for shopping and boat trips), Heraklion (the biggest city in Crete with a great Saturday market) and Knossos Palace (one of the most famous historical sites in Greece). There are also many picturesque villages waiting to be explored!
The area around Rethymno town is also great for a family holiday. The long sandy beach is perfect for a holiday in the sun. You can go on trips to the nearby Rethymno old town, Chania (a beautiful city just 1 hour away), go sea kayaking and visit the famous Kournas Lake.
How to Get to Crete
Crete has the luxury of having three airports, 2 of which (Chania and Heraklion) fly to destinations throughout Europe. The main port in Crete is located in Heraklion, with ferries to destinations throughout Greece. There is a high-speed service to Santorini (2.5 hours) and Athens (8 hours), Where to Stay in Crete.
Where to Stay in Crete
You'll be spoilt for choice with family-friendly accommodation in Crete. From all-inclusive hotels to mountain retreats, you'll find something to meet your family's needs.
More on Crete – Things to do in Crete with kids
Best Dodecanese islands for families
Here are the best Dodecanese islands to visit with kids;
#13 Kos
Best for: Family atmosphere, beaches, history
Kos is one of the most popular destinations in Greece and perfect for family holidays. The island hosts over 1 million visitors every year.
One of the best areas in Kos to stay for families is Kardamena. Kardamena is a small town 7km from the airport, surrounded by plenty of perfect beaches with soft sand and calm waters, perfect for a relaxing break in the sun. Nearby Kardamena, you'll find Paradise Beach (between Kardamena and Kefalos).
From Kardamena, you can go on day trips to other beaches on the island and Kos Town, where you can get an insight into the local culture.
How to Get to Kos
Nearby Kos town, an airport flies to many destinations throughout Europe. The ferry port is located in Kos town. Services run throughout the Dodecanese islands and towards Athens.
Where to Stay in Kos
There's a vast range of options, from huge all-inclusive hotels to small townhouses in Kos town and beachside bungalows. View accommodation in Kos here. We stayed at Atlantica Portobello Beach Hotel. The all-inclusive hotel has an excellent kids pool and free sunbeds on the beach.
#14 The Greek Island of Rhodes
Best for: Beaches, history, culture, attractions
Rhodes is one of the most popular islands in Greece for tourists. Many have even been awarded blue flag status. The island is family-friendly, with numerous gorgeous sandy beaches with crystal clear waters.
If your kids like attractions head to butterfly valley or Rhodes aquarium.
There's plenty of history to see in Rhodes, both in the capital, Rhodes town and the old town of Lindos. Both are nearby family-friendly resorts.
View Our Greece Family Travel Guides:
Start Your Greece Trip Planning Today
Search for the Best Private transfers
Books you may like:
Recent posts on Greece
Return to Greece Travel Guide >>>