Are you looking for the perfect travel potty for your next trip? Look no further. We've compared the 10 best travel potties on the market.
One of the most difficult processes you have to go through with your child is potty training. This can be a very demanding and frustrating process for some toddlers and parents. What is even more difficult is potty training a toddler while travelling or getting out and about. Fortunately, potty training while travelling is now made easier with a travel potty. You can simply bring the potty with you and have the perfect day out with your child.
This post may contain affiliate links, which means I may receive a commission, at no extra cost to you, if you make a purchase through a link. We are a participant in the Amazon Services LLC Associates Program, an affiliate advertising program designed to provide a means for us to earn fees by linking to Amazon.com and affiliated sites. As an Amazon Associate, I earn from qualifying purchases. Please see my full disclosure for further information.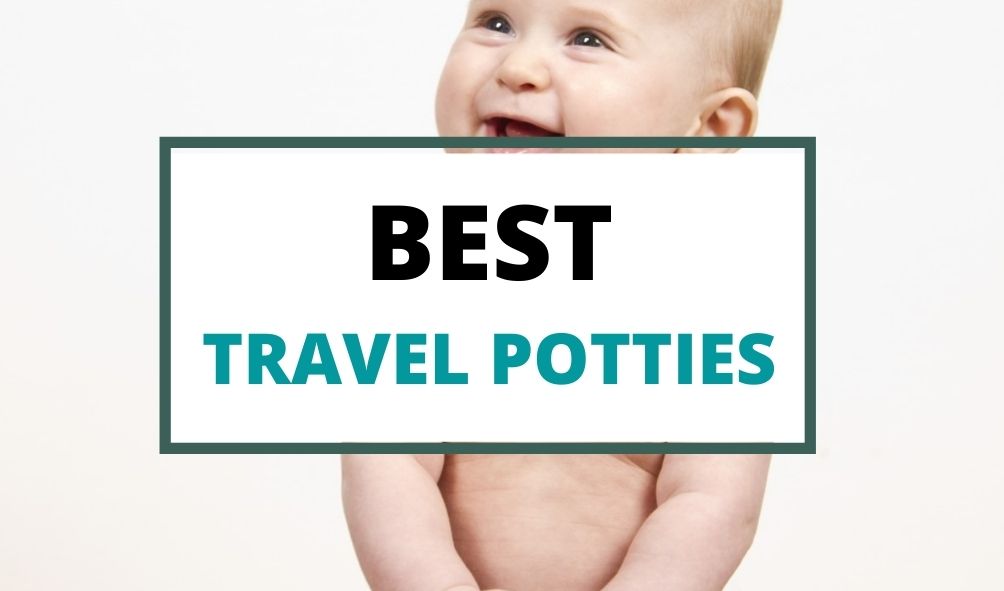 Travel Potty Comparison Chart
Why you need a Travel Potty
A travel potty comes in handy in many cases, especially when your toddler is not comfortable with using public toilets or the trip is an emergency. With a travel potty, your little one can use the bathroom more comfortably and peacefully. You can also guarantee there will be a toilet nearby when they need to go.
A travel potty is very easy to carry, portable, lightweight, and safer.
Types of Travel Potties
There are two major types of travel potties – portable potty seats and portable potty chairs.
Travel Potty Chair
Travel potty chairs are standalone toilets for little children. This type of travel potty is portable, and you can stow it with ease in a vehicle. They are like a smaller version of an adult toilet for little children. You can use them with a disposable bag, and this makes them easy to clean. You can also find some models that you do not need to use with disposable bags, but they are difficult to clean.
Travel Potty Seat
A travel potty seat is a seat that you can use with a toilet to enable your child to sit comfortably on the toilet. Travel potty seats are not standalone toilets, which means you cannot use them alone. This type of travel potty seat makes it easy for your child to use public toilets when needed. You can fold them into smaller sizes, making them easy and convenient to carry anywhere.
2 in 1 Travel Potty
A 2 in 1 travel potty serves as both a toilet seat and a portable potty. You can use the potty both in your accommodation to get your child familiar with using the toilet AND use the potty when out and about.
Travel Potty Reviews and Comparison Guide
#1 POTETTE PLUS 2 in 1 travel pot
The POTETTE travel potty can be used as both a portable potty and on a toilet. You can use the potty on the go and in your accommodation so you won't have to request a toilet seat.
 The compact size and light weight makes it easy to carry around. The potty also comes with a carry bag, making carrying even easier.
There's even a disposable and super absorbent refill, which is guaranteed to be leak-free and can be disposed of just like a nappy. The disposable refill is lightly scented to retain odours and can hold up to 150ml of liquid.
View the latest prices and availability on Amazon here >>>
#2 My Carry Potty
This portable potty can easily be used while travelling. It also comes with a handle, making it easier to carry around. It can also be hanged to your pushchair easily when out and about.
The My Carry Potty is also lightweight and has a unique seal that is guaranteed to be leakproof. Its design also makes it easy to clean, and there's an extra-tall splash guard, which makes it convenient to use both for boys and girls.
Your little one will love it because of its vivid colours and design of cute characters. The seat is very comfy and slip-proof.
View the latest prices and availability on Amazon here >>>
#3 Multiware Music Toddler Potty
This 2 in 1 potty can be used both on the toilet and out and about. The design makes the seat comfortable for a small child. Its 4 non-slip gaskets assure safety and stability.
The sturdy build can hold children of varying ages, while the realism of the build to a toilet will help your child when it's time to move on to using the toilet without a seat.
The star feature of this potty is the option to play music! There are 4 royal tunes which makes potty time fun for your little one. The colour and design of the product will also grab their attention, thus making the product very appealing.
View the latest prices and availability on Amazon here >>>
#4 POTETTE Max 3-in-1 Travel Potty
As the successor of the famous POTETTE 2 in 1, this product comes with an additional feature of being convertible, i.e. it can be used as a travel potty or a standalone toilet or a toilet trainer for your little one. Its easy mechanism can help you fit the potty right in your toilet and can help you train your child both out and about and in the home in the same potty for familiarity.
This potty is lightweight, thus, making it easier to carry while travelling. There's the option of using disposable liners or hardliners, making the potty efficient for use no matter where you are.
View the latest prices and availability on Amazon here >>>
#5 OXO Tot 2-in-1 Go Potty
The OXO potty comes with 3x disposable bags with absorbent pads and 1x travel bag. The product is really easy to use and opens quickly.
The legs of the potty are adjustable, which takes much less storage space and also makes it compatible for use as a potty and a toilet trainer seat.
Additionally, the product comes with a guarantee, if there are any faults or repairs to be made just contact OXO and they will repair or replace the potty.
View the latest prices and availability on Amazon here >>>
#6 Wishtime Baby 2-in-1 Travel Potty
This 2 in 1. potty works as a trainer set and a mini toilet bowl which is detachable, making it easy to clean and reuse. This is a great choice for those who don't like using disposable liners. It's really compact in size and foldable, which takes little space, you can easily store it in your car's boot while travelling or inside the pushchair bag on a plane.
The wishtime baby 2 in 1 is designed for your child's comfort. It is also available in bright colours which grabs the attention of young children.
View the latest prices and availability on Amazon here >>>
#7 Glenmore Portable Travel Potty
The Glenmore Portable Travel potty is a case style travel potty, made from eco-friendly material. It has a detachable bowl which makes cleaning easier and a carry handle attached to the potty for easy carrying.
This portable travel potty has a 3-centimetre-tall splash guard to protect against accidental spills as well as being very sturdy and stable with an anti-slip rubber pad so you'll have no worries about your child flipping the potty over.
Your child will love this potty. The comfort of its fun design will win your child over in no time.
View the latest prices and availability on Amazon here >>>
#8 WISHTIME Baby Travel Potty
The WISHTIME baby Travel potty is a compact and lightweight potty that you can carry almost anywhere with ease. Its design takes less space. You can put it in the boot of your car or pushchair bag on a plane and take it anywhere. The compact design also fit underneath most pushchairs.
The product comes with 20 disposable bags and takes seconds to clean. It is made of high quality and non-toxic materials and is sturdy and safe. The product is easy to use, you can unfold it and set it up for your little one in seconds.
View the latest prices and availability on Amazon here >>>
#9 Potty Training Toilet Chair 3-in-1
Potty training toilet chair is a multifunctional potty. It can be used to train your toddler on the toilet or used outdoors as a travel potty.
The product has TPR rubber non-slip foot pads, and the legs can be securely locked by the groove to ensure the stability of the toilet seat, ensuring the safety of your child. A smooth contour ensures the comfort of your child while using the seat.
The inner bowl in the potty seat is easy to remove for quick cleaning. A splash guard prevents spillage and is suitable for both boys and girls.
View the latest prices and availability on Amazon here >>>
#10 OKBaby Roady 3-in-1 Potty
The OKBaby Roady 3-in-1 Potty functions as a travel potty, toilet reducer and a traditional potty. The toilet bowl is detachable and can be washed and reused easily. It has a holding capacity of up to 800ml.
The product comes with 3x disposable liners that can hold up to 300ml. It folds easily and neatly into a carry bag comes within the price. The legs provide stability and ensure the safety of your child. The seat is designed to make your little one's time comfy. The potty is made of eco-friendly and non-toxic material.
View the latest prices and availability on Amazon here >>>
Enjoy this post? Take a look at our Travel Gear section for more in-depth guides on the best kids travel gear to buy for your next trip.
Recent Posts