Exmouth is a large seaside resort located on the South-East coast of Devon, the UK, just 11 miles from the city of Exeter. The town is popular with families as well as day-trippers.
Exmouth is one of Devon's best destinations for a family holiday by the sea. The 2 mile stretch of beach is the town's star attraction and the proximity for nearby day trips and the Exe estuary and the branch line train service make the town easily accessible from Exeter to those without a car.
I visited Exmouth as part of a day trip from Exeter while exploring Devon with my baby girl. Here are some of the best things to do in Exmouth with kids.
This post may contain affiliate links, which means I may receive a commission, at no extra cost to you, if you make a purchase through a link. Please see my full disclosure for further information.
Map of Exmouth
How to get to Exmouth
Travelling to Exmouth By Train
Exmouth is well served by the Avocet Branchline, which links Exmouth to the mainline station of Exeter St Davids via Exeter city centre and the picturesque village of Topsham.
Some services continue onto the other side of the Exe Estuary towards Southern Devon, the mainline station of Newton Abbot and the beachside destinations of Dawlish Warren, Torquay and Paignton.
Driving to Exmouth
Exmouth is located 3 hours, 30 minutes from London, 1 hour, 40 minutes from Bristol and 2 hours, 30 minutes from Lands End in the far south of Cornwall.
If you're driving from Scotland, the drive should take around 7 hours, 41 minutes from Edinburgh. If you're planning on hiring a car to get to Exmouth, you can compare cheap deals on Holiday Autos here.
Travelling to Exmouth by Boat from Starcross
A ferry service links Exmouth with Starcross across the Exe estuary, saving you from driving around or getting the train further north to Exeter and swapping to the branch line. Exmouth to Starcross Ferry runs from Exmouth Marina to Starcross 7 days a week from Easter until the end of October. 
Travelling to Exmouth by Plane
The nearest airport is Exeter Airport, located 10.9 miles or 22 minutes driving time away from Exmouth. The airport is served mainly by flights from within the UK and a few flights from other European destinations.
For more information on travelling the UK by public transport, I recommend this post by Erratic Engineeress
Things to do in Exmouth with kids
#1 Cycling in Exmouth – The Exe Estuary Trail
Exmouth is one of the best places in Devon for cycling. A cycle path runs all the way down the promenade from the Exe estuary to Orecombe point.
Exmouth is also part of the Exe estuary trail, developed and constructed by Devon County Council as part of the National Cycle Network Route 2, taking you along a similar route to the Avocet line starting at the village Lympstone, then on to Exton.
The next village is Topsham, with its stunning views onto the Exe estuary, picturesque churches and stunning buildings. The route carries on toCountess Weir.
You can choose to head further up the river to Exeter Quay, near Exeter city centre or head back downriver, picking up the river again as you cycle past Powderham Castle, then on to Starcross and then Dawlish.
#2 Manor Gardens
No visit to Exmouth is complete without a walk around Manor Gardens. The gardens are perfect for a slow stroll or a relaxing sit down in the shade.
#3 The Exmouth Land Train
The Exmouth land train is a perfect way to see more of the town with kids. Hop on and off and visit the picturesque Exmouth seafront and town centre.
Explore the town with its range of independent shops and two miles of golden sandy beach. Exmouth Land Train is the perfect way to get around with excellent eateries and stunning scenery across the Jurassic Coast. 
Opening Times | 10:00AM-4:00PM daily during the summer season.
Admission | There are three train routes to choose from at just £1 each.
Reaching Exmouth Land Train | You can board the train at any point in the journey, with many stops being located throughout Exmouth town and seafront. If you're visiting by train, there's a handy stop at the train station too where you can board the Avocet line to nearby towns/villages and Exeter city. Land train users can also park all day for £3 at Maer road car park (EX8 2DB).
Website |exmouthlandtrain.co.uk
#4 Exmouth Beach
As one of Exmouth's star attractions and the best free things to do in Exmouth for both kids and adults, Exmouth beach stretches for two miles along the seafront promenade from nearby Manor gardens on one side to Sandy bay beach at the other side.
The sand is some of the best I've ever come across – thin and golden, great for the kids to play in. There are plenty of entrances to the beach, some with disabled and buggy access.
Why not pay a visit to the beach shop where you can buy a range of souvenirs from painted stones to magnets and postcards. You can also pick up anything you've forgotten, plus cold drinks and beach supplies.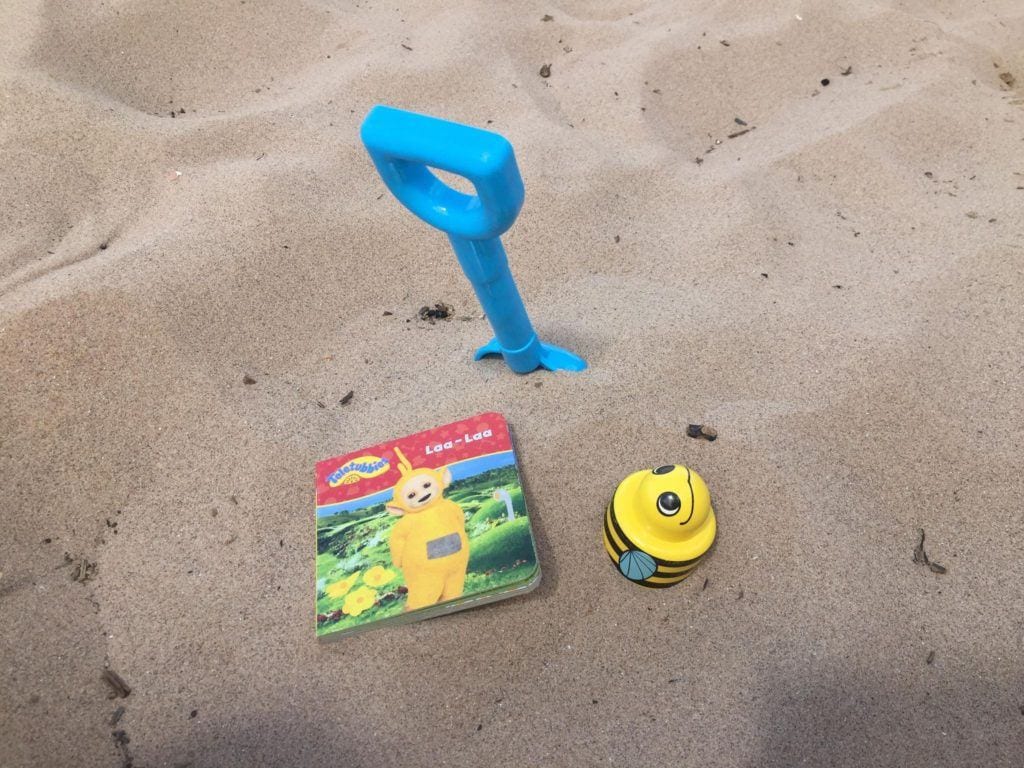 #5 A Walk along the Promenade
Exmouth promenade is two miles long and has many things, such as swing boats and crazy golf. The walk stretches from nearby Manor gardens and the Premier Inn overlooking the Exe Estuary to Orecombe point. It's also part of the South West coast path – a 630-mile walk from Poole Harbour in Dorset to Minehead in Somerset.
The walk is great for buggies, and you can even cycle. There are dedicated cycle and pedestrian zone.
Read more about my adventures on the South West Coast Path – Carbis Bay – Porthkidney Beach – Plymouth – Hayle Towans.
#6 Sandy Bay Beach
After walking all the way along Exmouth's promenade, you'll reach Sandy bay beach. This 1/2 mile long beach is set in a picturesque secluded bay.
On the beach, there are plenty of water sports on offer and safe swimming in calm seas with lifeguards on duty during the summer months.
The ramp onto the beach makes it ideal for pushchairs. If you're looking for relaxation, you can also hire a deckchair.
#7 Visit the World of Country Life
The world of country life is one of the most popular attractions in Exmouth to visit with kids.
Location | EX8 5BY
Opening Times | Opens during the summer season 7 days a week (Opens 15th February 2021).
Website | worldofcountrylife.co.uk
#8 Exmouth Amusement Arcades
Various amusement arcades are scattered around Exmouth both in the town centre and along the seafront, great for a rainy day.
Indoor amusements are perfect for a rainy day out, so why not stop by and check out our great range of arcade machines! Whatever you fancy, we've got the game for you. Take aim and compete with your friends on Sonic Basketball, or whizz over to the classic family-favourite Star Wars: Pod Racer, as well as many more

SEGA Arcade, Exmouth
#9 Shopping in Exmouth
In the town centre, you'll find a wide variety of both independent and chain shops. The Magnolia centre offers a massive array of shops in a car-free environment where you'll find big names such as New Look, Boots, the Carphone Warehouse and WHSmith, and smaller independent retailers such as The Farm Shop.
Stroll around the town, and you'll come across more independent shops from fruit and veg shops selling local produce at amazing prices to the Crusty Cob (17 the Strand), an old bakery where you can pick up a loaf of bread or a cake or enjoy a meal in the café.
#10 Exmouth dinasour trail
There are three different trails to choose from throughout the town. The '15 life-sized dinosaurs' trail will get the kids following claw prints on a map to find the dinosaur statues hidden around Exmouth.
The '15 brass rubbings' trail is in the town centre. Collecting all of them will earn the kids a free badge. The 'Explorer trail' includes another 15 brass rubbings to collect outside of the town centre. Click here to learn more about each trail.
Calling all explorers and adventurers we invite you to take on the new Exmouth Dinosaur Trail! A Jurassic & prehistoric experience that has arrived right here in Devon. Big ones, small ones from land, sea and air. They're all here in Exmouth for you to discover! So, decide if you want to follow the larger-than-life dinosaur trail, stroll the town trail or if you're feeling particularly adventurous let the explorer trail take you far and wide to places in Exmouth you may not have seen before. With 30 brass rubbings along the trails, you can take rubbings, photos or just enjoy exploring to earn your badge of honour.

Exmouth Dinasour Trail
Website | exmouthdinosaurtrail.co.uk
#11 Try your hand at climbing at Vertexe Climbing wall
The Vertexe climbing centre features 6 climbing walls. Walls are suitable for ages 4+.
Admission | Entry is valid for 1 hour | Adults £10 | Children (4-17) £7
Website | ledleisure.co.uk/activities
#12 A cruise along the Jurassic coast
Suggested by Cynthia Graham, Blue Bag Nomads
History, water, exciting boat trip, bird watching, and fun is what you will experience on a two to three-hour cruise along the Jurassic Coast.
The cruise is one of the best Exmouth attractions. The boat goes along the coast where you will see some amazing red cliffs. This coastline is a "natural" UNESCO World Heritage Site for its outstanding historical significance. You may even be lucky to see a Peregrine Falcon. They are the fastest member of the animal kingdom.
If your kids have not been cruising before or are unsure how they will do on the water, be prepared for motion sickness. Even on a beautiful day, the water can be rough – there is no predicting if you will have a rough or smooth ride.
Stuart Line Cruises has been listed as one of Devon's "top family attractions." They offer a variety of cruises (even some from Exeter). The one that will take you along the coast is the Jurassic Coast Cruise.
Ticket Options | Adult £11 | Child (1-5) £8 | Under 1 FREE
And for mom's (and dad's) you can even order a cream tea, to make a fantastic day even better. A Devon Cream Tea will set you back around £3.50.
View 101 more things to do in Devon with kids here
Where to stay in Exmouth with kids
Surprisingly, there's not a huge amount of places to stay in Exmouth, so make sure you book in advance. H re are some fantastic Exmouth hotel deals:
Just 15 minutes from Exmouth town centre and Exmouth high street. The Devoncourt Resort features an indoor pool, sauna and steam room with many rooms having sea views.
Breakfast can be included at an extra cost, and some apartments sleep up to 6 adults. T in rooms are also available. However, it's good to note that the hotel doesn't provide cots.
View the latest prices and reviews here.
Right on the esplanade near Exmouth seafront and just 5 minutes from Exmouth town, the Imperial hotel is set in an impressive 4 acres of grounds. R oms are either twin double or superior, and there's the option of a sea view room too. N te: No cots are provided.
View the latest prices and reviews here.
Take a look at the best lodges with hot tubs in Devon here. T ere's even one in Exmouth!
If you're visiting Exmouth on a budget, consider staying in nearby Exeter and reaching Exmouth via the branch line train services on day trips. M top recommendations in Exeter are the Juries Inn and the Mercure Exeter Rougemont. Both provide cots.
More About UK Family Travel
Recent Posts
Which activity are you most looking forward to? Let us know in the comments below:
Return to United Kingdom Home >>>