Singapore may be the smallest nation in Southeast Asia, but it packs a punch in its amazing 272 square mile area, with the right measure of culture, history, wildlife, nature, leisure and entertainment.
The city-state is ideal for all age groups. This guide will take you through the best things to do in Singapore with kids on your Singapore family trip. Discover the best Singapore attractions for kids and find the best family things to do in Singapore.
This post may contain affiliate links, which means I may receive a commission, at no extra cost to you if you make a purchase through a link. Please see my full disclosure for further information.
#1 Ride The Singapore Flyer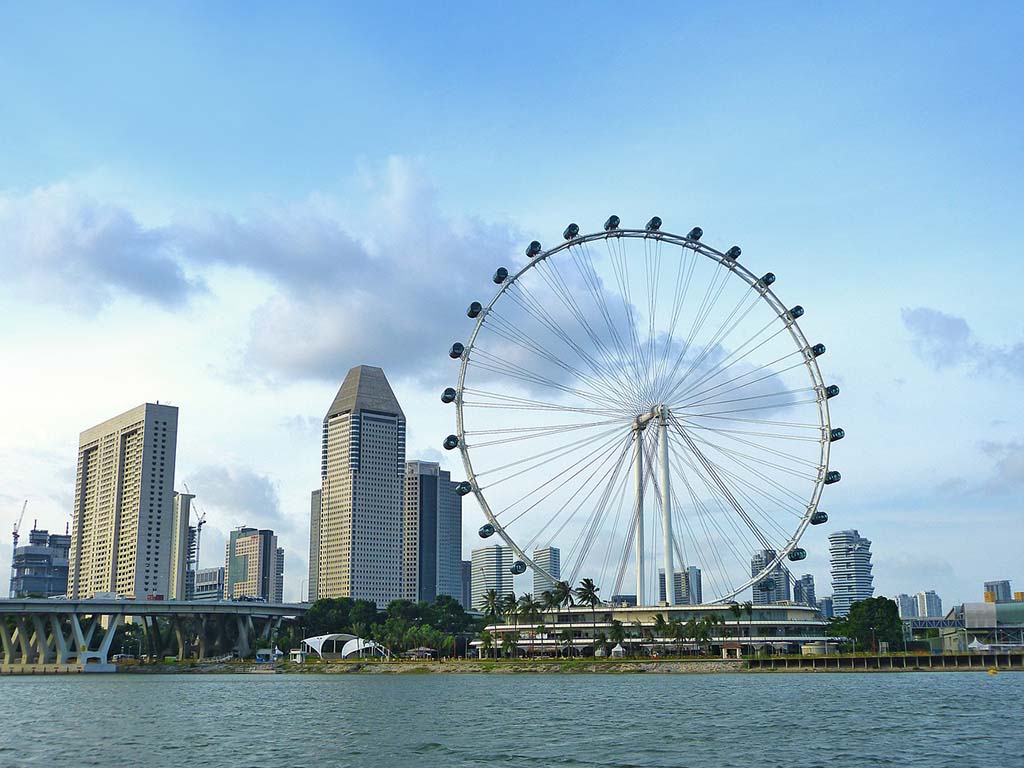 Let your little ones admire the region's iconic landmarks from a different light as they go above it all while enjoying a ride on one of Asia's largest observation wheels. The wheel is one of the best things to do in Singapore with family and gives the most astonishing 360-degree views over the city.
On a clear day, the views stretch to the neighbouring country, Malaysia. And the best thing is that it is a super safe experience, being a fully enclosed ride. Have you ever thought about combining your trip to Singapore with a trip to Malaysia? Check out this Singapore – Malaysia itinerary.
#2 See Amazing Wildlife at Singapore Zoo
You don't have to travel any far or drive to a dense jungle to experience wildlife in Singapore. Yes, you can find it right in the middle of the city; make your way to the vast and award-winning Singapore Zoo, one of the best things to do in Singapore, which inhabits close to 3000 animals in a verdant rainforest setting.
You will get to see rare and endangered animals brought from different parts of the world in its seven themed zones. If this is not enough, there is a river safari and Night Safari at Singapore Zoo. It was created for night creatures and is rightly the first nocturnal park globally. Over 2500 creatures from about 150 species here become active as the sun sets in.
#3 Visit Jurong Bird Park
Singapore has a dedicated attraction for your little bird lovers too. Take your kids to Jurong Bird Park for the perfect Singapore family holiday, where children get to spend time with about 3500 birds, representing over 400 unique species. From the free-flight aviary of Waterfall Aviary to the Wings of Asia with a cool collection of imperilled birds, this 20-hectare facility is packed with some intriguing sections.
You will even find here the Lory Loft, spread over nine storeys, and the Penguin Coast with real penguins.
#4 Spend the Day at Sentosa Island
The man-made island of Sentosa Island is a whole world of leisure and entertainment created for adults and kids alike. #
Kick off with a fabulous cable car ride and continue to its many attractions, which are sure to amuse and enthral your younger ones.
This ranges from the movie-themed epic Universal Studios Singapore theme park, and Sentosa Merlion to the Trick Eye Museum and the huge S.E.A Aquarium with over 100,000 aquatic species – some of the best attractions in Singapore for kids.
Don't miss some of its epic shows, including The Wings of Time, Lake of Dreams, and the Crane Dance (at Resort World Sentosa.)
#5 Explore Some of the Best Singapore Beaches
What is a family holiday without hitting the beaches? Luckily, Singapore has its fair share of beaches. Along a three-kilometre-long park, Changi Beach is one of the city state's most popular beaches and one of the best Singapore kids activities.
You will also find some lively beaches at Sentosa, such as Palawan, Siloso and Tanjong. But, if you are looking for a tranquil and least packed beach retreat, you can head to the historical Punggol Beach or St. John's Island, which is a treat for nature lovers with its lush surroundings.
Nothing can beat the East Coast Beach with swimming, kayaking, and windsurfing facilities for an activity-packed beach getaway.
#6 Visit the Gardens of Singapore
Singapore has an ultra-glam appeal with its stylish and intricate architecture and structures. But, that doesn't stop the city-state from preserving its natural green.
Don't miss taking your kids to the region's spectacular gardens, mainly the elegant Gardens by the Bay and the classic Singapore Botanic Gardens (also a UNESCO World Heritage Site.) Let them see how verdant green spaces harmoniously blend in with Singapore's modern cityscape.
#7 Take in the City-State Sights on a Cruise or Duck Tour
If your little ones don't go well with conventional Singapore tours, let them enjoy the city sightseeing by venturing offshore on an exciting bumboat cruise along the Singapore River. This will glide you past some of the region's exuberant spots, allowing you to see Clarke Quay, Merlion Park and Marina Bay Sands, all from the water.
If your kids want to add a twist to your cruise experience, they will be delighted to join a Duck Tour; it takes you around the main city attractions aboard an amphibious vehicle means you can expect to see the views from both land and water.
#8 Feel Water Thrill of the Lifetime
Indulge both your kid and inner child with the most fabulous water attractions! Sentosa Island alone hosts some of the region's most fantastic water attractions, such as the amusing ever Adventure Cove Waterpark and Hydrodash, the first floating aqua park in Singapore.
If it is water fun accompanied by lots of slides, challenges and green spaces you are looking for, one of the must-experiences is Coastal PlayGrove within the East Coast Park.
There is also Singapore Wake Park, the region's only cable-ski park created around a lagoon. With the most innovative rides, including the first hybrid ride in Asia, Wild Wild Wet is another water park that is worth visiting during your Singapore holiday.
#9 Ice Skate at the Rink or Kallang Ice World
Whether you fancy a session of ice skating or want to feel the snow and icy winter in Singapore, all you have to do is visit the Rink. It is the only Olympic-size ice rink in the region and serves as a venue for international tournaments representing ice curling, ice hockey etc.
The good news is that it is open to all, including beginners, thanks to the skating aids made available here. Kallang Ice World is another favoured destination to try ice skating in Singapore. Along with the top-notch facilities to cater to all abilities, it also offers a variety of courses to perfect your skating skills.
#10 Visit iFly
If the above activities are not enough to keep your little ones on their toes, let them try their hands in some extreme adventure conducted in a safe environment. A visit to iFly is one of the most recommended in this category. It allows your little ones to enjoy the experience the thrill of sky diving indoors without ever jumping out of an aircraft.
There are more options to satisfy your impulsive ones, from Giant Swing, Vertical Walk experience and bungee jumping to the Wave House Sentosa, Wakeboarding and MegaZip Adventure.
#11 Have Colour-Filled Fun at Splat Paint House
Whether you want to connect with your arty side or want to have some messy, carefree fun with your little ones, a visit to Splat Paint House is unmissable during your family Singapore trip. It is the region's first of its kind paint studio ideal for all age groups. With no hectic rules to follow here, all you have to do is pick your canvas, splash colours to your heart's desire, and take home your creative, exuberant masterpiece.
#12 Visit the MINT Museum of Toys
A trip to this distinct museum is a must experience for adults and kids alike. True to its name – Moment of Imagination and Nostalgia with Toys (MINT), it not only lets you relive your childhood days but also gives your younger ones a glimpse of the antique and vintage toys. It allows the whole family to discover the toys from diverse eras and genres, with exciting thematic sections such as Childhood Favourites, Characters, Collectables, and Outerspace. There are over 50,000 old toys on display here, collected from different parts of the world.
#13 Get Active at SuperPark Singapore
This is one of Singapore's ultimate fun-packed destinations where your little ones can soar through the air, bounce, skate, play soccer, enjoy tube slides, pedal your way along the indoor track, and even be a ninja warrior – all indoors. Spread over the vast 40,000 square feet, it boasts of cool sections such as Adventure Area, Game Area and Freestyle Hall.
#14 Spend a Day at Snow City
No family trip to Singapore is complete without visiting the Snow City. It is the region's first snow centre and the coolest family-friendly spot in Singapore. Its sub-zero settings allow for some authentic snow adventure in this tropical city-state. Whether you are looking to race down the snow-blanketed slopes or want to make the most of the icy playground, it is all possible here.
How to Get to Singapore
Singapore Changi Airport is one of the best in the world and serves flights to and from most countries in the world. Singapore is also one of the cheapest destinations to fly to in Asia and is often seen as the gateway to Asia. Find flight deals and availability for your dates on Trip.com.
Singapore can also be reached by bus from neighbouring Malaysia with frequent connections to Malakka, just across the border and the capital, Kuala Lumpur.
Only a few destinations can compete with the vast array of family-friendly attractions in Singapore. Make sure you add our recommendations to your trip plan when you plan to travel to Singapore with your kids. All your family members will have a great time here, accompanied by utmost fun and entertainment.
Plan Your Trip to Singapore
View places to stay in Singapore with kids
Recent Posts