When visiting Greece with kids, there's nothing better than finding a stunning beach with all the facilities a family needs. This post will take you through some of the very best beaches in Greece for families to help you find the best family beach holiday in Greece and the best Greek beaches.
There are over 6000 islands and islets spread across the Greek archipelago, not to mention nearly 8500 miles of coastline surrounding Mainland Greece. That's a lot of beautiful beaches in Greece to choose from!
I asked some top travel bloggers to pick out some of the best beaches in Greece for families as well as using some fantastic beaches that I've found on my travels to compile the ultimate list, from beaches in the hugely popular islands of Crete and Santorini to hidden gems in Naxos and Andros, you'll find all the best beaches in Greece for families here.
This post may contain affiliate links, which means I may receive a commission, at no extra cost to you, if you make a purchase through a link. Please see my full disclosure for further information.
The Best Beaches in Greece for Families
1. Pefki Beach (Rhodes)
Submitted by Sonja, Scotland for Families
Located on the eastern side of Rhodes, Pefki is a small beach resort with hotels, adventure activity operators, bars and restaurants, and a few shops. 
The beach itself is a beautiful spot where you can hire umbrellas for shade or find your own space on the golden sand. The clear turquoise water in the bay is lovely for swimming in and often relatively calm. You can also go out a fair distance from the beach before it gets too deep, which is great for kids. 
Behind the beach are various restaurants and bars, and more can be found on the main road, so there are plenty of options to choose from when everyone gets hungry. 
Many of the resorts lead straight onto the beach, so if you stay in one of these you can have the best of both worlds with a beautiful and calm beach for swimming, as well as a hotel pool nearby, and the ability to pop back to your room easily.
2. Lindos Beach (Rhodes)
Submitted by Stephanie, Sofia Adventures
One of my favourite things to do in Rhodes is to visit Lindos. This beautiful beach town is one of the gems of Rhodes, including beautiful white-washed houses perched over the edge of the sea. 
Lindos is an excellent beach for families because the water is completely calm and clear. There are almost no waves because its in the little sheltered area protected by outer rock croppings. The water is pristine, and there aren't as many rocks as in other parts of the Greek islands. The sand is silky and won't hurt little feet unless it gets too hot of course!
You will find plenty of facilities here, including tavernas for lunch, sunbeds and umbrella to rent, and shops to purchase last-minute sunscreen and beach gear.
How to get to Lindos Beach
If you come here from Rhodes town, you can take the island buses, or you can go by private transfer or taxi. Otherwise, you can stay in the town for an absolutely dreamy Greek vacation.
3. Elafonissi Beach (Crete)
Submitted by, Faye and David of Delve Into Europe
Elafonissi Beach, in the south-west corner of Crete, has been voted the best beach in Europe,  and it's also one of the best beaches in Greece for families and possibly one of the most famous beaches in Greece.
There are actually several beaches at Elafonissi – it's on a sandy peninsula, with the seawater on one side and the shallow lagoon on the other. There are also several smaller beaches on Elafonissi Island, a gentle paddle away.
Conditions usually are ideal for kids, with the lagoon water ideal for paddling – it's often no more than three or four centimetres deep.
Elafonissi is best known for its fringe of pink sand along the shoreline. It's an amazing sight and kids love it – the sand is composed of millions of crushed sea-shells. No wonder it's one of the best beaches in Crete.
Elafonissi is usually jam-packed during the summer season (June to September) – the best time to visit is in October when the water is still warm enough to swim in.
The beach is around two hours' drive from Chania, the main city in western Crete. Many visit on tours from the resorts on the north coast, which are available from most travel agencies.
4. Nimporio Beach (Andros)
Submitted by Maria & Katerina of It's All Trip To Me  
Andros is one of the most wonderful Greek Islands. One of the best things about it is that there are countless gorgeous beaches in Andros for all tastes. No matter if you're travelling solo or with your better half, as a family or in a group of friends, there's definitely the perfect beach for you on Andros Island. 
As far as families travelling with kids are concerned, Nimporio is probably the best beach to spend a fun day under the sun in Andros. First of all, Nimporio Beach is a really family-friendly beach because it's situated within easy walking distance from Chora, the island's main settlement. 
Moreover, Nimporio Beach is sandy with shallow waters, thus ideal for kids to play around safely. Last but not least, Nimporio Beach is lined with many cafes and restaurants. There are facilities such as sunbeds, umbrellas and showers, all of which come really handy when travelling with kids. 
Access to Nimporio Beach is very easy by either car or bus from wherever you're staying on the island. You can get there on foot from Chora. 
5. Mylos Beach (Lefkada)
Submitted by Oksana & Max of Drink Tea and Travel
Milos Beach (Mylos Beach) is one of the most popular beaches on the lesser-known island of Lefkada and for good reason! The incredibly beautiful beach is known for its white cliffs and sandy beach which frame the turquoise waters of the Ionian Sea. Here you can swim, sunbathe and play beach games to your heart's content.
There is next to no infrastructure on Milos Beach, which is part of its charm, but that means you'll have to bring anything you might need for a day at the beach like snacks or water. There are sun loungers and parasols for rent and sometimes people walking up and down the beach selling snacks, but it is not guaranteed. For lunch, there is a taverna located a short walk away in Agios Nikitas village.
To reach the beach you can take a taxi boat or walk 20 minutes from Agios Nikitas village. Whichever you choose to reach Milos Beach, you will be glad you did.
6. Perivolos Beach (Santorini)
Submitted by Shandos of Travelnuity 'Dog-friendly travel around the world'
When you think of Santorini, you probably think of the crowded towns of Thera, the island's main town, and Oia, famous for its sunsets. But tucked away on the southern coast of the island are some great beaches that are far more relaxing and perfect for families, including Perivolos.
Perivolos is a long stretch of black volcanic sand in between the villages of Saint George and the slightly larger Perissa. Dotted with restaurants, bars and water sports outlets, the vibe of the area is laid back and chilled. Especially when I visited at the end of the summer season in mid-September, as some places started to shut down. Not that the sea had cooled off yet, the balmy and calm waters perfect for swimming, including for children.
I recommend booking an apartment at one of the many small resorts that dot the area, within walking distance of the beach. You'll be wanting to visit multiple times a day, including to enjoy lunch and dinner at the many restaurants and cafes. Buses are very infrequent in the area, so it can be handy to hire a car unless you're happy to take a shuttle to your resort and stay local for the duration of your holiday.
More on Santorini | Santorini in one day | A Day Trip Itinerary
7. Skala Beach (Agistri)
Submitted by Chantae of chantae.com
A long and thin stretch of sand lined with lounge chairs and umbrellas cloaks the northern coastline of Agistri.
A cycling path that connects Megalochori to the tiny town of Skala makes it a perfect place for families. Rent bicycles at Megalochori and go for a ride to Skala, stopping at any of the many cafes and ice cream stands along the way. When it's time to cool down, park your bike near the San Giorgio Church at Skala Beach. Kids love to make friends at the small jetty, where it's common to take turns seeing who can run and jump the furthest into the water.
Water along this coastline tends to be calm with a gentle slope, and there are plenty of areas to plop down and work on a sandcastle. While there is accommodation on the island of Agistri, it's worth visiting as part of a one-day cruise from Athens.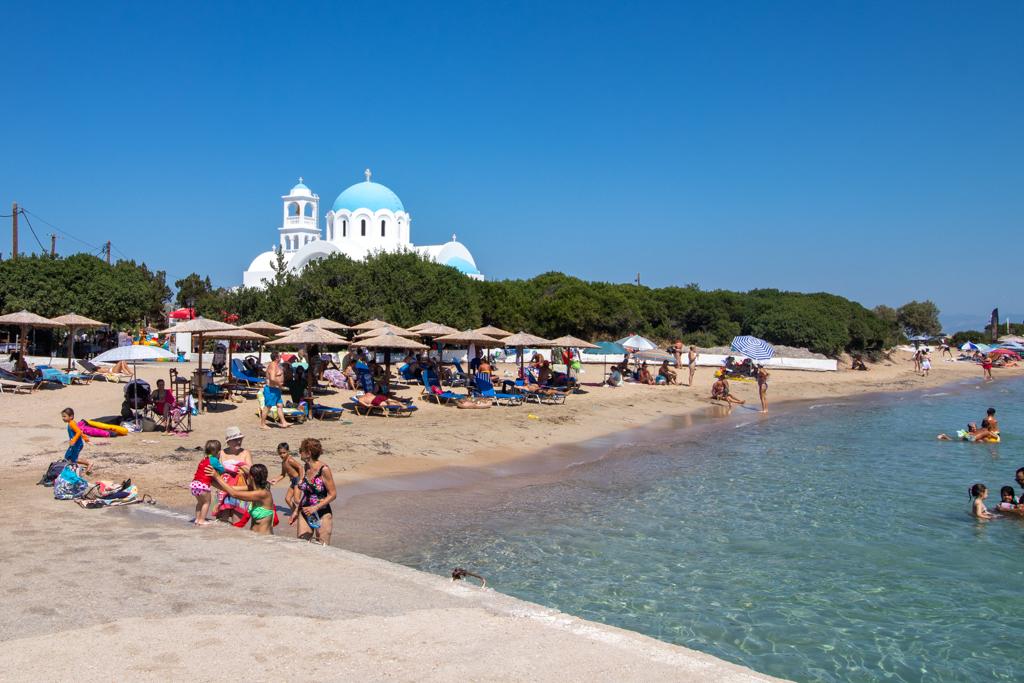 8. Kala Nera Beach (Mainland)
Submitted by Nisha, Nerdy Footsteps
Kala Nera beach is hidden well under the Pelion mountains in Greece. It is situated in the western part of the mountainous Pelion peninsula, on the Pagasetic Gulf coast. Kala Nera in greek means good water. That already indicates how pretty this beach is.
This beautiful beach is perfect for families. Since this gorgeous beach is relatively unknown, it is not very crowded. It has lots of restaurants around as well which makes it perfect for families.
Another amazing activity near the beach is to visit one of the mountain villages in Pelion. To add some adventurous element to kids' holiday, visit the forest that was native to the centaurs from Greek mythology, Pelion and its beautiful village Tsagkarada.
How to get to Kala Nera Beach
The best way to reach the beach is by car. A pleasant drive from Volos (the biggest city nearby) will take you about half an hour to reach the beach.
To reach the beach by public transport, take a bus from Volos main bus station. The ride takes about 30-40 minutes. Kala Nera beach makes for a perfect family beach outing.
9. Kavouri Beach (Athens)
Our Recommendation
Kavouri beach is one of the hidden gems of Athens and easily reachable from the city centre. There are numerous sunbeds and umbrellas to hire, some of which include lockers, great if you are travelling solo with kids or you want to take a dip as a family.
For food, sellers are walking up and down the beach selling cheap eats for beachside snacks. You wouldn't expect one of the best beaches in Greece to be in Athens, but I found the seas to be some of the calmest and clearest in my whole trip. You can see distant islands off the coast of Athens as well as the rest of the Athens Riviera. I recommend taking a walk down the road from Kavouri beach to see other beautiful beaches and hidden spots.
To reach Kavouri beach, take the metro to Elliniko station then board the 122 bus or take a taxi from the rank outside the metro station.
More info | Best Beaches near Athens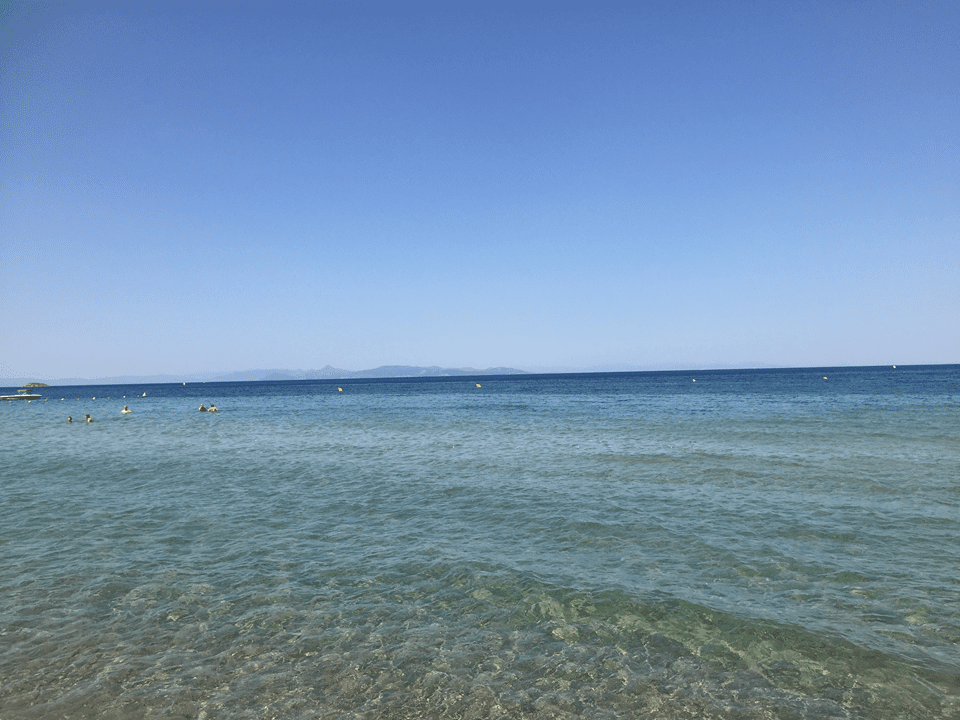 More on Athens | Mount Lycabettus Hill with Kids
11. Laganas Beach (Zakynthos)
Our Recommendation
Laganas beach is one of the longest stretches of sand on the island of Zakynthos, backed with a vast string of restaurants and beach bars and a large resort town. Although Laganas has a reputation for being party orientated, it's one of the best beaches in Greece for families too. The family hotels are located at the opposite end of the beach.
By day, there are plenty of sunbeds to rent. Most are owned by the beach-front hotels, but visitors can often pay to use them. Most restaurants will let you use a sunbed if you buy a drink. Laganas beach features a huge choice of watersports activities suitable for all ages. Younger kids will enjoy hiring a pedalo and riding across the bay while the older kids will love the banana boat, a fast speed-boat experience.
If you fancy a walk, you can go right along to the next-door town of Kalamaki. Regular boat trips take beachgoers to Marathonisi, a small island just off the coast of Laganas. Tours include some turtle spotting on the way too. Once you're on Marathonisi, this tiny Caribbean like island has fantastic views across Laganas bay. Make sure you bring an umbrella for smaller kids, I visited with 8 month-old twins and had an amazing experience.
Make sure you're responsible when turtle spotting. View the Archelon Website for more information.
Click here to view our in-depth guide to the best places to stay in Zakynthos for families
Getting to Laganas Beach
The best way to visit Laganas beach is to stay in the resort of Laganas. The bus network in Zakynthos can be unreliable, so its best to hire a car or travel by taxi to the beach. A taxi from Zante's capital 'Zante Town' will set you back around 13 Euro and take 14 minutes.
11. Vasilikos (Zakynthos)
Submitted by Heather, Heather On Her Travels
Vasilikos is the neighbourhood to the south-east of Zakynthos (also known as Zante) with a long, sandy beach backed by sand dunes. Vasilikos is one of the best beaches in Zakynthos and extends for some distance with different sections known by their beach bars that offer a free parking area.
At one end is Ionian beach, with an attractive traditional stone beach restaurant where they have sunbeds that are often free for customers. A little further along is our favourite Banana beach, where the Banana Baya beach bar is set in the sand dunes. It has a flat grassy area and sunbeds to rent with bar service in front of the sea. This would be my choice for families as there's a large parking area, toilets and a lovely beach cafe where the sea breezes waft through. If you have teens you may want to head even further up Vasilikos beach to St Nicholas beach, which has a lively atmosphere and watersports on offer. 
How to get to Vasilikos beach

Vasilikos is in the south east of Zakynthos and is easily reached by road if you have a hire car. There are also local public buses and free buses from some of the resorts provided by the local bars. From the main coast road, look for the signs and turn off down side roads to find the different beaches.
12. Firiplaka (Milos)
Submitted by Chrysoula, Travel Passionate
Firiplaka Beach is one of the most amazing family-friendly beaches in Milos that is known and loved for its white sandy shores and tempting shallow waters. The crystalline, turquoise sea here is simply stunning, As the reef is soft and sandy underfoot and stays just a couple of feet deep, it is safe for children and those who aren't the strongest swimmers.
There are several rocky sections to explore, so the kids can be entertained for hours fishing in the rockpools or snorkelling among the fish. Older children may even want to venture into the natural cave-like archway in the middle of the bay to see if they can discover any more creatures!
While Firiplaka is definitely one of the more popular stretches of beach on Milos, if you get there early, you should be able to bag one of the sunbeds and parasols that will keep you cool during the midday heat. There aren't any facilities other than beds and umbrellas on the beach (aside from a small truck selling water and basic snacks) so make sure you pack a picnic or visit early enough to have enjoyed the beach and head back to town for lunch.
Firiplaka Beach can be reached by motorbike, car or bus (around 20 minutes from Adamantas to Fyriplaka.) Whichever option you take you'll still need to walk around a small headland of rocks to reach the beach.
13. Agios Prokopios Beach (Naxos)
As well as being one of the best islands in Greece for families, Naxos has some of the best beaches for families too. This large, white sand beach is blessed with crystal clear, calm waters and amazing views out towards Paros island and the surrounding valleys. Agios Prokopios is one of the most beautiful beaches in Greece. The beach is easily accessible from flat entrances in the resort of Agios Prokopios and lined with numerous beach bars, tavernas and takeaways.
Follow the road inland slightly, and you'll find a small bakery and supermarket, perfect for stocking up on a cheap beach picnic.
Click here to view our in-depth guide on the best places to stay in Naxos for families
How to get to Agios Prokopios Beach
The beach is just a 14-minute drive from Naxos port and the main town (Chora). There's plenty of car park spaces lining the back of the beach with a car park at the far end.
A reliable bus service run by KTEL also links Agios Prokopios with Naxos Chora. The bus stop is ideally located at the entrance to the beach. Buses from the nearby resorts of Agia Anna, Plaka and Stelida also stop in Agios Prokopios, running up to every 15 minutes in the high season, although it's possible to walk from Agia Anna.
We visited Naxos as part of our travels through Greece in the summer of 2020. View the full post here.
14. Yialos Beach (Ios)
Yialos Beach is the best beach in Ios for families and one of the best beaches in the Cyclades islands. The beach is located just a short walk away from Ios port. The only way to reach Ios is by boat, so you're guaranteed to be able to walk straight from the port to your accommodation if you stay around this area. View the best places to stay in Ios for families here.
The beach features soft white sand and shallow, crystal clear waters. The sea is nearly always calm as it's sheltered by the bay that is the port. On the beach, sunbeds and umbrellas are set in groups, owned by different cafes. If you walk away from the port, the price decreases. On our visit, we found sunbeds for as little as 3 euro.
Yialos beach is backed by some fantastic tavernas, souvenir shops and small supermarkets. A little further along, you'll find takeaways. From the beach, you can walk to Ios marina where you can spot the superyachts. It's also possible to walk up the old donkey trail to Ios Chora on the hill above. Regular bus services run from the port to Ios Chora and the resort of Myopotos.
Related Post: One day in Ios | A day trip itinerary
Island Hopping in Greece
Island hopping is a great way to see the most of Greece with kids. This summer, I visited the Cyclades islands with my 12 month old.
Rather than doing day trips to other islands, island hopping gives you more time in each place and you can see a lot more of Greece than on a package holiday. you can even plan your trip around the best beaches!
To find out more about island hopping in Greece, read our experience of island hopping in the Cyclades here or read the best islands in Greece for families here. You can also read some guides to some of my favourite islands Kefalonia – Zakynthos – Ios – Naxos and Santorini by clicking the links.
Starting your island hopping trip around Greece
It's better to create an itinerary based on one island group (or 2 nearby groups). Ferry routes often operate around individual island groups rather than between.
Most people start an island hopping trip in Athens. The international airport serves flights all over the world. You'll also be most likely to find the cheapest deals to Athens rather than flying to an island. There are also airports in some of the bigger or more touristy islands. I use Travel Supermarket to find the best flight deals.
Airports in Greece that serve major European destinations:
Santorini
Mykonos
Corfu
Kefalonia
Zakynthos
Rhodes
Chania (Crete)
Heraklion (Crete)
Islands with regional airports (flights only to Athens) include:
Getting around Greece by Ferry
The best way to island-hop around Greece is by ferry. I use Ferry Hopper as it lets you buy tickets for multiple trips in one go. If you're travelling with kids, I recommend that you book all of your ferries and accommodation in advance.
Find the latest ferry timetables and deals here:
Transfers from the port to Destination
Although some smaller islands only have accommodation options at the port, you won't always be staying at the port. In islands such as Naxos, the best beaches and family resorts are a short drive away from the port.
Some accommodation providers provide transfers free of charge or are happy to arrange a taxi for you. In other cases, you'll need to find your own transport. On smaller islands there's the issue of taxis being booked up and on larger islands, hailed taxis can be very expensive. To solve this problem, I use Holiday Taxis to pre-book a transfer. View the latest prices and availability for taxis here.
If you're planning on exploring the island lots or your staying in a more remote destination, you may want to consider hiring a car.
Lots of companies allow pickup at the port straight from the ferry. Here you can save money by travelling as a foot passenger. You can view the latest car hire deals here.
Want to Know More About Greece? Check out these handy Guides…
Pin For Later
Booking a family package holiday in Greece
Easyjet Holidays | A wide range of great value for money beach holidays, combining easyJet flights with 3, 4 and 5-star hotels and other extra services such as car rental and transfers. View the latest offers here.
Letsgo2 | Letsgo2 provides a fantastic range of great value luxury holidays to over 50 destinations worldwide including beach holidays. Letsgo2 will We'll take the time to understand your needs before recommending the perfect baby and toddler break for you and your family. View the latest offers here.
Latest Posts
More on Greece
More on Family Travel
What's your favorite beach in Greece? Let us know in the comments below:
Return to Greece Travel Guide >>>