France is one of the world's best countries to visit. It offers some of Europe's best sunlit beaches, a rich cultural and architectural heritage, and delicious cuisine. As well as having plenty of beautiful cities, France has some beautiful towns to explore on your next family trip. Whether you're planning a road trip through France or you're looking for the perfect holiday destination in one of the most beautiful towns in France, or even travelling solo or without kids, here are the top 8 for ultimate inspiration.
This post may contain affiliate links, which means I may receive a commission, at no extra cost to you if you make a purchase through a link. Please see my full disclosure for further information.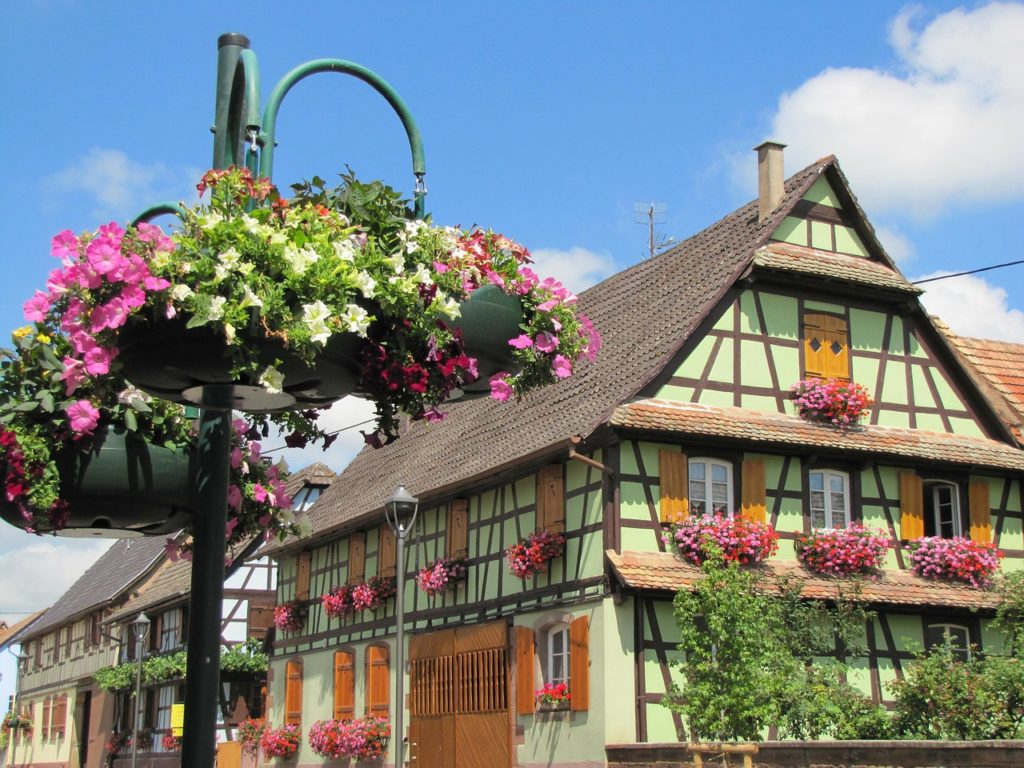 Beautiful Towns in France Map
1. Kayserberg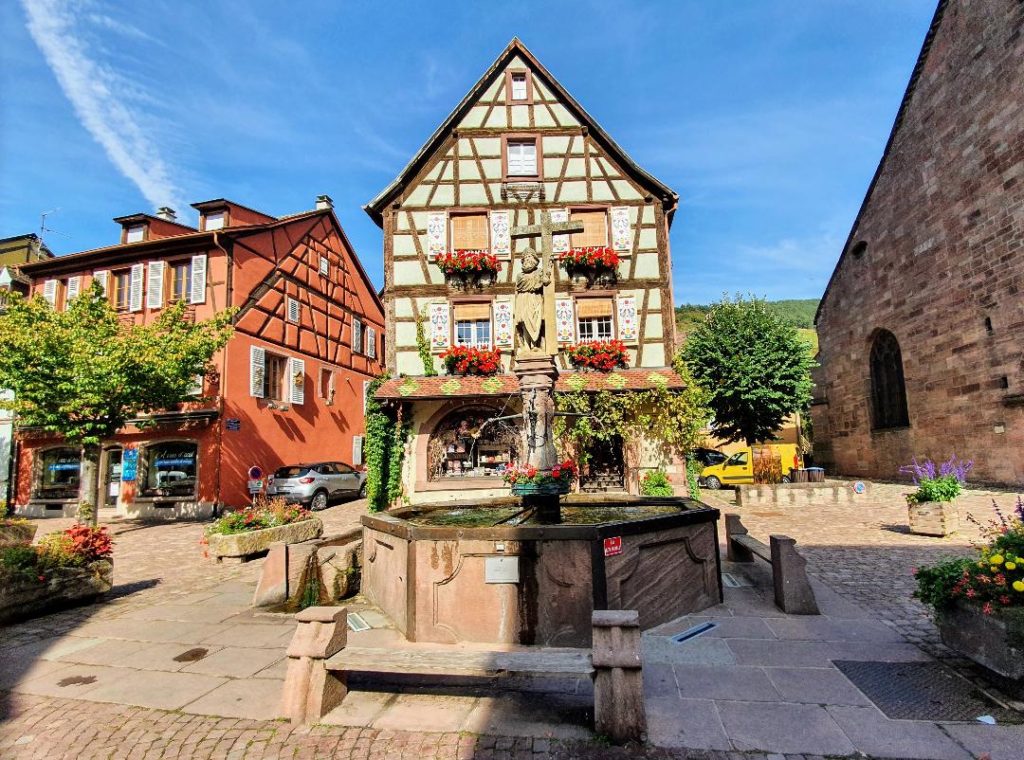 The town of Kaysersberg is in the beautiful Alsace region of Eastern France. The entire area has some gorgeous countryside and interesting places to visit. Kaysersberg is a beautiful fairytale-like town with lots of well preserved, colourful timber-framed buildings. Surrounding the town are vineyards that you can have an enjoyable walkthrough. The nearby vineyards lead to Chateau du Scholssberg, a castle overlooking the town. The whole area is great for hiking or cycling with lots of dedicated routes.
Things to do in Kayserberg with Kids
Have an adventure, walk in the nearby vineyards and spot some of the local wildlife. There are many species of birds to spot and also is some too many lizards.
Explore the castle overlooking the town. This is free to visit and is great fun to climb to the top of its tower.
Visit the Verrerie d'Art and see some nice art and glass blowing in action.
Explore the beautiful buildings, fountains, and water features throughout the town.
Try some delicious Alsatian cuisine, including Chocroute Royal.
For adults, Kaysersberg is a fantastic place for wine tasting and to enjoy a glass or two. The town centre is small and a fantastic place to stay, or you could opt for a nearby town on the Alsace Wine Route.
2. Riquewihr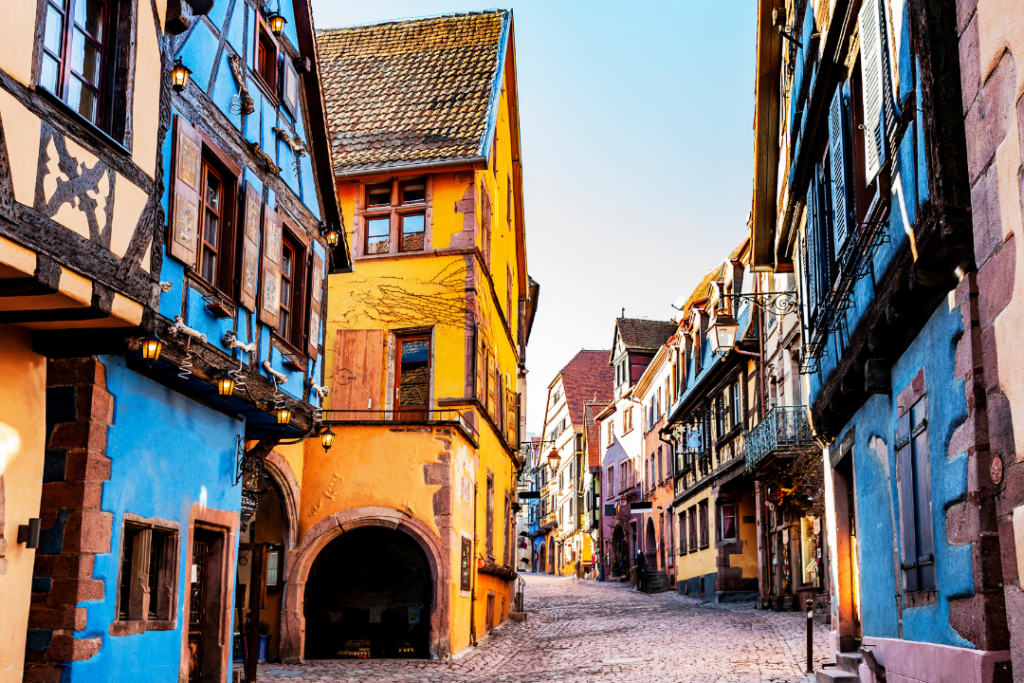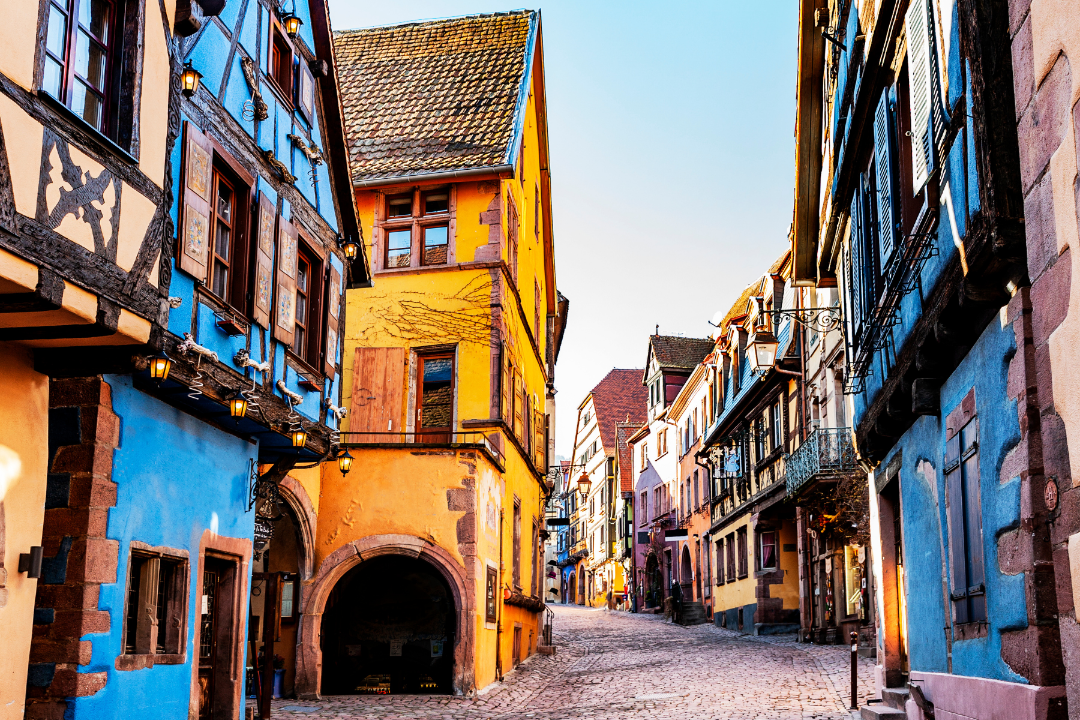 Riquewihr is a quaint little town famous for its charming Main Street and colourful houses that look like they are straight out of a Disney movie. The town is beautiful any time of year but is especially lovely at Christmastime.
Riquewihr is sandwiched between the well-known cities of Strasbourg and Colmar, in Alsace, and many just stop to see those a skip over the amazing towns and villages. Riquewihr is just such a town. A special find that travellers love to discover.
Riquewihr is one of the few towns in Alsace that weren't damaged in World War 2 and therefore looks much as it did in the 1500s.
Things to do in Riquewihr with Kids
Walk down the cobblestoned streets and take in the view of the houses and shops.
Stop for a tarte flambée and get a delicious taste of the Alsace region.
Walk around the ramparts to see the old city in a new way.
Visit one of the many vineyards around the fortified city.
Visit the Watchtower.
There are few places to stay in Riquewihr, but you will find a few options with Airbnb and VRBO. Riquewihr rentals tend to be booked way in advance so you will need to plan ahead.
Recommended by Alicia, Travels With The Crew
3. Dinan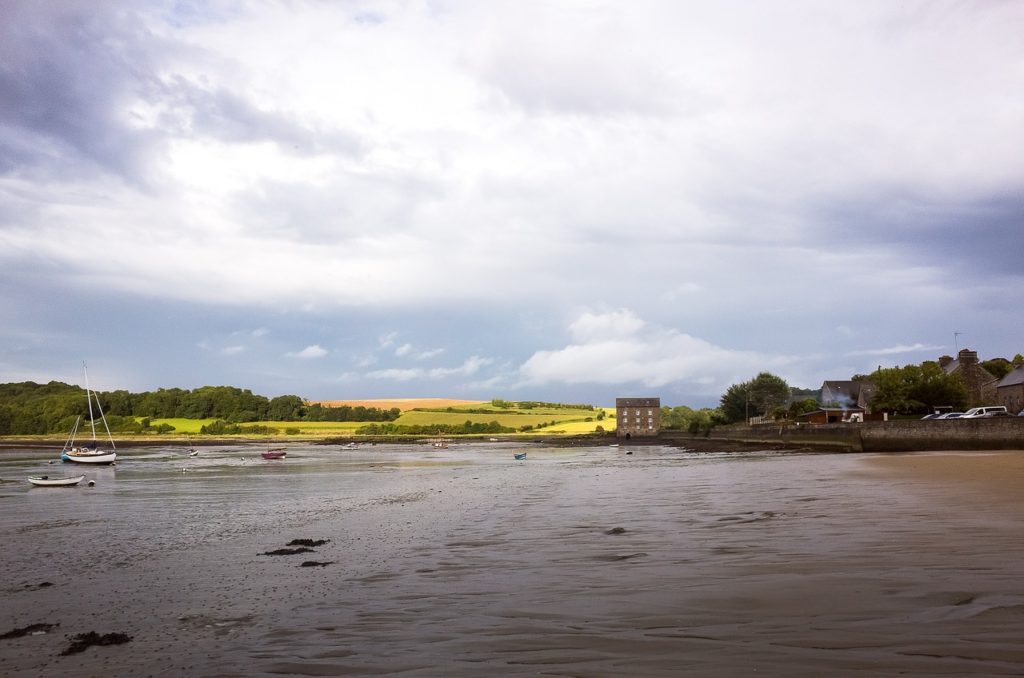 Step back in time in Dinan one of the most beautiful medieval towns in Brittany. Dinan is ranked as second in the most photographed towns in France.
This perfect little gem overlooks a gorgeous Harbour on the River Rance and is home to over 130 half-timbered houses. The tiny narrow streets with their cobblestones and stunning castle ramparts and ancient churches are a history lover's paradise.
For those who love to shop and dine Dinan is full of artistic boutiques, and fabulous restaurants.
Best Things to do in Dinan with Kids
Take a tour around the castle ramparts
Take a gentle boat ride on the River Rance to St. Malo
See the massive aqueduct at the port lit up at night
Tour de L'Horloge (the ancient Clock Tower) and view Dinan from above
Walk down the steep cobbled Rue du Jerzual which links the old town to the Port
Where to Stay in Dinan with Kids
The Le Prieuré Saint-Malo de Dinan is the perfect place to stay with its very central location set in a private park at the feet of the City walls. The Prieuré St Malo was built in the XIIth century and rebuilt in 1763.
Recommended by Faith, XYU and Beyond
4. Cassis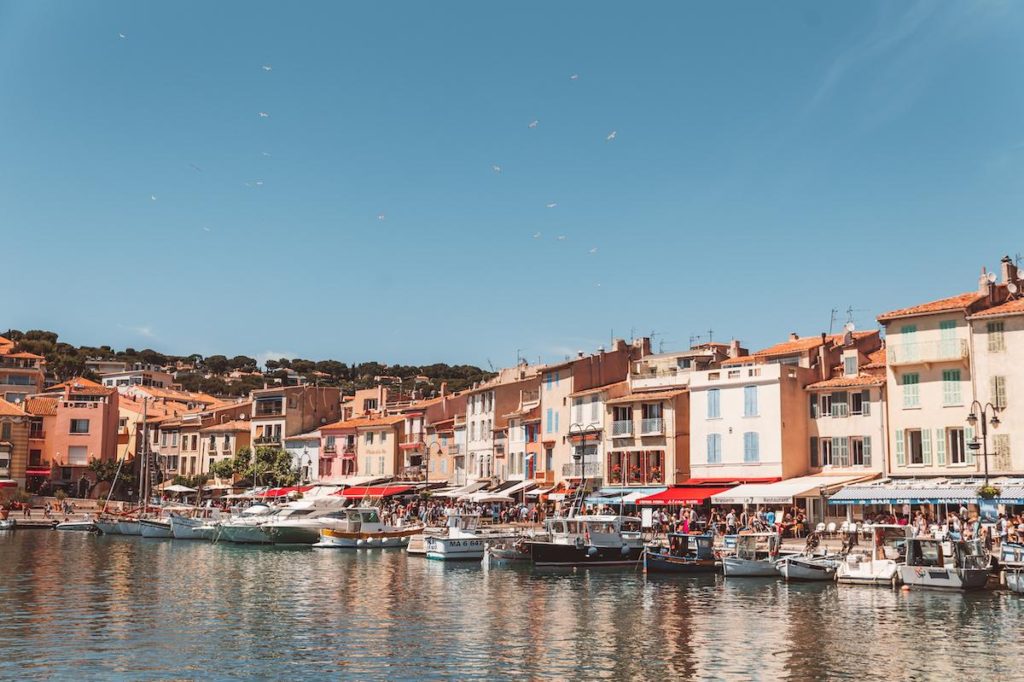 Located in the South of France, Cassis is the quintessential French village. It has a beautifully maintained historical centre, a hilltop chateau, and a bustling farmers market. But it has something a little extra as well… Thanks to its advantageous position on the coast, this former fishing village benefits from sublime beaches and a charming port. Nestled in between soaring cliffs on one side, and a national park on the other, it has never succumbed to overdevelopment and has retained its small-town feel. Parking is plentiful, there are many places to eat along the waterfront and in town, and there are some wonderful boutiques to get your souvenir fix in!
Best Things to do in Cassis with Kids
Some of the most wonderful things to do in Cassis include simply eating a delicious ice cream and sitting down in the sun to people watch, but if you're looking for activities to keep the kids busy, you'll find plenty of those too. Try any of the following:
Jumping on a boat tour of the Calanques
Visiting the fun and festive feeling fish markets
Swimming at the stunning beaches – the sea is calm and shallow
Riding Le Petit Train on a tour of Cassis- Hiking in the Calanques National Park. Many of the most beautiful beaches in the area can be found here.
Recommended by Nadine, Le Long Weekend
5. Saint Tropez

Have you ever heard of the beauty of the French Riviera? Head to Saint Tropez, one of the most beautiful coastal towns in France to see it for yourself.
Renowned for its ritzy hotels and upscale restaurants, St. Tropez is one of the best French coastal towns, frequented by the cosmopolitan jet-set and super-rich.
It sits on the St. Tropez Peninsula and is washed by the Gulf of St. Tropez. Historically, a fisherman village, it became prized by the French bohemians and thus gained world prominence.
Travel to St. Tropez, one of the most beautiful towns in France to uncover its nonpareil boutique stores, first-class eateries and luxurious hotels, and to take delight in its stunning beaches with their limpid water, along with its beauteous townscape.
For an even more pellucid water and more seclusion head to the surrounding seaside villa-strewn villages such as Plage de L'Esclalet with its half-sand half-pebble beach; or serene towns more inland such as Ramatuelle, another of the most beautiful towns in France.
Best things to do in Saint Tropez with kids
Even though Saint Tropez is primarily known as a place of choice for the super-rich to socialize the are many f things to do in Saint Tropez with kids.  You can take a guided tour of St. Tropez and the surroundings, or a Magic Christmas Tour of the French Riviera if travelling in winter. Note there are many other things to do in Saint Tropez with kids, one of the best towns in Provence.
Taste the famous Saint Tropez ice-cream and take delight in its mouth-watering food
Rent a boat and sail along its scenic coastline
Take bus 7705 for a family trip to Ramatuelle, one of the prettiest towns in France, located further inland with a one-of-its-kind rural market, and beautiful orchards and fields in the vicinity.
Travel to L'Escalet Plage to take pleasure in its pebbles and sand and its pellucid water
Where to stay in Saint Tropez with kids
Apart from a number of chic hotels, the Saint Tropez peninsula offers camping sites, motels,  luxurious private villas and other kinds of accommodation that can be found on platforms such as Airbnb.
6. Antibes
What has been your picture of coastal towns of France? Long stretches of sand, clothing stores frequented by globe-trotting fashionistas, and first-class Michelin-starred restaurants? It can all be found in Antibes, but it is also one of the best medieval towns of France, enclosed by 16th-century ramparts with the star-shaped Fort-Carre and centuries-hallowed townscape.
Antibes, one of the best towns in Provence is known for its narrow snapshot-inspiring cobbled lanes, summer-romance-exuding streets, stunning Port Vauban marina, and its scenic old town.
Wander around it, and uncover Marche Provencal (6am-1pm daily June-September and for the rest of the year on Mondays only) to buy fresh foodstuffs from all over Provence, and check out the sea-fronting ramparts that will take you from the old town to the beaches lapped by the Mediterranean's crystal clear waters.
Don't miss out on visiting Musee Picasso, named after one of the town's most famed residents. Keep in mind that one of its most renowned exhibits found a new home on Saint-Jaume Bastion: Nomade by Catalan artist Jaume Plensa. The giant figure, composed of different letters looking out to the horizon and reminds one of what makes Antibes one of its kind most beautiful towns in France: its mind-blowing seascape.
What to in Antibes with kids
It is not only its picture-perfect downtown and the great market that make Antibes one of the nicest towns in France to visit with kids. You can also taste delectable French cuisine and ice cream in its eateries and ice cream parlours and take a boat ride to take in the mind-blowing vistas of Cote d'Azur from the sea.
Rent a boat to sail around Antibes
Take your kids to Antibes Land Park, complete with water slides and other attractions that will make your kids happy
Pay a visit to many of the town's gardens such as Parc des Mimosas with the magnificent Hotel des Mimosas nestling nearby
Rent a bicycle and cycle around in the beautiful Provencal pine forests
Where to stay in Antibes with kids
There are a lot of options to find accommodation in Antibes. Some of the best value accommodation can be found on Airbnb and Agoda.
7. Le Pont du Montvert
A jewel embedded in the middle of the Cevennes, Le Pont du Montvert is one of the nicest towns in France to commune with its marvellous nature. It is located in the Park National de Cevennes, one of the most picturesque places to travel around in France. The town itself is perched on the banks of the River Tarn and offers great opportunities to stroll through the quiescent town and along the Tarn's beauteous riverbanks.
What makes Le Pont du Montvert one of the most beautiful towns in France is its unique houses made of granite and the natural pools for swimming created by the river's quiet flow.
Note that April-September is the best season to visit Pont du Montvert, one of the best towns in Southern France, and explore the surrounding Cevennes National Park, one of the World's most beautiful nature reserves.
What to do in Le Pont du Monvert with kids
The town is so small that it has just a couple of good eateries and next to no entertainment. But the absence of gastronomical bonanza is offset by your being able to try out local Cevennes fare, and uncover its unique architecture built in granite. Other things include:
Going hiking around the Cevennes National Park, one of French best nature sanctuaries
Taking a swim in the River Tarn
Heading for a cycling tour of the surroundings
Where to stay in Le Pont du Montvert with kids
The four hotels located closest to the town center are the following: Auberge des Cevennes, Aux Sources du Tarn, Galzine Philippe and Chambers d'hotes Maison Victoire
8. Biarritz
One of France's most chic beach towns in France is Biarritz. The town stinks of wealth and romance and lies on Southwestern France's Basque coast. It is known for its world deluxe casinos, lavish hotels, and Haute-de-Gamme restaurants.
Biarritz is home to stunning fine-sand beaches perfect for sun-basking and swimming and a secluded marina where you can get to gaze at the yachts bobbing about. It also features an ancient cathedral, Eugene Saint-Martin Church of Biarritz, and a highly photogenic lighthouse, making Biarritz truly one of the best French coastal towns.
What to do in Biarritz with kids
One of the best things to do in Biarritz with kids is to go to the beach to take delight in its stunning beaches and the many eateries and ice cream parlours at or close to the seafront.
Note that Biarritz is not just one of the best beach towns in France, boasting a great many architectural marvels. It is also located on the picturesque Basque coast, making it a great hub to explore the region around it. You can go hiking or cycling, just rent a car to drive around, or even sail along its picturesque coastline.
Where to stay in Biarritz with kids
Biarritz and its environs offer great chic hotels and other types of accommodation including even a surf hostel. You can also camp around Biarritz, with direct beach access, which will make it especially nice for your kids to splash around right by the campsite.
France is not about splendid cities, it also has amazing towns, and it is there that the true spirit of France dwells. Whereas many of its metropolises such as Marseille, Paris and Lyons have been suffering from over-tourism there is a number of French towns which are veritable hidden gems. The treasure trove of French towns include not only little known locales such as Pont du Montvert but also world-famous resorts such as St. Tropez and Biarritz.
Find a spot that best suits your taste and travelling plan and pack up. France is waiting for you.