If you love to try the local dishes while travelling, you should visit one of these fantastic countries. Discover the best food in the world by country and add the famous food of different countries to your bucket list.
This post will take you through the world's best cuisine in the world, from 39 countries and 5 continents, so you can plan your next foodie adventure.
This post may contain affiliate links, which means I may receive a commission, at no extra cost to you, if you make a purchase through a link. Please see my full disclosure for further information.
European Countries with the Best Cuisine
The diversity and cultural heritage of Europe make the continent one of the best food destinations in the world. Europe is well-known for its Mediterranean dishes. Popular European dishes include pizza, pasta and Greek salad, but there's so much more to try! Discover some of the best food in Europe to add to your bucket list and maybe even find your next foodie travel destination.
Most popular foods in Europe by country:
#1 Belgian Foods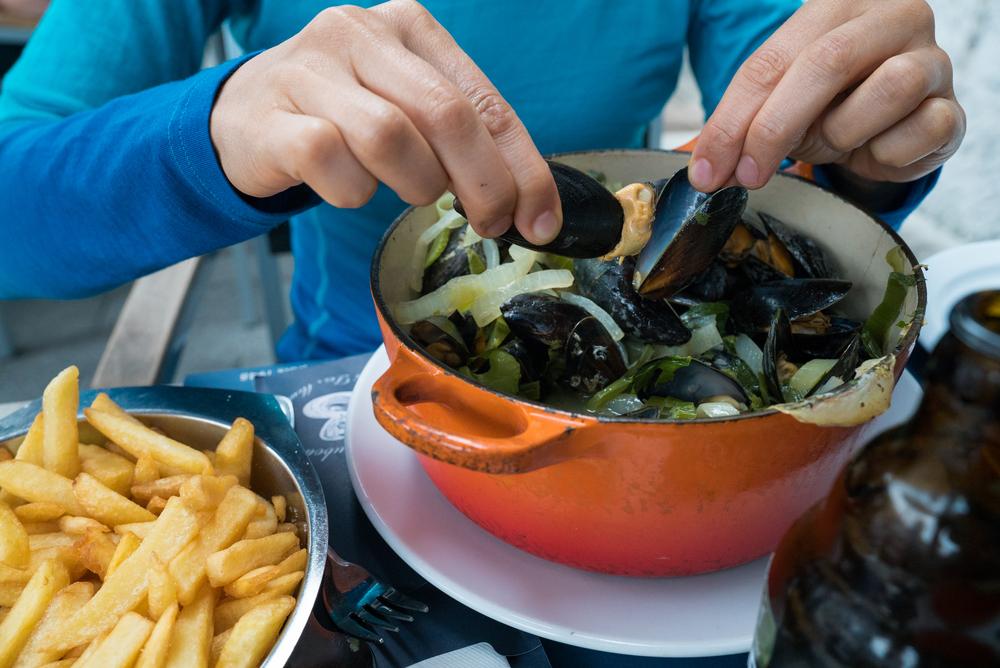 Beer, chocolate and waffles are most likely what comes to mind when you think about Belgium. And you're right, those three famous products are unique! But there's more than that when it comes to Belgian cuisine!
Food is an important aspect of Belgian culture. At home, Belgians will typically cook simple yet hearty dishes. Because they use seasonal and regional ingredients, there are many differences between the provinces, especially between the Dutch-speaking northern and French-speaking southern parts. In restaurants, Belgian cuisine is mainly influenced by the French kitchen.
Traditional food from Belgium usually includes some kind of vegetable with potatoes and meat or fish. But one-pot dishes, such as Flemish Stew, Waterzooi or Vol-au-vent, are pretty popular too!
Many towns in the country have their signature dessert or pastry, so if you have a sweet tooth, there's much to discover in Belgium. Try Mattentaarten from Geraardsbergen, Sirop de Liège from Liège or Cuberdons from Ghent.
Flemish stew: a dark brown beef stew that is made with dark beer, mustard and thyme. It's also a kid's favourite and it's usually paired with apple sauce or a fresh salad and fries, bread or potato croquettes.
Shrimp croquettes: this shrimp dish is a kid's favourite as well. A crusty outside meets a creamy bechamel mixed with fresh North Sea grey shrimps on the inside. Don't leave the country without trying this dish!
Moules-frites: mussels in their shells served in a typical black pot, cooked with celery and onions and with a side dish of fries. You use one empty shell to eat the mussels rather than cutlery.
Gentse waterzooi: a creamy, vegetable broth with potatoes, carrots, onions, leeks, herbs and chicken (although originally, it was made with fish).
White asparagus Flemish-style: a seasonal dish (only in June!) involving the luxurious white asparagus that is served with a butter sauce and hard-boiled eggs.
Now, what should you drink when in Belgium? Beer is the pretty obvious answer. With hundreds if not thousands of different brews, you'll definitely find one to your liking. Try a fruity variety such as Kriek Lambik if you don't like beer – this non-beer drinker is a fan!
Recommended by Babs, Next Stop Belgium
#2 Croatia Foods
The food of Croatia is a diverse mix of delicious options and includes lots of meats and seafood. Croatian food is like Italian food, as the countries have a linked food heritage. The markets of Zagreb and Split are fantastic places to purchase fresh food. The split fish market is fantastic and has an excellent range of fresh produce. Street food is available in the markets. This includes Cevapi, similar to sausages without the skin. The restaurants of the Dalmatia region are fantastic for cuisine, and the menus are loaded with seafood. The most popular dishes on the menus in the country is black risotto. This is a delicious dish with great flavours and filling too. The black carbs are not limited to rice. They also do squid ink infused gnocchi and pasta. The cuisine certainly enhances a holiday in Croatia.
Dishes to Try in Croatia include:
Brudet: Traditional fish stew, this includes several types of fish, spices, vegetables and wine.
Crni rižot: A black risotto dish. The colour comes from squid ink and is made with cuttle fish.
Istrian Yota: A stew made from dried beans, smoked meats and they season it with a lot of garlic.
Grilled fish with Swiss chard: A Croatian classic which is both health and delicious.
For something simple for children, many places serve Cevapi, a skinless sausage in a flat bread and sauce of your choice.
For drinks, Croatia has many options, including wine and beer. The most flavourful and refreshing beer is Karlovačko.
Recommended by Richard, RJ On Tour
#3 Cyprus Cuisine

Cyprus is an eclectic mix of European and Middle Eastern cultures and enjoys some of the best Mediterranean climates, making it one of the best destinations in the world with some of the tastiest delicacies. Traditional Cyprus food can be as simple or as complex as you'd like due to the influence of various cultures here.
Numerous ingredients are used along with spices in most dishes, making them quite tasty, even if simple.
You'll not only find dishes like Tabbouleh and Moussaka here but many others which are worth a try such as:
Stifado
Afella
Souvla
Spanakopita 
Loukaniko
While there are many drinks one can have here, Filtar is a traditional Cypriot drink that's worth a try when here!
Recommended by Lavina, Continent Hop
#4 French Food
Exploring all the wonders of French cuisine is a dream of many travellers sitting in a café enjoying a glass of wine with an incredible French dish and just watching the world go by.
French gastronomy is famous worldwide for its fine cuisine, with cassoulet, snails, and Bœuf bourguignon dishes. Here in France food is taken seriously and everything closes for lunch for at least 2 hours.
But there is more to French cuisine, and much of the food here depends on where you are visiting. For example, in Brittany, you have to try the famous galette a buckwheat crepe stuffed with Jamon and Fromage. In Normandy, a dish of Canard en Cidre and a local pear or apple cider to drink.
In the Loire Valley of France, where you spot those incredible chateaux expect a dish of freshwater fish in Beurre Nantais and fresh spring asparagus served with a crisp Sancerre wine.
In Provence a delicious Bouillabaisse or Ratatouille and all over France perfectly baked baguettes, croissants and pan au Chocolat.
Shopping is done at the weekly market, and cheese is always on the menu. A plat du Jour will include 3 courses, a starter, a main and cheese plate or dessert and cost around €17.
Here are some favourite French dishes:
Galette: A savory crepe made from Buckwheat and stuffed with cheese, ham and other French favourites – perfect for kids.
French Onion Soup: Deep rich broth with meltingly sweet onions and a topping of cheese grilled to perfection.
Cassoulet: Perfect winter food this is a French stew made with meat (typically pork, goose, and duck) and beans.
Tartiflette: Scalloped potatoes on steroid with a massive round of   reblochon cheese, bacon and onions in with the potatoes.
Croque Madame: The best ham and grilled cheese ever served with a Béchamel sauce and a fried egg on top.
Jambon-beurre: Keeping it simple great French butter and ham served on a baguette a Parisian's favourite lunch – best for kids.
Recommended by Faith, XYU and Beyond
#5 Greek Cuisine
Greek Cuisine is widely known across the world. It's one of the Mediterranean cuisines, making use of the abundance of fresh produce available across the country. The Greek olives and olive oil are famous everywhere, not just for their flavour but also for their health properties. Wine and wheat are also ever-present.
Cheese (e.g. feta), yoghurt, lemons, honey, fruits, filo pastry, tomatoes, eggplants, and fish are among the ingredients that can be found on the Greek dining table. It also uses Mediterranean herbs, such as oregano, mint, coriander, or bay leaves.
Many Greek dishes can be traced back to antiquity, such as lentils soup, fasolada (beans soup), or pasteli (a sweet made sesame seeds and honey); others go back to the Hellenistic and Roman periods or Byzantium. Some dishes show an Italian heritage, while others are inherited from the Ottoman cuisine, for example, dolma, baklava, or tzatziki (yoghurt dip).
Would you be surprised to learn that Greece has more than one national dish? They are moussaka, souvlaki, gyro, magiritsa, kokoretsi, and fasolada. Each of them is made differently, depending on which region of Greece you are visiting.
Moussaka: Layered casserole made with eggplant and minced meat, topped with bechamel sauce.
Souvlaki: Grilled pieces of meat on a skewer.
Gyro: Roast meat served in a pita with tzatziki, lettuce, onion, and tomato. It's perfect for when you are out and about and can be a great treat for the kids, too.
Magiritsa: An Easter dish, but the recipe varies across the country. It includes lamb offal and various herbs. After Lent, this is the first meat dish to eat for Easter. 
Kokortesi: Not for the faint of heart as it involves grilling intestines along with meat.
Fasolada – Features beans, olive oil, onions, and other veggies. It's perfect for Lent as it's vegan. But sometimes it's served with feta (so it becomes vegetarian).
While ouzo, a dry anise-flavoured aperitif, is widely consumed in Greece and popular even outside its borders, mastika (or mastiha) is the best drink to try. it is a sweet liqueur of local origin, as it's produced with the mastika resin from the Greek island of Chios. Typically consumed at the end of a meal, it has a distinctive flavour of pines and herbs.
Recommended by Cristina , LooknWalk Greece
#6 Food of Hungary
Many come to Hungary for its gastronomical delights. Any traditional restaurant will spoil you with a choice of dishes ranging from the famed Goulash to the most intricate desserts, such as the delicious Dobos torte. Try the national dish, Goulash, which in Hungarian is spelt as Gulyásleves. This dish is a soup originally made in a large cauldron over an open fire. Shepherds used to create and eat it with countless vegetables and meats. Nowadays, gulyas is the superstar of Hungary everyone talks about, a must-try in the country.
Gulyásleves: The national dish, a must-try soup with beef cubes and plenty of veggies.
Dobos Torte: A multi layered chocolate cake for those with sweet tooth.
Mangalitca sausage: Sausage made from a special breed of pork with traditional techniques.
Langos: Delicious fried bread with many toppings. It's Hungary's best street food.
Kürtőskalács: The best food for kids (and adults alike). This is a Hungarian chimney cake cooked on an open fire. It's sweet, fluffy and covered in honey and nuts. Yum!
In Hungary, the best drink to try is palinka, a colourless liquor made from plums. It acts as an apéritif or digestif. Take a shot, and remember it's pretty potent with a high alcohol percentage. 
Recommended by Cory, You Could Travel
#7 Italian Food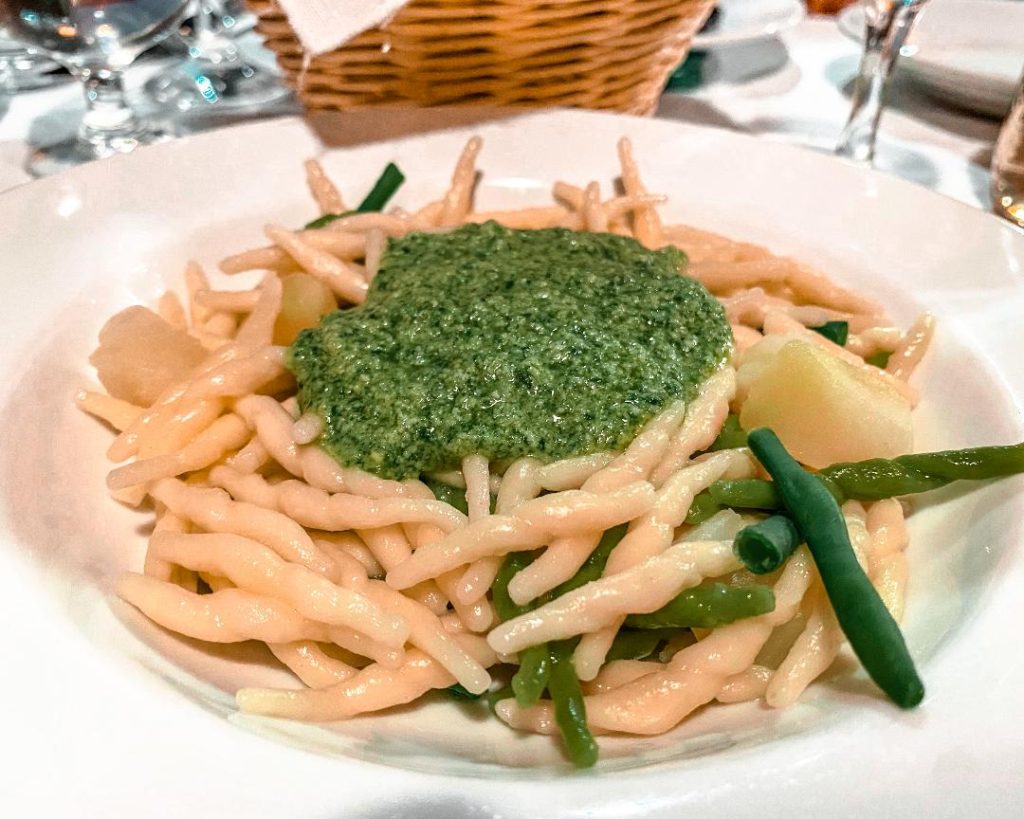 Italy is synonymous with good eating, so it's no wonder that mealtime is a pretty big affair in the country! In fact, there's a whole ritual to dining in Italy. It's considered to be a sacred time of great pleasure and relaxation, from the initial antipasto to the primo dish, to the secondo course of meat or fish with a vegetable contorno, and finally the dolce (dessert).
In broad terms, Italy is widely known for its pasta and seafood, but food in Italy can vary greatly by region. For instance, the Italian Riviera in Northern Italy is the birthplace of pesto, as you'll find throughout the Cinque Terre. As you head south into the heart of Tuscany, you'll find pici, a thick pasta noodle made from water and flour. While there are many regional cuisine variations, Ragu Alla Bolognese is considered to be the national dish of Italy. 
Five fantastic dishes to try:
Ragu alla Bolognese: Named after the city of Bologna,Ragu alla Bolognese is a hearty meat sauce consisting of either beef, pork, or veal as well as onions, pancetta, carrots, and butter. It's often served with tagliatelle pasta.
Pesto: Originating from the Italian Riviera, pesto is a popular green pasta sauce made from basil, olive oil, pine nuts, garlic, coarse salt, and parmesan.
Gnocchi (best for kids): A neutral dish that serves as a base for various Italian sauces, gnocchi is a child-friendly "pasta" consisting of soft, bite-sized potato dumplings.
Focaccia: This dimpled, flat-leavened "hearth bread" is made from yeast, olive oil, and flavored herbs before its oven-baked to perfection.
Tiramisú – Italian for "pick me up," tiramisú is a dessert layered with coffee-dipped ladyfingers, whipped eggs, sugar, and mascarpone cheese and dusted with cocoa. 
Best drink to try: Italy is famous for its limoncello, a refreshing summery drink made from lemon liqueur, lemon zest, rectified spirit, water, and sugar.
Recommended by Elena, The Carry-On Chronicles
#8 Irish Food
Although it doesn't often feature in a list of the top ten, Ireland has some of the best cuisines in the world. Being an island and with some of the best agricultural land globally, Ireland enjoys cuisine of all types, including seafood, vegetable dishes, and meat.
Ireland's dishes often centre around the potato. With its long history of relying on the potato as a base, and after the Great Famine of 1845-1852, it is hardly surprising that it remains a big part of Irish cuisine.
Some of the best food destinations in the country include Dublin with its many different restaurants, Galway for its Galway Bay Oysters, and Waterford, especially during April when the Waterford Food Festival takes place.
The potato features heavily in the best Irish food to try on the Emerald Isle and is included in some of the dishes below.
Irish stew: Atraditional Irish dish typically made with lamb, carrots, onions, barley, and potatoes. Mutton was used in days gone by and some make it with beef.
Corned beef: Abrisket of beef cured in a brine solution containing pickling spices for several days before being boiled and served with cabbage and potatoes (mashed being a favourite). The meat is extremely tender and falls apart if cured and cooked slowly. Think melt in the mouth!
Seafood chowder: With its vast coastline, seafood chowder is another popular Irish dish. A rich and creamy broth made with fresh fish sometimes smoked fish, and often with shellfish. Delicious served with classic Irish soda bread.
Colcannon: A potato dish often served with ham or corned beef, this consists of mashed potatoes mixed with kale or cabbage.
Ham/Gammon: Boiled ham is another traditional Irish dinner, served with cabbage and potatoes. Ham is a long-standing meat choice for many Irish families at the dinner table.
These dishes are ideal for serving kids, especially colcannon with corned beef or ham.
As for drinks, Ireland has a few famous ones. Tea plays a big part in Irish culture, but if you fancy a tipple, you should try the most famous of all, Guinness, or a good Irish whiskey such as Jameson.
Irish cuisine may be simple and traditional but is one of the best.
Recommended by Cath, Travel Around Ireland
#9 The Netherlands (Dutch Food)
Traditional foods from The Netherlands haven't made a global imprint the way other European delicacies have. For a traveller, though, all that means is more new experiences! The "lowland" (the direct translation of the country's name) is a nation primarily below sea level, making seafood plentiful. Its historic l stronghold on dairy still impacts the day-to-day diet of locals as well. 
A "markt" (market) at the centre of every town where you'll find a culinary playground. Peruse the s lection of fresh bread, cheeses, coffee carts, raw sea creatures on ice, and cooked fish, fries, and meats. Word to the wise: watch out for the seagulls! The market is a feast for them too and they are not shy about it. 
Staples like dairy, bread, and potatoes are commonly consumed in Dutch home life. Typical Dutch home-style cooking relies heavily on vegetables and is light on the flare. Sandwiches are very popular and commonly makeup two out of the three daily meals. Standard food is humble, and dinner is often punctuated with yoghurt for dessert. 
When you're out on the town, you will find fun, memorable meals that you might even try to replicate once you get back home. 
Eierbal: a cooked egg coated that's coated in a seasoned outer layer, then deep-fried. Found at local fast-food eateries (called "snackbars"). 
Stamppot: a hot, mashed bowl of cooked potatoes, a vegetable (the most common ones are kale, cabbage, and carrots) and meat (commonly smoked sausage) topped with gravy and a little mustard on the side. Cooked in the home or found at Dutch-centric restaurants, or, on rare occasions, you can find an entire buffet where they have different kinds of stamppots together!  
Haring: pickled or salted raw herring (fish), served with diced onions and eaten by holding the tail between your fingers, tipping your head back and biting the meat right off the bone. Found at the markt of every town. 
Kibbeling: chunks of cooked fish that are battered and fried, then topped with special seasoning or sauce. Also found at the markt, this meal is best for kids! 
Stroopwafel: skinny, fragile waffles glued together with warm caramel. Found freshly made in the markt or in grocery stores. 
The most famous Dutch beverage is a Heineken beer, but they're also adamant coffee drinkers (though don't go looking for a cup in a "coffee shop" – you'll only find marijuana). 
Recommended by Kayla, Writing from Nowhere
#11 Maltese Food (Malta)
The little island of Malta is one of the most southern places to go in Europe. It boasts 30 days of sun a year, swimming is possible in winter, and it has some of the most interesting cuisines in all of Europe. Pasta is omnipresent but then so is high tea! The traditional Maltese cuisine is a curious mixture of Italian, Middle Eastern and English dishes.
A few dishes you might want to sink your teeth into include:

Pastizzi: A flaky pastry filled with either vegetarian or meat-filling. Great as a midnight snack or to give to the kids as a meal on the go.
Imqarrun il-forn: Macaroni with minced meat cooked in the oven.
Stuffat tal-Fenek: The traditional rabbit stew that has become somewhat of a national dish.
Hobż biż-żejt u t-tandam: Sliced fresh Maltese bread with a dash of olive oil and fresh tomatoes.
To drink, you will want to try Kinnie, a traditional Maltese lemonade made with bitter oranges and wormwood extracts.
Recommended by Caroline, Veggie Wayfarer
#12 Portugese Food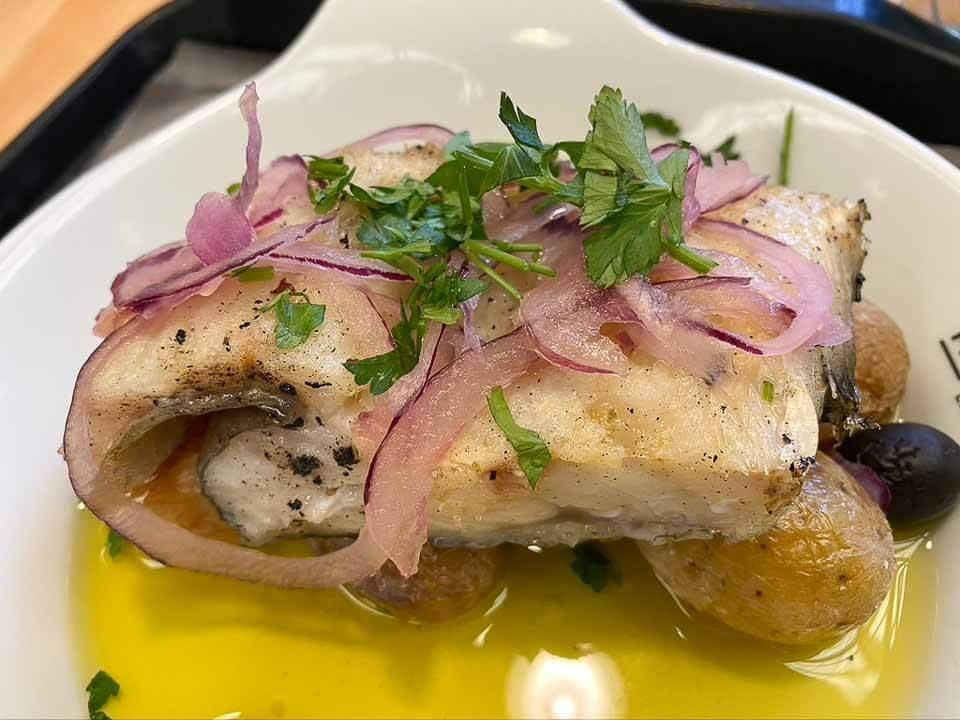 Influenced by the Atlantic Ocean, Portuguese food has long been a favourite among food and wine lovers, but lately, the cuisine has gained popularity. The cuisine is largely fresh from the sea and heavy with well-preserved meats and sausages.
5 dishes you should absolutely try when in Portugal include:
Bacalhau: The national dish of Portugal is the popular codfish that's found in many dishes.
Queijadas: Every kid's favorite sweet pastry filled with soft cheese and sprinkled with powdered sugar, these treats look more like cheese doughnuts.
Cozido à Portuguesa: The traditional Portuguese stew typically made with sausage and local vegetables.
Bifanas: Sandwich lovers will fall in love with this favorite hand-held stuffed with pork slices on crusty bread.
Pasteis de Nata — the famous custard puffs are a national treasure.

Whether you're enjoying fish or meat, Portugal's local Vinho Verde (green wine) is a perfect and refreshing pairing to cleanse the palate.
Recommended by Lori, Travlinmad
#13 Spanish Food
Spanish food is some of the best in the world because it uses fresh ingredients, olive oil, and simple cooking methods. Each region f Spain, even the Spanish islands, have their own specialities, but there are a few dishes that you will find around most places:
Tostada: The most popular Spanish breakfast is the tostada and consists of toasted rustic bread drizzled with olive oil and topped with grated tomatoes and, optional, Manchego cheese and jamon.
Paella: Paella, which originates in Valencia, is without a doubt one of the most popular dishes in Spain. Paella is enjoyed both by adults and children, especially when it's served at the table directly from the pan.
Gazpacho: When you visit Spain in summer, you must try gazpacho, the local tomato based cold soup.
Tortilla de patatas: Another Spanish staple, popular all over the country. This potato dish is often served as a tapa, on its own or on top of a slice of bread.
Churros: For dessert, you must try churros with thick hot chocolate, which is used to dip the sweet fried though in rather than actually drink.
One of the most popular drinks in Spain is sangria. In Spain, it is said that tourists drink sangria whilst locals go for tinto de verano. However, if you want to try a local drink, try the tinto de verano, the cheap version of sangria.
Recommended by Joanna, Andalucia in my Pocket
#14 UK Food
The UK doesn't get much credit for its cuisine on a global platform, but when it comes to multiculturalism and the sheer diversity of cuisine, the UK has to be included in the best food in the world. Did you know that chicken tikka masala is a National Dish? 
But there is still a lot to explore regarding the more traditional dishes of the British Isles, with various regional staples found in England, Scotland, Wales, and Northern Ireland. 
Otherwise, many meals will follow a somewhat cliched British offering of "meat and two veg", where cooked meat is served alongside potatoes and a choice of vegetable(s). Similar to w at is known as a carvery roast. But here If cus more on the essential tick list of British meals from across the U.K. 
Fish and Chips: This quintessential British dish is best found at local chip shops, where the fish is battered and deep fried, and served with chips, and optional lashings of salt and vinegar. Also, they go great with mushy peas. 
Great British Fry Up: Each region has their own version of this iconic breakfast, but almost all will include sausages, bacon, and eggs, and more than not fried mushrooms, tomato, and a selection of puddings and breads. 
Haggis, Neeps and Tatties: Scotland's National dish is a divisive delicacy with people often put off by the addition of ground sheep's liver, heart, and lungs in this savoury, spiced pudding. Served best with neeps (turnip) and tatties (mashed potato). 
Shepherd's Pie: Ground lamb cooked with onions, carrots and peas, in a rich gravy before topping with mash potato, maybe some grated cheese, and last minute grilling until golden brown. Also great with beef in "Cottage Pie".
Toad in the Hole: It's hard to go wrong with proper British bangers (sausages) but they have to be at their best when baked in Yorkshire pudding batter and served with gravy and maybe some veg. Also a crowd pleaser with the kids. 
Tea: British folk are obsessed with their tea, and daily lives are often based around this simple concoction of boiling water and tea leaves. Optional milk and sugars and maybe a digestive biscuit for dunking. 
Recommended by Allan, It's Sometimes Sunny in Bangor 
Countries in Asia with Amazing Cuisine
Asia is the most famous continent globally for its cuisine, especially the street food, and has many countries with the best food. In Asia, you'll find some of the most famous food globally and some of the best-tasting food in the world.
Here are the best countries for food in Asia:
#15 Chinese Food
The cuisine of China is as varied and sublime as the country itself. Chinese food encompasses every imaginable ingredient and cooking technique. From crisp P king duck to the steamed dim sums of Guangdong province to the hot as hell food in Chengdu, eating will probably be one of the highlights of a trip to China.
Must-try foods in China:
Peking Duck: The quintessential Chinese dish from Beijing is known for its thin, crispy skin and tender meat, which is eaten with spring onion, cucumber and plum sauce rolled into a thin wheat pancake.
Hot Pot: This communal meal is one of China's most popular and spiciest dishes. Diners cook raw meat and vegetables by dipping them into a boiling broth, often flavoured with Sichuan peppers, star anise and prickly ash. 
Dim Sum: Brunch like you've never had before! The best way to describe these small, steamed dishes served in bamboo baskets is to think of them as Asian tapas. 
Baozi: These steamed buns are the ultimate comfort food and make for an excellent bite on the go. The buns can be filled with either meat or vegetables and are best enjoyed with soy sauce and vinegar. 
Shuang Pi Nai: Also called Double Skin Milk, this Cantonese dessert made with milk, egg whites and sugar is sure to be a hit with kids (and adults) of all ages. The cool, creamy, custardy sweetness is just the right thing on a hot and humid day in the South of China.
Tea: You'll find hundreds of different kinds of tea in China. Try the bubble e teas, fruit teas, and tea ice cream for a refreshing twist on the traditional.
Recommended by De Wet & Jin, Museum of Wander
#16 Indonesian Cuisine
Indonesia is one of our favourite food destinations to travel to. The food is bursting with fresh flavours and spices. Indonesian cooking has been widely influenced by Indian, Middle Eastern and Chinese influence; hence many of the spices and flavours are similar, notably the use of turmeric, ginger, tamarind and shallot. Some of the pieces native to Indonesia are regularly used in dishes: nutmeg or mace, clove, pandan leaves, and galangal.
Here are 5 fantastic dishes that we would recommend you to try are;
Sate Ayam: These are marinated pieces of chicken in a sweet soy sauce cooked over a charcoal fire.
Mie Goreng: This fried noodle dish is made with chicken, seafood or vegetables sometimes served with a fried egg on top. You find this dish in many traditional Bali warungs and it is a great dish for kids to enjoy too. 
Nasi Goreng: A fried rice dish cooked with vegetables or meat.
Nasi Campur: Served with steamed rice and several smaller side dishes which can include tempeh, vegetables, meats, egg or satay. 
Gado Gado: A popular Indonesian street food made with peanut sauce, vegetables and rice.
Recommended by Asha, Home Travel Guide
#17 Japanese Foods

Food plays a central role in Japanese culture, and on a visit to the country, you can be sure that it will play a key part in your experience of Japan. Rice, Sushi, Noodles and Vegetables are extremely popular and can be found in Japanese food restaurants all over the country.
5 fantastic dishes to try in Japan:
Sushi: A dish where every piece of rice is seasoned with a rice vinegar mix and then mixed with different ingredients such as seafood, vegetables, and nori (seaweed).
Ramen: A bowl of wheat noodles served in a soy sauce or miso soup mixed with many kinds of ingredients. Ingredients include slices of pork, green onions, seaweed and egg.
Tempura: A Japanese fried dish made mostly from seafood and vegetables. Tempura can be made using almost any vegetable. These are best for kids.
Gyoza: Popular Japanese dumplings. Fillings usually include thin slices of cabbage, mushrooms, and finely minced pork or chicken.
Udon: A thick noodle made from wheat flour. It is commonly served in a dashi stock with soy sauce and mirin. 
Sake (rice wine) is Japan's national alcoholic drink, a ceremonial drink and a cultural pastime in Japan.
Recommended by Becky, Planes Trains and Buggies
#18 Food of Malaysia
Malaysia is known for its incredible cuisine, with the most famous being Nasi Lemak, a delicious sauce served with rice, fresh veggies, and egg. Kuala Lumpur is definitely one of the best places to try local and affordable Malaysian restaurants, especially around the KLCC area. There are plenty of food courts and local markets to choose from.
Nasi Lemak: Meat and rice served with egg. Malaysians have this meal for breakfast, lunch or dinner and it's considered the main national dish.
Roti Canai: Indian-inspired roti served with a rich curry and egg-Beef rendang – slow-cooked curry with rich spices and coconut-Nasi Goreng: Indonesian-influenced fried rice dish which is great for kids.
Apam Balik: A Malaysian pancake often served with peanuts and sugar

Teh Tarik is a must-try drink when visiting Malaysia. This colourful iced tea can be found all around the country and is incredibly refreshing.
Recommended by Victoria, Guide Your Travel
#19 Food in the Phillipines
In addition to gorgeous destinations and warm people, the Philippines is known for its delicious food!
Filipino food is a fusion of traditional indigenous dishes and outside influence from centuries of trade and colonial occupation. It all comes together to make some amazing and unique dishes that everyone should try!
Five amazing Filipino dishes:
Barbeque: In the Philippines, barbecue refers to marinated pork or chicken grilled on bamboo skewers and served with a soy and vinegar dipping sauce.
Adobo: Adobo is braised pork or chicken stewed in a sauce of vinegar, soy sauce, bay leaves, garlic, and black peppercorn to make an exceptionally tender and flavorful dish.
Tapsilog: This savory breakfast dish is a combination of marinated beef, fried egg, and garlic fried rice. 
Lumpia: This delicious Filipino spring roll is stuffed with vegetables and/or meat and then deep fried and served with a dipping sauce.
Best for kids: Pancit: The classic noodle dish of the Philippines, pancit is perfect for children because of the mild (but delicious) flavors of the noodles and vegetables. 
Best drink to try: Sago't gulaman: This sweet and refreshing local drink is made up of brown sugar, tapioca pearls, and grass jelly.
Recommended by Martha, Go Places with Kids
#20 Singapore Cuisine
Singapore food might not have the same reputation for cuisine as neighbouring Malaysia. But make no mistake, this Southeast Asian nation is one of the top foodie destinations in the world.
Singapore's biggest asset is its diversity. Malaysian, Chinese, Indonesian, Nyonya and Indian cuisines all come together in Singapore with British, Portuguese and Japanese influences. Hawker centres – large undercover food markets where multiple vendors sell different speciality dishes – are a long-standing Singapore tradition and part of the city's social fabric. They're even recognised by UNESCO as part of the world's Intangible Cultural Heritage.
Hawker markets are a great place to try a range of typical Singaporean dishes in one sitting.
Best Singapore Food:
Singapore chili crab: The nation's signature dish is fresh crab steamed and stir-fried in a luxe tomato-based sauce. Just the right amount of heat!
Hainanese chicken with rice (best for kids): Deceptively simple, this dish comprises steamed chicken cooked in a rich stock served over white rice.
Satay: A great example of Singapore street food, this dish consists of skewered meat cooked over an open flame and served with a yummy peanut sauce and fresh cucumber chutney.
Kaya toast: Also popular in Malaysia, this dish of thick white toast smothered with kaya butter (a sweet coconut jam) is popular for breakfast.
Roti prata: A staple of Singapore's Indian community, this is a soft, flaky bread served with a vegetarian lentil curry.
Tarik tea: Otherwise known as 'pulled tea', this is a frothy, sweet beverage often served for breakfast with roti prata.
#21 South Korean Cuisine
Korean cuisine is famous for its rich flavours, especially its spicy dishes. Another comm n feature of traditional Korean meals is a multitude of small side dishes (called banchan) meant to be shared by the table. These side d shes usually include kimchi and vegetables, meats/seafood, tofu, and more cooked in different ways.
On a trip to South Korea, you should make sure to try some of these fantastic Koreans dishes:
Bulgogi: Made from thin slices of beef (but sometimes pork) that have been marinated in a mixture of soy sauce, sugar, garlic, sesame oil, and additional ingredients and then grilled.
Samgyeopsal: Grilled pork belly, and is one of the most popular menu items for Korean barbecue.
Bibimbap: A vegetarian-friendly rice bowl served with various vegetables and a sauce on top (usually made with a base of spicy gochujang), though meat and/or egg are often added too.
Dak Galbi: A very spicy dish that is made by stir frying boneless chicken, rice cakes, green cabbage, scallions, perilla leaves, and other vegetables in a large pan.
Fried chicken: One of the best kid-friendly Korean dishes – you can order it with bones or boneless, plain or with any number of flavors (like soy sauce, garlic, gochujang, and cheese).
The classic drink with any Korean dish is soju, a clear liquor traditionally made from rice. Soju has an alcohol content of around 12-25%, depending on the version.
Recommended by Ashley, Culture Snapshots
#22 Sri Lankan Food
The cuisine of Sri Lanka is full of fresh ingredients and spices that are grown on the island. Some of the most used ingredients on the island are rice, coconut, and vegetables. This gives t e food a lot of flavours and quite a spicy kick.
Some of the most famous dishes include:
Hoppers: Thin pancakes made from coconut milk and rice flour, in the shape of a bowl, filled with eggs and served with senni sambol. This is a great dish for children, as it's not as spicy. 
Kottu: One of the most popular street foods in Sri Lanka. It consists of chopped flatbreads mixed with different things such as chicken, vegetables, eggs, and spices.
Sambol: Relish made from grated coconut, chili, and red onion. It is eaten alongside most dishes.
Fish curry: Cooked with a meaty fish, such as tuna or mackerel, and plenty of spices.
Deviled prawns: A spicy seafood dish stir fried with onions, tomatoes and peppers.
The best thing to drink is fresh coconut juice when visiting Sri Lanka. It's not only delicious but extremely refreshing, especially when the temperature is too hot.
Recommended by Joanna, The World in My Pocket
#23 Vietnam Cuisine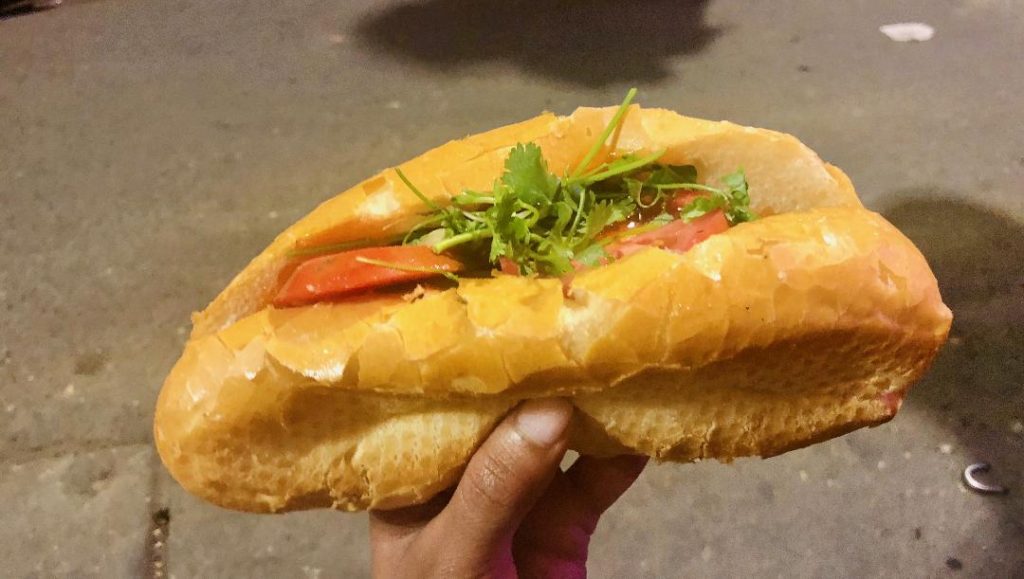 One of the top countries with the best cuisine in the world is Vietnam.
There are a few things that make Vietnamese cuisine so special. Firstly, there are many different regional dishes that all have their own unique flavours. Secondly, Vi Vietnamese cuisine makes heavy use of herbs and spices to create amazing flavour combinations. Finally, fresh ingredients are a key component of Vietnamese cooking, ensuring that every dish tastes amazing.
Popular ingredients include star anise, cardamom, black peppercorns, Bird's-eye chile, fermented shrimp paste, pickled vegetables, cinnamon, limes, and cilantro.
It's said that there's a French touch to some Vietnamese dishes, likely because of the period of French colonialism in Vietnam. But, overall Vietnamese cuisine is a unique and delicious mix of East and Southeast Asian flavours.
Vietnam's national dish is pho, a noodle soup consisting of rice noodles, broth, and meat. You can add on different toppings like herbs, spices, and chilli peppers to give it extra flavour.
The best dishes to try in Vietnam are:
Pho: A hearty noodle soup with beef and robust spices.
Banh mi: A type of baguette sandwich made with pork, pate, salad, and pickled vegetables and is perfect for kids.
Cao Lau noodles: Marinated pork with bean sprouts, greens, and herbs with rice noodles and a small amount of pork.
Banh xeo: A savory crepe made with rice flour, turmeric, and coconut milk.
The best drink to try in Vietnam is the ubiquitous Vietnamese iced coffee, which is made with Vietnamese-grown coffee beans, sweetened condensed milk, and ice.
Recommended by Disha, Disha Discovers
Countries in North America with the Best Food
#24 American Food

The USA has a unique history when it comes to food and cuisine. This is thanks to the influence from cultures all over the world. In fact, there is no official national food in the United States. There are h ever many dishes that the United States is known for. Have you ever heard the saying "As American as apple pie?" The interesting thing is, even though the Apple Pie can be considered one of the unofficial national foods of the United States, it originated in England.
Other close contenders for America's national food?.  Hamburgers and Hot Dogs. The origin of these two American foods come from Germany but was perfected here in the United States. The classic food is served at every backyard barbeque, sporting event, and restaurant.
Five Fantastic Dishes to Try in America
Turkey & Gravy with all the fixings: You can't go wrong with our classic Thanksgiving Dinner.  A meal celebrated every year in America.
New England Lobster Roll: Whether you like it warm with butter or cold with mayonnaise.  This dish is a classic American food, found primarily in New England.
Corn Dogs: a spin on the infamous hotdog that replaces the bun with battered corn breading.
Buffalo Chicken Wings: Often served as an appetizer or bar food, these spicy "wings" dipped in bleu cheese dressing are delicious.
Peanut butter and Jelly Sandwich: Our top pick for the best kids dish.  It's sweet, it's salty, it is everything you need for a complete meal.  Even as an adult, nothing brings me back to my childhood more than biting into a delicious PB&J sandwich.
Recommended by Julie, Family Trips & Travels
Countries in The Caribbean with the Best Food
The food in the Caribbean will definitely get your tastebuds tingling. Try fresh fi h, unique spices and a fantastic fusion of flavours. Here are some of the best islands in the Caribbean for food:
#25 Grenada Cuisine
If you enjoy cooking while travelling, Grenada will delight your inner chef. The outdoor produce market in St. George's is known as one of the best in the Caribbean Sea – and for a good reason.  A colourful and lively experience, you'll come home with bags of mangoes, papayas, starfruit, bananas, golden apples, and guavas. Daily catch can be found at the fresh fish market nearby.
Grenada stands out for its spices – hence its "Spice Island" nickname.  If you like nutmeg, it's the vacation destination for you. Grenada's popular dishes have an African and West Indian influence, so you'll find many curries and many dishes featuring coconut milk. You'll taste fresh nutmeg, cinnamon, cloves, turmeric, and ginger, all grown locally.
Here are five dishes to try in Grenada. Many can be found at the island's weekly fish fry in Gouyave on Friday night. Or, if you're feeling adventurous, try cooking them yourself!  
Oil DownL (Grenada's national dish). A hearty, one-pot stew made with salted meat or fish, vegetables, coconut milk, and breadfruit.
 Fried Bakes and Saltfish: A traditional Caribbean breakfast.
 Crab Back: A flavorful crab dip served in its shell – try it at BB's Crabback.
Nutmeg Ice Cream: (or syrup, or jam, or coffee…). You'll find all things nutmeg in Grenada, so be sure to try as many nutmeg products as you can.
Best for kids – Caribbean macaroni pie: A traditional comfort food in the West Indies, you'll often see this offered as a restaurant side dish.  (And if you're headed to Grenada with kids, here's a complete family-focused island guide).
All of these dishes will go down well with a Carib – a drinkable, refreshing Caribbean lager.  Although headquartered in Trinidad, Carib brews over 750,000 cases in Grenada each year, and you'll find it at bars all across the island.
Recommended by Lee, Mango Tree Travel
#26 Jamaica Cuisine
If there is one country in the world where food is born of necessity, it is Jamaica. Jamaican food is always local because it's always fresh, especially in the countryside. Local markets in both urban and rural parts of the country sell ingredients like fresh callaloo greens, sweet coco bread, and patties made with stewed veggies and beef. Hot peppers like the scotch bonnet also play heavily into flavouring the local food.
Be sure and try these dishes when you're there:  
Ackee and salt cod: Jamaica's national dish is a fruit which resembles scrambled eggs when it's cooked, then mixed with salted sigh (usually cod).
Jamaica patties: Every kid's favorite food in Jamaica, this dough picket is typically filled with beef or ackee and deep fried.
Curried goat: A rich and complex stew of goat mixed with a melange of local spices.
Jerk chicken: The ubiquitous chicken dish with a unique recipe among every vendor, peppered with pimento spiceEscovich — the traditional way to prepare and preserve local whole fish, stewed with onions and vinegar.
After a full day on island-time eating local specialities, wash it all down with a Red Stripe, Jamaica's favourite refreshing cold beer.
Recommended by Lori, Travlinmad
#27 Trinidad and Tobago Cuisine
Trinidad and Tobago has a rich food culture due to its blend of both African and Indian cultures.
Of course, seafood features heavily on both islands, with grilled lobster and fried fish dominating many menus. And like man of its Caribbean neighbours, Trinidad and Tobago has a fiery kick to many of its meals, with chilli being added to curries and sauces or served fresh cut on the side.
There are fresh local markets dotted all over the country, with many people buying fresh fruit and vegetables daily. One of them st interesting ones is the Port Of Spain Central Market which has fresh produce, meat and fish products and is open at weekends.
Doubles: 2 pieces of flatbread with curried chickpeas inside and topped with tamarind sauce, coriander and cucumber. This is the unofficial Dish of the nation and beloved by all. Interestingly, it was only "invented" in the 1950s.
Chow: A spicy and savoury take on a fruit salad. Usually mango and pineapple is diced with Cilantro, spices, lime juice and garlic to create a zesty treat for summer days at the beach.
Bake and Shark: Order this "fish Burger" at any of the beach shacks in Maracas, these days it is usually fried fish (not shark) between bread and topped with lettuce, tomato and various sauces. Kids love this one!
Callaloo: A popular Caribbean dish that will be seen on many plates as a side dish. Usually the leafy green vegetable is stewed down with Okra and spices.
Curried Crab and Dumplings: A dish that is borrowed from West Africa (dumplings) with a hint of Indian influence (curry) try this in Tobago where it is a locals favourite.
Angostura Bitters, a popular addition to many cocktails, is made on the island of Trinidad and can be found almost everywhere. Lemon, Lime and bitters are common drinks and are also produced in a can pre-mixed.
Recommended by The Superyacht Chef
Countries in South America with The Best Food
Corn, potatoes, chillis and tropical fruit – all staples in South American cuisine. South Americ n food is a unique blend, originating from the indigenous people and mixed with typical European dishes.
Here are the best cuisines in South America by country:
#28 Brazil Cuisine

If you are planning a trip to Brazil, make sure you understand the main dishes and be prepared to eat some of the best meals ever. The cuisine in Brazil is a mix of European, African and local indigenous people, making it one of the most diverse and creative dishes you will ever try. 
Maybe you are already family with the Brazilian steakhouse. Yes, steak is very popular in Brazil, But in addition to churrasco (BBQ), there are many other delicious Brazilian foods to experiment with: 
Feijoada: This is the Brazil national dish and a heavy and delicious comfort food, which is a slow-cooked black bean, beef, and pork stew served with rice.
Açai: Antioxidant super fruit gaining popularity outside of Brazil – açaí bowls are very popular.
Pão de Queijo: They are getting very popular in the US, they are the heaven version of cheese bread.
Moqueca: Anyone who tries it, falls in love. Fresh fish cooked in coconut milk.
Cachorro Quente – Kids Friendly: It is the Brazilian version of hot dog, but it is another level with lots of filling from corn, mashed potato, melted cheese and much more. 
Caipirinha: It is the Brazilian popular drink. Strong is the definition, made by sugar cane, sugar, lime, and ice. 
Recommended by Paula, Paula Pins the Planet
#29 Mexico
Describing Mexican food in just a few paragraphs is a challenging task. Considered among one of the richest cuisines globally, Mexican culinary tradition is indeed one of the most complex and eclectic.
Although Mexican cuisine has different regional identities, there are some Mexican dishes that, although they may differ from region to region, are indeed known as Mexican icons. 
Here is a list. 
Chile en Nogada: Originally from Puebla, Chile en Nogada can be considered the national dish with a special legend behind its origin and the colors of the Mexican flag in its presentation. 
Tacos: Who doesn't know and love tacos? Again they are made in different styles depending on where you are eating them. But they have a Mexican signature on it.
Guacamole: Loved by anyone, vegans, weight watchers and kids included.
Burritos – Delicious wraps made with a giant flour tortilla, available everywhere but originally from the north. 
Enchiladas: Corn tortilla chips mixed with all sorts of products including meat and cheeses and of course hot sauces. Again, it's a common dish throughout the country but it varies by region. 
Rompope: A Mexican drink that is similar to Eggnog but with local sacred ingredients. It seems to have been invented by the nuns of Santa Clara convent in the 17th century.
Recommended by Isabella, Lets Travel to Mexico
#30 Peru
Peru has a long list of authentic foods and is a food-lovers vacation in paradise. Cities throughout the South American country have many dishes and street foods to choose from. Lima, for example, is the gastronomic capital of South America and is one of the world's leading culinary destinations. Prices in all the restaurants and from street vendor carts are often so reasonable that you can try one of the popular Peruvian meals and snacks while you travel throughout Peru.
Fantastic & Must-try dishes from Peru:
Ceviche:  Ceviche is the national dish of Peru and consists of raw fish marinated in citrus, chili, and onions. 
Cuy:  Guinea pig is consumed on special occasions in Peru and is either skewered and sold on the streets, usually in rural areas, or incorporated into elaborate dishes in fancy restaurants.
Quinoa: Quinoa is a nutritious grain packed with protein, vitamins, and minerals in the form of a  smooth rice dish that is full of flavor.
Alpaca:  Alpaca meat is tender, sweet, and high in protein while also low in fat, cholesterol, and calories making it a great way to eat healthily.
Papa rellena:  BEST FOR KIDS Papa rellena are small balls of mashed potatoes that are stuffed with meat, tomatoes, spices, and then fried to have a crispy coat.
Best Drink to try in Peru:  Pisco Sour is Peru's national cocktail, a brandy distilled from grapes.
Recommended by Michelle, Moyer Memoirs
Best African Food Destinations
The African continent has some of the most delicious food globally and some of the most unique. Try fresh blends of wheat, delicious meats, beans, and rice fused together to get your tastebuds tingling. Here are the best countries for food in Africa:
#31 Egypt
Traditional Egyptian cuisine belongs to healthy Mediterranean cuisine and flavourful Middle Eastern cuisine.
Traditional Egyptian cuisine uses classic Mediterranean staples like fruits, vegetables, and legumes. It uses typical Mediterranean spices like parsley, bay leaves, mint, dill, coriander, cardamom, chilli, aniseed, ginger, cinnamon, and cloves. But the most popular spice mix in Egypt is Baharat. This iconic middle Eastern spice mix blends black pepper, paprika, cumin, coriander, cardamom, cloves, nutmeg, cinnamon, and paprika. Baharat traditionally comes with koshary, the national dish of Egypt.  
Typical food in Egypt covers the most famous Middle Eastern dishes like falafel, hummus, baba ganoush, mutabbal, bamia (okra), and mahshy. The vast majority of Egyptian food is vegetarian-friendly. But if you n ed a hearty bite, Middle Eastern classics shawarma and kebab are there on every street corner in Egypt. 
The most common Egyptian dishes are:
Koshary.: It is the national dish of Egypt and the most popular street food in Egypt as well. Koshary is prepared with rice, lentils, chickpeas, macaroni, onions, and spicy Baharat mix.
Ful medames: Ful medames is a famous Egyptian fava beans paste traditionally served for breakfast. Authentic Egyptian breakfast always comes with ful medames, and Egyptian bread called Aish Baladi. Creamy ful medames is one of the best Egyptian dishes for kids. 
Falafel: Egypt is the homeland of falafel. But unlike in other Middle Eastern countries, authentic Egyptian falafel is made with fava beans, not chickpeas.
Molokhia soup: This is a unique Egyptian Jew's Mallow soup. People like it or hate it for the sleazy consistency. Nevertheless, molokhia soup is a must-try dish in Egypt. 
Mahshy: Tasty stuffed vegetables in Egypt. The dish is similar to Greek dolma. 
But if you want to try an authentic Egyptian drink, go for Boza. It is a Midd e Eastern beverage made of fermented barley in Egypt. 
Recommended by Milijana Gabrić, World Travel Connector 
#32 Kenya
Kenya is often overlooked as a foodie destination, but it shouldn't be. Kenya's food has been impacted by the Portuguese in the late 1400s, the British Empire, and indirectly the Indian cuisine. An impeccable skill for using local ingredients, the freshness of the food really comes to life. Nyam achoma grilled meat) is especially delicious due to the inventiveness of spices and new types of meat such as goat, kudu, wildebeest, and impala.
Ugali: The national food in Kenya. Similar to Italy's polenta, it's a staple of Kenyan cuisine. It is made by constantly mixing maize flour or cornmeal with hot water until it reaches a dough-like consistency.
Grilled goat: The go to choice of meat for most of Kenya. Usually any grilled meat (nyam achoma) is served with a spicy tomato relish and ugali.
Freshwater fish from Rift Valley lakes are usually caught the day they are cooked.
Kids would enjoy matoke. It is cooked bananas with light seasoning whose texture resembles boiled potatoes.
A good meal is not complete without a refreshing drink. Mnazi is a milky-coloured palm wine that is naturally fermented. It's the drink of choice for many Kenyans and can be found in most restaurants. 
Recommended by Pamela, The Directionally Challenged Traveler
#33 Morocco
Morocco has a distinct North African cuisine, with several particularly common dishes. Many dishes are reserved in a tagine (an earthenware dish with a removable domed lid, which creates a steaming environment). Tagine refers both to the cookware and the meal that is made in the cookware. Chicken, gro nd beef, and lamb are the main meats you will see, and ingredients such as dates, olives, and mint make regular appearances. 
Moroccan food also relies heavily on spices, such as cumin, coriander, nutmeg, turmeric, cinnamon, and saffron, among others, and one spice that was unfamiliar before visiting Morocco: ras el hanout, which is a blend of many many other spices and herbs (and includes dried roses!)
5 Dishes You Need to Try in Morocco:
Tagine: Lamb, chicken, or beef is served with vegetables or prunes/apricots and is a must-try dish – tagines are the most quintessential Moroccan food. 
Couscous: While families traditionally make couscous on Friday, you can find it any day on the regular menu of restaurants, and is another incredibly common Moroccan dish.
Brochettes: Seasoned meat on skewers (essentially a kebab), and often served with rice.
Briouats: Briouats are small, have a flaky crust, and are filled with either cream cheese, grated carrots, or ground beef. 
Pastilla: Phyllo dough is wrapped around a spiced, ground beef mixture, baked free-form until crispy, and then sprinkled with powdered sugar. 
The Best Drink to Try – Mint Tea: Mint tea is easily the most common drink in Morocco (its green tea with mint leaves added into the steeping – and plenty of sugar), and it's poured with the teapot high above the cup, with the liquid arching down into the cup!
Recommended by Stephanie, The Unknown Enthusiast
#34 South Africa

The multicultural population of South Africa is known as the rainbow nation. The country's cuisine has a wide variety of influences, including traditional indigenous dishes, European culinary influences and Indo-Asian cuisine from the historical slave population.
Braai is the Afrikaans word for barbeque and braaing some meat on an open fire is done by many South Africans every weekend, you can braai anything; beef, pork, chicken, fish and vegetables, but lamb chops is a South African favorite.
Boerewors roll is one of the best dishes for children, it is a hotdog made with boerewors, the South African sausage. A boerewors roll braai'  is a popular way to hold a kids party.
Stiff Pap, also known as mieliepap is a  porridge made from mielie-meal (coarsely ground maize), it is a traditional staple of African people, but is now enjoyed by all cultures in South Africa and is a popular side dish. 
Mopanie worms, an African dish that has become a delicacy in recent times, is worms with the green guts squeezed out, it is dried and cooked with tomatoes, onions and garlic. 
Bobotie is a well-known dish in the Malay Bo-Kaap neighbourhood in Cape Town with Asian roots, it consists of spiced minced meat baked with an egg-based topping.
Drink a 'Springbokkie', a popular cocktail shooter in the jersey colours of the South African national rugby team, known as "The Springboks."
Recommended by Campbell and Alya, Making Salads
Best Countries for Food in the Middle East
Regional staples of middle eastern cuisine include grains, beans, figs, pomegranates and goat, fused together with fresh veg and delicious spices. Here are the best foodie destinations in the Middle East for your next trip:
#35 Azerbaijan
Azerbaijan has some fantastic food to try. Tea and jam is something to try when visiting Azerbaijan. Flavoured jams (think more like preserved fruits) are stirred through hot black tea. This gives t e tea differing flavours depending on what you choose. Azerbaijan f od is full of flavour, and spices such as saffron and cinnamon are very common. Whilst some dishes may sound familiar, these variations are definitely local.
Check out 5 dishes you should definitely try when you visit Azerbaijan:
Plov: A fantastic flavour packed rice dish – often includes fruits, nuts, meats and spices.
Azerbaijan Barbecue: Generally prepared with lamb cooked in a copper pan over hot coals, with lots of spices.
Qutab: Savoury cooked dough pancakes served with yoghurt, sumac and butter.
Pakhlava: Even sweeter than Baklava layered dough with sugar syrup and nuts.
Best for kids – Breakfast: A huge platter of local jams, cheeses, breads, eggs, olives and more.
Best Drink to Try – Flavoured lemonades or Sherbets.
There are some fantastic flavours, including lemonades flavoured with herbs.
Recommended by Melanie, The Professional Traveller
#36 Georgia
Tucked away between the Caucasus Mountains and the Black Sea, Georgia is an underrated destination with a food culture like no other. Because of its geographic location, its blend of Mediterranean, Turkish, Greek, and Persian influences has created a unique food preparation and cuisine style. Traditional Georgian dishes are flavorful and typically combine locally sourced meats, vegetables, herbs and spices.
Add these 5 fantastic dishes to your Georgia itinerary: 
Khinkali : Meat and spice filled dumplings with a savoury broth.
Pkhali: A healthy spread consisting of diced veggies, herbs, spices and ground walnuts.
Mtsvadi Shashlik: Skewered cubes of pork made outdoor on an open fire.
Ajapsandali: A vegetarian stew made with eggplant, tomato and bell peppers and spices.
Best for kids: Katchapuri Adjaruli: Also called a Georgian cheese boat, oven baked bread is stuffed with cheese and topped with a runny egg and butter for dipping. Kids will love this one!
Best drink to try: Kisi wine – an amber coloured wine made in a Qvevri (earthenware vessel). It's a winemaking technique over 8,000 years old.
Recommended by Cecily, Groovy Mashed Potatoes
#37 Iran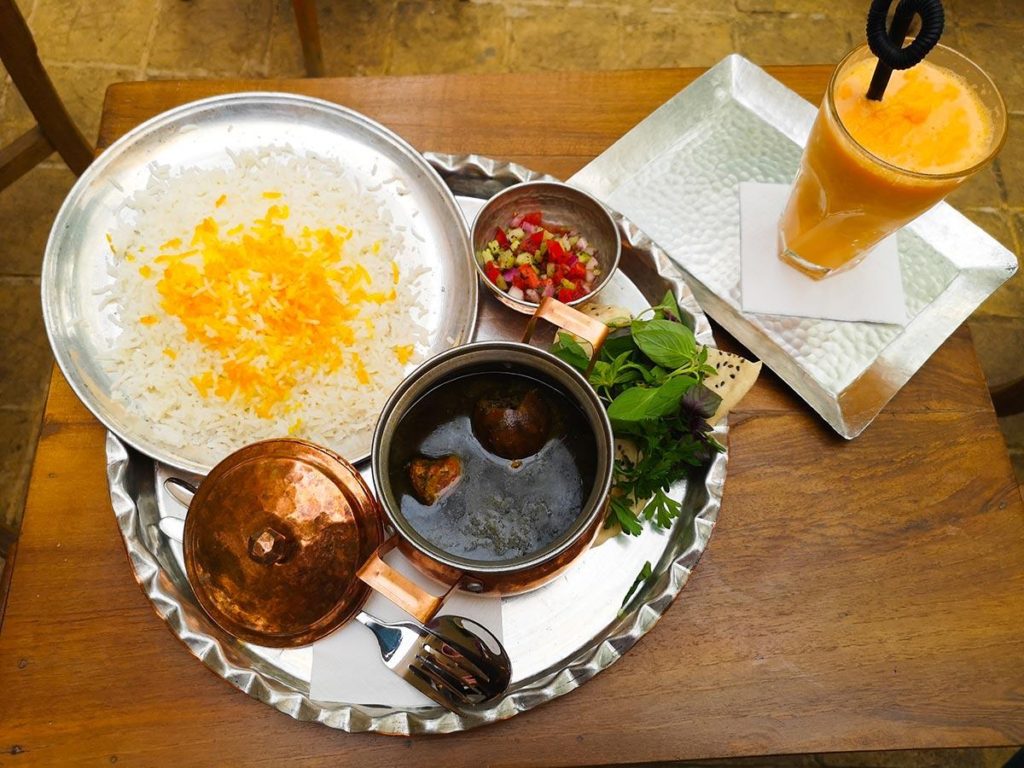 Iran is a culturally diverse country and Iranian cuisine is made up of dishes created by Persians, Azeris, Kurds, and many other ethnic groups.
Meat, rice or bread, legumes, beans, nuts, and fruits such as pomegranate are the most important ingredients of traditional Iranian dishes and they are often interestingly combined in one meal.
Citrus, sumac, sour grape juice are commonly used in Iranian dishes to achieve a unique kind of sourness.
Iranians love using green herbs, flowers, and saffron to make their meals vibrant and colourful.
Khoresht Ghormeh Sabzi: The most popular stew rich in various herbs and kidney beans.
Chelo Kabab Koobideh: Barbecue meat on skewer seasoned with salt and pepper and served with rice, onion, lemon and sumac.
Dolmeh Barg: Stuffed grape leaves stuffed with rice and flavored with herbs, spices and grains which is the best for vegetarians.
Polo: Persian rice cooked and steamed with herbs, legumes and spices.
Bastani: Ice cream with saffron, rose water and pistachio which is the best for kids


Doogh: Persian yoghurt drink which is the most popular Iranian soft drink made of yoghurt, salt, water and herbs.
Recommended by Diana, The Globetrotting Detective
Best Countries for Food in Oceania
Seafood, potatoes, and coconut are the staples of cuisine in Oceania. Influenced b settlers in Australia worldwide, Oceanic cuisine is a unique fusion of flavours with a local twist.
#38 Australia
Australian cuisine has evolved over thousands of years from the 'bush tucker' enjoyed by the Aboriginal peoples to the anglicised dishes of the colonial era to the current multicultural melting pot, which includes strong Italian, Greek and Asian influences, among others. Modern Australian cooking heroes ingredients like kangaroo, Moreton bay bug (a kind of lobster) and wattleseed. Travellers, can visit up-and-coming foodie destinations like the Southern Highlands, Margaret River and Hunter Valley to enjoy farm to table cuisine that is focused on fresh, seasonal and local ingredients, often with Asia or European fusion influences.
Top 5 Australian dishes:
Pavlova: While the pavlova is claimed by both New Zealand and Australia as a national dish, you can't talk about Australia cuisine without it.  This meringue concoction is typically served at Christmas time topped with cream and fruit.
Bunnings's snarler: The sausage sizzle is iconic in Australia, served at fundraisers, barbeques and commonly outside Bunnings's hardware stores on weekends, it consists of a meat sausage in a piece of white bread topped with onions and tomato sauce.
Sausie roll: A corner store favourite, the sausage roll can be cheap and cheerful ("beef" and doughy pastry) or fancied up (pork, lamb or vegetarian with a flaky crust), either way it should come with a good dollop of tomato sauce.
Fish n chips (best for kids): The best Australian food for kids and the only appropriate food to eat on the beach in Australia, this usually comes wrapped in newspaper with a side of lemon.
Damper: A traditional food of Australia's indigenous people, it's a form of flatbread made from a paste of ground seeds.
Best Australian drink: Australia is famous for its full-bodied red wines, and a glass of shiraz from the Barossa Valley region (look for wineries such as Penfolds and Grant Burge) epitomises the best of Australian wine.
Recommended by Kate, Kate Abroad
#39 New New Zealand
New Zealand is known for its fresh, locally-sourced meals. We recommend trying the following when you visit. The best foods to try in New Zealand:
Meat pies: No trip to New Zealand would be complete without trying a meat pie.  With flavours like butter chicken or steak and cheese, these filling savoury meals are perfect for lunch on the run.
Whitebait Fritters: A local delicacy, whitebait fritters are made using fresh seafood, and are served between slices of fresh white buttered bread.  During whitebaiting season, you'll see fisherman hauling their catch in on the banks of the South Island's rivers.
Hāngī: A traditional Māori method of cooking that uses hot steam and rocks to cook root vegetables and meat in the ground.  When cooked, a hāngī meal tends to have a very distinctive flavour, making it a must-try in New Zealand.
Pavlova & cream: Made with egg whites and sugar, this simple dessert is commonly served during the summer season.
Lolly cake: You'll find this treat in New Zealand bakeries.  This slice is made from biscuits and hard fruity-flavoured marshmallows.  It's then covered in coconut and is a hit with adults and children alike!
The best drink to try: L&P (Lemon & Paeroa). Unique to New Zealand, this fizzy drink is a must-try when visiting!
Recommended by Sarah, New Zealand Travel Tips
Recent Posts