Singapore is a dream destination on the Southernmost tip of Asia. It's a unique mix of culture, history, and fast development that has turned Singapore into one of the most exciting cities to explore in Asia. Singapore for backpackers is heaven! That's why it's the 6th most visited city globally, attracting over 19 million visitors in 2019.
I visited Singapore en-route to Thailand for 4 days on my solo backpacking trip in July 2018 after visiting Greece. There are so many things to do and see that I wish I'd stayed longer. Here are 16+ amazing places to visit in Singapore.
This post may contain affiliate links, which means I may receive a commission, at no extra cost to you, if you make a purchase through a link. Please see my full disclosure for further information.
How to get to Singapore from Singapore Airport
Changi International Airport is one of the biggest and busiest hubs in the world where you can fly in from pretty much anywhere. From the airport, there's a range of options for travelling into the city.
Changi Airport to Singapore by MRT
Changi Airport to Singapore on the MRTThe MRT has been extended all the way to the airport. If you're on a budget, then this is the cheapest way to get from the airport to the city. Fares are calculated on distance travelled which is usually about 2 SGD. I recommend planning you're route in advance, so you know which stop to change and how to get to your hotel from the MRT station. This is the method I used to return to the airport after my stay in Singapore.
Shared Minibus from Singapore Airport to Singapore city centre
The shared shuttle service costs 9 SGD and takes you along with some others directly to your hotel. This is the cheapest door to door service and the method I used on arrival. You can pre-book your tickets and save time here with get your guide.
How to get to Singapore overland
Frequent buses and coaches transit passengers from Singapore across the border to Malaysia. For the cheapest option, take a bus just over the border to Malacca and buy your ticket for your onward journey there.
Getting around Singapore
This guide notes the nearest metro station to each sight. Singapore's MRT is the quickest, cheapest, and easiest way to get around the city. The MRT runs daily from 5:30AM until midnight, every 3-5 minutes in peak times, and 5-7 minutes off-peak. The 5 lines can get you almost anywhere in Singapore.
However, if you want to tick off lots of places in a short space of time, then I highly recommend the sightseeing hop on hop off bus. I used the bus for the first 2 days of my trip to get to know the city before visiting the places I had left on the final 2 days. Tickets can be purchased for either 24 or 48 hours. Click here to book tickets in advance.
Things to do in Singapore for backpackers
There's a huge amount of things to choose from in Singapore. This guide will keep you going for at least 2 days if you're looking for a 'Singapore itinerary 2 days'. However, its best for a 4 day Singapore itinerary.
1. Sentosa island
When I visited Sentosa, I was in love with it by the end of the day! There's so much to do and see. Sentosa is home to world-famous attractions such as Universal Studios, Madame Tussauds, and the S.E.A aquarium.
To the South of Sentosa, there are three beaches to explore. Palawan beach is a must-visit. You can walk along a suspension bridge to reach the Southernmost point in continental Asia. Tanjong Beach is the quieter beach of the three. Relax or visit the Tanjong beach club. If you're an activity lover then why not visit Silso beach. There's a zipline, wave house, and bungee jumping available!
If you're short of time then I recommend simply taking a walk around the island and eating a budget lunch at Malaysia food street.
How to get to Sentosa Island
There's 3 options to get to Sentosa. For all option, catch the metro to Harbourfront.
To walk to Sentosa, exit at exit E to Vivo shopping mall and take the escalator to level 1. Follow the directions to "Sentosa Boardwalk" and walk across. This is a free option.
The second cheapest option is to take the bus for 1 SGD. From Harbourfront MRT station, walk to the Vivocity bus stop and board bus number RSW8.
To catch the Sentosa express, take exit E from Harbourfront to Vivocity shopping mall and take the escalator to level 3. This is the quickest way and cost 4SGD.
2. A ride on the Singapore flyer
If you want to see Singapore from a different angle, then why not take a ride on the Singapore flyer. Named one of Asia's best tourist attractions, the Singapore flyer transports you 165m into the air. View the panorama of Singapore's cityscape and even catch a glimpse of Malaysia and Indonesia!
Nearest MRT |Promenade
Website | singaporeflyer.com
3. Merlion Park
A famous statue in Singapore with a lion head and the body of a fish. The Merlion is Singapore's national mascot and well worth a visit.
Nearest MRT | Raffles Place
4. Chinatown
Walkthrough Chinatown's bustling streets. There's plenty of souvenir shops and amazing places to eat. The Chinatown food complex is one of the largest hawker markets in Singapore with endless choices.
You can also visit the Buddha tooth relic temple to get a real insight into Buddhist culture. The tooth relic was found in 1980 in a collapsed stupa in Myanmar. The tooth can now be viewed on the 4th floor of the temple.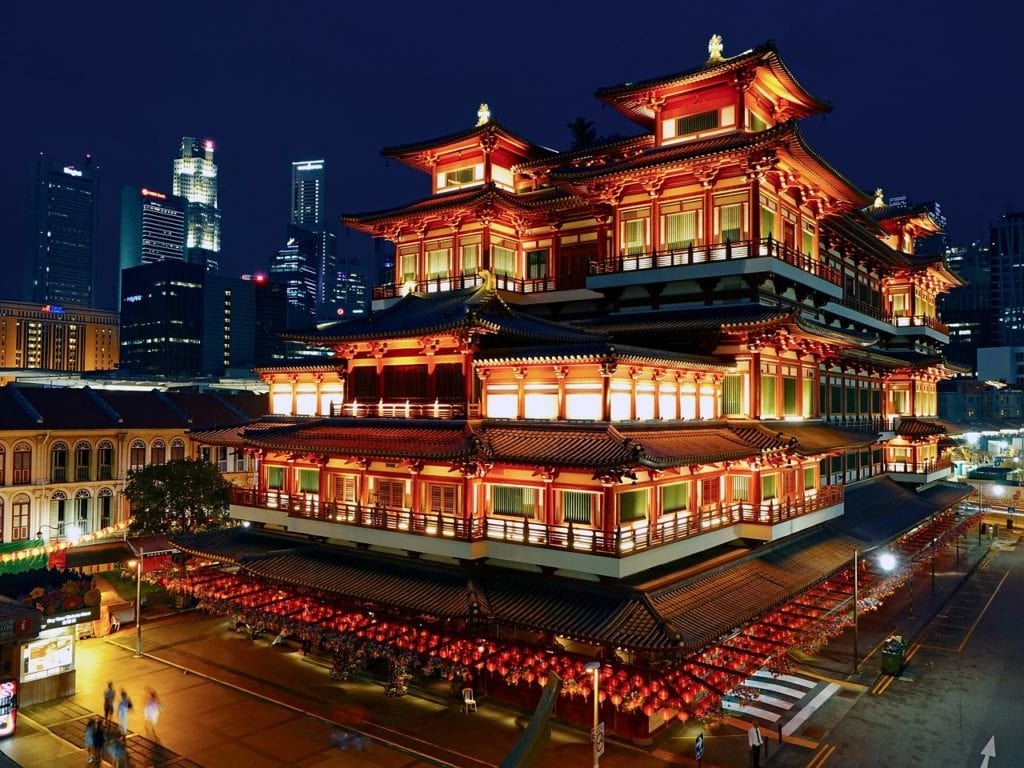 Nearest MRT | Chinatown
5. A trip to Pulau Ubin
Pulau Ubin is an island North East of Singapore. The island is far less developed and offers numerous cycle trails and footpaths. You can spot wildlife and birds as well as seeing traditional villages.
Getting to Pulau Ubin
To get to Pulau Ubin island, take the MRT to Tanah Merah, then board Bus No. 2 to Changi Village bus interchange. Changi Point jetty is not far from the bus interchange. From the jetty, take a bumboat ride (S$2 per adult one way) to Ubin.
6. Visit Singapore's Hawker markets
Singapore's hawker markets are Singapore's version of street food and the place to go for the best and the cheapest food. Hawkers used to sell food from roadside carts but now the hawkers are found in the hawker centers. There are over 110 hawker centers in Singapore.
Suggested Post | Find out more about food in Singapore with 'A foodies Guide to Singapore' by La Vie En Marine
7. Little India
One of the most impressive neighborhoods in Singapore. Wander the streets and admire the pretty little shops. Little India is the perfect place to stop for a budget meal too. The Tekka Centre is a huge hawker center with hundreds of food options available.
Nearest Metro | Little India
8. A visit to Singapore zoo
Singapore zoo is a must-visit on any trip to Singapore. Although you may think zoo's are for those travelling to Singapore with kids, Singapore zoo is one of the best in the world and not to be missed by people of all ages.
The zoo is divided into three parts, Singapore zoo, river safari and night safari. The zoo houses over 2500 animals from over 130 species. The park also boasts the world's first free-ranging orangutan habitat in a zoo. Click here to book tickets in advance.
9. Night Safari
Another option for visiting Singapore zoo is to visit at night. This is the world's first nocturnal zoo and one of the most popular tourist attractions in Singapore. It's a rare opportunity to see animals in their nightly rituals. There's also a "Night Show" where you can learn more about the natural abilities of fascinating nocturnal animals. I recommend booking tickets in advance to avoid disappointment. Click here to book tickets.
How to get to Singapore Zoo
Take the MRT to Ang Mo Kio and then take Bus 138 from the bus interchange. 
10. Gardens By The Bay
A huge nature park in central Singapore. Make sure you visit Supertree Grove, a huge collection of artificial trees that reach 50m high and have over 150,000 different plant species growing on their trunks.
For more information, read this excellent post by Jet Lagged Mama on Why Gardens By the Bay will amaze you.
Book Tickets | Entry is free but entry to the conservatories cost 28 SGD. The floral fantasy attraction costs 20SGD. Click here to pre-book your tickets and save money.
Nearest metro | Bayfront
Website .gardensbythebay.com.sg/
Related Post | Athens: Things to do and see for Backpackers
11. The Botanic Gardens
The Botanic Gardens are the only UNSECO world heritage sight in Singapore and well worth a visit, you will feel like you've been transported to the middle of a jungle. Get your camera ready because the Botanic gardens are one of the most instagrammable places in Singapore!
Book Tickets |Admission is free unless you want to visit the national orchid garden. Tickets can be booked in advance with get your guide here
Nearest metro |Botanic Gardens
12. Visit the Marina Bay Sands Skypark
The Marina Bay sands hotel towers above Singapore's skyline. The observation deck is open to the public and located on the 57th floor.
Book Tickets | Entrance costs 23 SGD. Save money and book your tickets in advance here.
Nearest metro | Bayfront
13. Orchard Road
Shop till you drop on Orchard road. With over 5000 different shops, Orchard road has been named one of the world's best places to shop.
Nearest MRT | Orchard Road
14. Take a river cruise
Take in some of Singapore's most iconic sights from the water. Pass the iconic Merlion statue at Marina Bay and see the site of Raffles' landing at the historic Boat Quay. Boats depart every 10 minutes until 10:30PM.
Book Tickets | £13.83 per person. Click here to book in advance with get your guide.
15. Visit the colonial district
Singapore's colonial district is a reminder of British rule. Packed with famous landmarks and impressive buildings, some of these include Old Parliament House, Victoria Theatre & Concert Hall, the Old Supreme Court and City Hall.
Nearest MRT |Raffles Place
16. Changi Airport
Singapore's airport is a tourist destination in itself. It's regularly voted to be the best airport in the world. There's plenty to do both before and after security. These are just some of the things you can see:
Koi Pond |A calming fish pond
24-hour movie theatre | With new releases playing every day, relax on a comfy seat and let your airport time pass.
Cactus Garden | Discover the charming qualities of the world's most serene plants.
Canopy Bridge | Walk through the air inside the airport!
Arrival Garden | Step into a natural habitat full of natural greenery
Forest Valley | A lush green and tranquil retreat
Orchid Garden | View over 700 orchard flowers
Nearest MRT |Changi Airport
Website |changiairport.com
Where to stay in Singapore for Backpackers
When backpacking solo, there are plenty of things to do alone in Singapore. However, staying at a hostel is a great way to meet new people. Singapore has some of the best hostels in Asia.
When staying in Singapore, I would recommend staying near an MRT station. This way, you can get around Singapore cheaply and quickly. Accommodation in Singapore is relatively expensive compared to other Asian countries. To find the best deals, I used booking.com.
I stayed at three different places while in Singapore, all of which I highly recommend. While at the airport I booked Haven by Jetquay for 3 hours due to my flight arriving at 5:00AM. This was well worth it and allowed me to make the most of Singapore with minimal jet-lag.
If you're looking for a private room on a budget, then I would recommend the Amrise Hotel. Located in the lesser-known area of Geylang and within walking distance of an MRT, station. The hotel has everything a backpacker would need and its surrounded by lovely places to eat. It was really lovely being able to explore a lesser-known area. I liked the hotel so much that I extended my stay!
I then stayed at the Inncrowd Hostel in little India and took advantage of the free scooter tour.
More Like This | Where to Stay in Koh Samui with kids
Booking a tour in Singapore
Want to know more about Singapore?
Recent Posts