The capital of Greece and top on the bucket list for many, Athens is packed with history. Once a mighty empire of the ancient Greeks, many of the landmarks still remain. Today, Athens is the economic, political and financial and cultural capital of Greece and a gateway to the Greek islands for people from all around the world. When backpacking Athens, these are some sights that should be top of your bucket list!
This Athens travel guide will take you through the best things to do in Athens, the best places to visit in Athens, the best Athens attractions/Athens sights and the best hostels in Athens to help you plan the perfect backpacking trip to Athens, Greece. If you're short for time in Athens, take a look at our 24 hours in Athens for backpackers post instead.
This post may contain affiliate links, which means I may receive a commission, at no extra cost to you, if you make a purchase through a link. Please see my full disclosure for further information.
Weather in Athens
I would recommend visiting Athens around April-May or September-October for sightseeing trips or June, July or September for beach trips. I visited in June during a heatwave and it was extremely hot. It often feels even hotter than it is in a city! Here are the variations in temperature across the seasons:
I would recommend visiting Athens around April-May or September-October for sightseeing trips or June, July or September for beach trips. I visited in June during a heatwave and it was extremely hot. It often feels even hotter than it is in a city! Here are the variations in temperature across the seasons:
Winter – 8-15 °
Spring – 9-25 °
Summer – 20-32 °
Autumn – 12-20 °
Athens, Greece Travel Guide | 10 Fantastic Things to do in Athens
Athens is bursting with many sights from Ancient history to sandy beaches. If you're short for time, I recommend using a hop on hop off bus or booking a walking tour. Many hostels provide walking tours so it's definitely worth asking! Alternatively, you can use google maps or a physical map to explore at your own pace.
1. The Acropolis of Athens
The Acropolis has unsurprisingly made it to this post! The signature image of Athens, one of the most famous archaeological sites in the world and the reason for visiting for many, the Acropolis is a must-see for visitors. The view at the top of the Acropolis definitely sticks in your mind forever!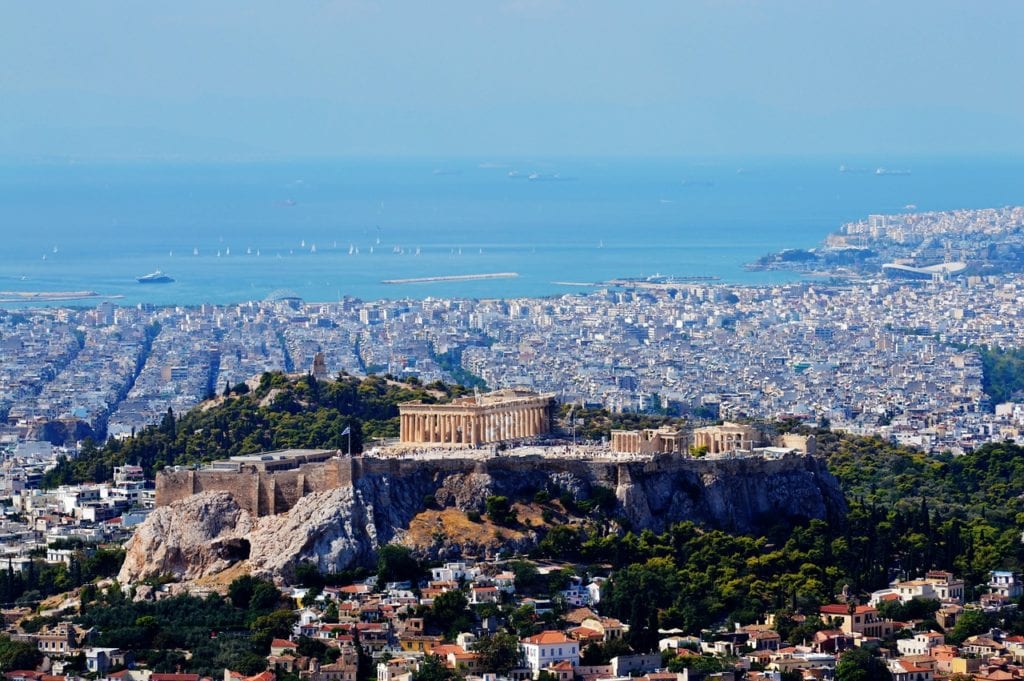 Admission | The entrance fee is £20 and free to students with valid IDs. Advanced purchases can be made through Viator. If you want to find out more about the history, then why not book a walking tour. There's a range of tours to suit all budgets which you can view here.
2. Plaka
Plaka is one of the most beautiful areas of Athens and definitely worth a visit! Overlooked by the Acropolis, the neighbourhood's cobbled streets are bustling with souvenir shops and traditional tavernas. You'll almost feel like you've landed on one of the Greek islands!
Related Post | 24 hours in Athens for backpackers
3. The Panethenatic stadium
The Panathenaic Stadium was the central hub for the first-ever Olympic games in 1896, although it had been in use since 330BC. Amazingly, the stadium was still in top condition to use again for the 2004 Olympics. Visitors enjoy a closer look at the stadium as well as an audio guide and access to a museum.
Tickets cost 5 euro. Students and seniors pay 2.50 euro
4. Visit the food markets
To get a real insight into local life, a trip to a food market is a must. The Central food market on Athinas street hosts everything from fruit and veg to fish and meat as well as Greek delicacies such as honey, olives, nuts and cheese. Why not visit the market and cook up a storm at your hostel and save money at the same time! I guarantee it will be much cheaper than visiting a restaurant.
To get to the central food market, board the metro to either Omonia or Monastiraki station and walk to Athinas street.
5. Experience Athens nightlife
There are lots to choose from when it comes to Athens nightlife. From small and friendly bars to super clubs, Athens has it all. First I would recommend spending some time in a bar. I spent time in the Athens sports bar due to the proximity to my accommodation (Athens Backpackers). I also loved the rooftop bar at Athens backpackers, where you can view the sunset over the acropolis with a mojito! After spending some time in a bar, I would recommend Gazi, a destination for lovers of the super-club.
6. A visit to Kavouri beach
Athens beaches are definitely a hidden gem and a less well-known part of the tourist trail when backpacking Athens. Many think of Greece's beaches being on the islands. I first thought of visiting Athens beaches when flying over the coastline on a flight from Zakynthos. Upon looking into how to get there, I chose Kavouri beach.
The beach has numerous sunbeds to rent as well as free areas. For solo backpackers and others alike, there was the added bonus of lockers attached to the umbrellas when hiring a sunbed! This made the trip for me as I was able to swim without worrying about my belongings.
To reach Kavouri beach, take the metro to Elliniko station then board the 122 bus or take a taxi from the rank outside the metro station.
Related Post | The best beaches in Greece for families
7. The changing of the guard
The changing of the guard takes place in front of the Parliament building. It's a wonderful sight and really gives you an insight into Greek culture. The guards at the Parliament are specially selected Greek soldiers, also known as Evzones.
On Sunday at 11:00AM, there's a bigger changing of the guard performance that I would recommend seeing if your trip allows.
To reach the parliament building, board the metro to Syntagma square
8. Athens National Gardens
While you're at the parliament, why not head to the National Gardens. As Athens hidden paradise, the gardens are located just next to parliament, the gardens stretch all the way to the Pantheon. The gardens are home to over 7000 trees and many other plants! There's a small pond which is home to numerous water birds and even a small zoo.
9. Mount Lycabettus
A limestone peak, rising 300m up from the city. Visitors can climb to the top of Mount Lycabettus or take a funicular. At the end of the climb, you'll be greeted with a panoramic view of the city of Athens and an alternative view of the Acropolis.
Suggested Post: Agios Prokopios, Naxos | A Complete Resort Guide
10. Piareus
Home to the biggest port in Greece and the gateway to the Greek islands, it would be hard for Piraeus not to impress! As well as looking in awe at the masses of container ships and looking at ferry options, there are lots of things to do in the area of Pireus too. Why not take a stroll along with the port of Zea and find tranquillity when looking at the yachts.
The Trouba district is worth a look too. Once the red light district but now a nightlife hub, it's definitely worth a visit.
Travelling Solo? Check out some solo travel stories from solo female travellers
Where to stay when backpacking Athens
When staying in Athens I would always recommend staying in close proximity to a metro station. This way you can stay almost anywhere cheaply and get anywhere in a short space of time. I stayed at Athens Backpackers in a 6-bed dorm. I liked the close proximity to the Acropolis and the Acropoli metro station + the fantastic free breakfast.
Athens studios come highly recommended. The studios are just down the road from Athens backpackers. You get the luxury of a private room and kitchen with the bonus of taking part in activities organized by Athens backpackers such as walking tours and nights out.
If you're looking to splash out a bit more for that added bit of luxury, then Acropolis Plaza Smart and Spa has a 4-star rating and in some seasons, rooms are available from just £36! There's also a metro station just 200m away and a view of the acropolis. What more could you want!
Take a look at this post on the best anti-theft backpacks to help you plan that perfect trip. safe travels 🙂
How to get to Athens
Here are the best ways to reach Athens from around the world:
Reaching Athens by plane
Athens international airport has arrivals from all over the world. From the UK, you can pick up a cheap flight on Skyscanner with a budget airline. Both Easyjet and Ryanair fly to Athens. From Asia, scoot airlines provide regular flights to Singapore. I managed to pick up a flight from Athens to Singapore for just over £200. From Athens airport, there are regular airport buses (5 euro) to the city centre, and the metro can be boarded at the airport for destinations all over Athens. View cheap flight deals and availability on Travel Supermarket here.
Reaching Athens by Train
The main railway station in Athens is Larissa station. It's accessible from all areas of Athens using the metro system. Popular with Interrail backpackers, long-distance trains can be boarded to the rest of the Greek mainland and beyond, including  Thessaloniki and Alexandroupoli.
Reaching Athens by Ferry
Piraeus port is a vast port hosting numerous cruise ships and ferries from all over the world. Ferries can be boarded to most of the Greek islands, making Athens a popular base for island hopping trips. View ferry timetables, prices and availability on Ferryhopper here.
For more inspiration on which islands to visit, take a look at The best Greek Islands to visit for Backpackers.
Reaching Athens by Bus
Frequent buses run to large towns and cities out of Greece such as Istanbul, Sofia, Bucharest, and Tirana. Buses usually depart from Karaiskaki Square in Metaxourgio, Athens. Buses also connect Athens with surrounding towns and villages.
More on Athens
More on Greece
What's your favourite thing to do in Athens? Let us know in the comments below:
Return to Greece Travel Guide >>>